Toni Kiesel - a vision of the future
Senior managers often find themselves in a juggling act during their working lives. Toni Kiesel sometimes finds this even extends to conversations. Except the things that Toni is juggling are not ideas or concepts, but corporate entities.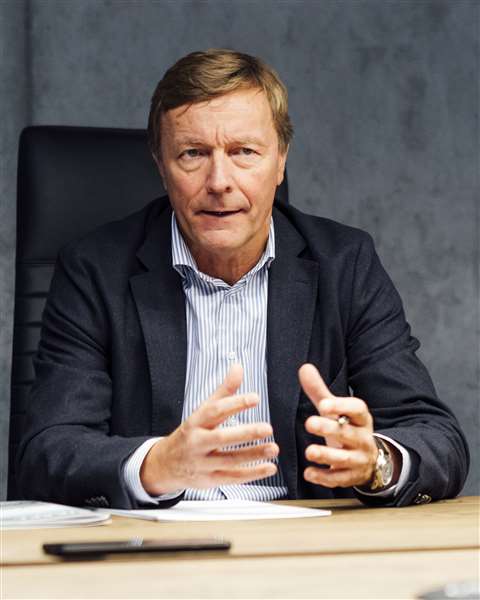 So it transpires that Toni, managing partner of the company that bears his family name, prefaces one remark with: "Sometimes I am speaking for Kiesel, another time for Kteg, and on another occasion I speak about Coreum. And it's all related."
The relationship he describes is thus: Kiesel is the group – with a reputation founded on its role as a dealer and service partner for a range of big names in machinery and attachments.
Kteg, started in 2011, is the technology arm. Its entry on the website of the European Demolition Association, which it joined in 2018, says it has a clear mandate to develop complete innovative solutions to improve machine power and efficiency.
And Coreum…?
Coreum is the bigger picture. Kiesel's vision of the future. Part showground, part construction equipment theme park, part training and educational establishment.
And it is only just beginning.
The first dig into the ground at the 80,000 sq m (860,000 sq ft) site at Stockstadt am Rhein in central Germany – it is less than half an hour's drive from Frankfurt Airport and is well positioned for the pan-European hub that Toni intends it to become – was in July 2017 and the official opening took place 15 months later.
Fittingly, for a project that aims to be so all-embracing of Europe's demolition and recycling industry, its name does not even come from one single word. It is a mix of "core" – the heart or centre – and "forum", the old Latin word for a meeting place.
The choice is deliberate.
"It will be a meeting place for the industry," said Toni.
"It will be a focal point for innovation and technology.
"We are bringing together engineers, technicians, manufacturers, and if we want to get a better image for our industry, I think this is the ideal place as a showroom for that."
Principal investor
While Kiesel is the principal investor in Coreum, more than 30 companies have joined as partners with more expected as the project grows. Interest has not been limited to manufacturers – the Deutscher Abbruchverband (German Demolition Association) has used the facility for driver training schools, again with the future image of the industry in mind. Kiesel itself has a thriving apprenticeship scheme with many of those involved staying on with the company after finishing their education.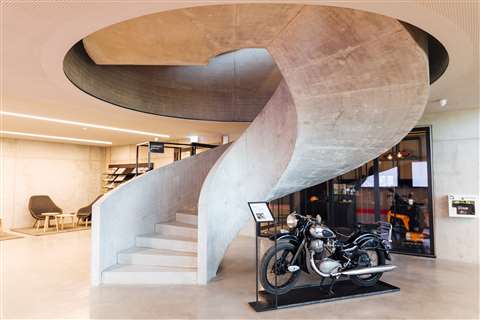 The company's industry presence has been a huge help in getting the project off the ground – it has franchises on an exclusive basis with the likes of Hitachi and Fuchs and was one of the first companies to introduce OilQuick to the market in the late 1990s – but that is only part of the story as far as Toni is concerned.
"Coreum is also about the companies that we don't work with," he said.
"As a family enterprise Kiesel can look at the niche areas where it has become the benchmark, and see where we can give special support, to look for solutions to make their customers more profitable. Manufacturers have machines, they don't have a process. At the end of the day I am convinced that the process is one of the only things where the customer can optimise his business, to become more productive and effective, reduce costs and give additional service and advantages.
"Most manufacturers develop a machine and then look around to see what is happening in the market. We come from the opposite side. We work out what is necessary to do the job and then out of this we develop the right tools and machines."
Official opening
At the time of Coreum's official opening, Bauma was still six months away. Now, with the start of the world's largest construction equipment exhibition days rather than weeks ahead, Toni sees Coreum as a complementary – and necessary – adjunct to the giant Munich trade show.
"We have had a lot of companies here at Coreum training for Bauma, companies bringing their annual or quarterly meetings to the site.
"Then after Bauma, some of the machines on show will move here, and if the customer wants to come and see a machine, he can do so at a time when he has the time to be able to see it. We are dedicated to his timetable, not ours. That's why we have a 600 sq m (6,450 sq ft, 3 m (10 ft) deep indoor 'sandpit' for testing machines, so that even when the weather is bad, even when it is snowing, he can still come.
"I'm not speaking against Bauma. We need Bauma. But how much time does the customer have there? Half of the customers we probably won't see. With maybe another 20% we will get five minutes for a quick walk around beside the product. Perhaps with some customers, you will get half an hour. You could easily spend half a day or a full day learning about the full process of the industry."
As Toni says, Kiesel does indeed need Bauma and it will be there, representing a business based on around 3,750 units sold in 2018, a presence in 12 European countries and a turnover of €500 million (close to US$600 million).
It will show machines from both the standard and performance versions of its KMC demolition excavator range.
"Why are we going with this? I believe the demolition industry needs dedicated machines for the job site and one size can't fit all. They are tool carriers and it is the optimum combination of quick coupler and attachment that makes the customer successful. And if the customer is successful, you will be successful as well."
It is easy to overlook Kteg in all this, but it will also be at Bauma. Its recent focus has been on developing battery-driven, zero emission excavators for urban environments and confined spaces. The company's ZE (zero emission) range will be on show too.
Joint venture
At the start of this year, Kteg and Hitachi entered a joint venture to form the European Application Centre (EAC) and bring the respective fields of expertise of the two companies together. The move has put Kteg in charge of developing solutions for the European market.
"On one side we have Japanese quality and standard products," said Toni.
"We also have some specialised products like tunnel excavators.
"But on the other hand people need a solution for Europe, especially customers in the central and northern parts of Europe.
"The process orientation, the lack of labour, the lack of expertise, is driving us in a direction to mechanise job sites more and more, so we have a big problem with skilled people and with enough drivers and on that front the image of this industry is old style, it's dirty, it's not high-tech. The machines are high-tech and the driver must be very skilled but it's not a very attractive business for newcomers. If you're in, it's fascinating, but it's very difficult to get the image on this level where it should be."
There is also a special projects group currently working on digitalisation, particularly combining information from different brands of machine.
As for Kiesel, the future will be about building on the roots put down in the past 18 months in the shape of Coreum and over a much longer period for the company in general, both physically in terms of a planned expansion to 120,000 sq m (1.3 million sq ft) and intellectually with the new ideas and solutions that will develop from the growth of the site.
"It's not just about the machine, it's about being the system partner for the customer," concluded Toni.
"We have the quick coupler, we have the attachment, we are dedicated to the customer group. We have our own special products, we have the financing, we have the training, we have the customising centre. With us the customer has a partner who takes care of everything.
"There are lot of things coming up from Kteg side together with the EAC, but you have to see the products; I am convinced about this. Last week we had a customer from South Africa. He was coming for a material handler and he left with the idea 'I need three KMCs'.
"It was his solution."
· This article is from the April 2019 issue of Demolition & Recycling International. To see the full article, including additional images, or to register to receive the magazine on a regular basis, please visit www.khl.com/subscriptions