Tooling up - demolition attachment developments
By Lindsay Gale20 May 2010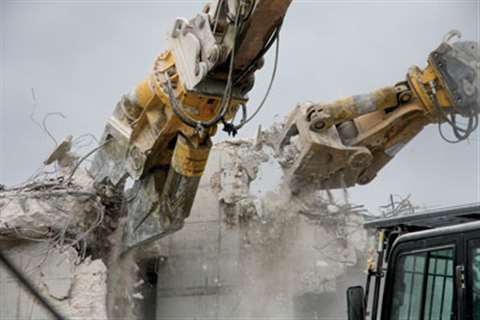 R&D has not stopped at the specialist demolition attachment suppliers' facilities, despite the difficult trading conditions that have been the norm for this sector of the industry.
Wolfgang Hohn, Atlas Copco's Product Line Manager Silent Demolition Tools, told D&Ri that in addition to the new tools that were launched at Bauma, the CC6000 and the CC650, Atlas Copco over the course of this year will introduce two new models - a CC300 or CC350 to replace the CC250 and the CC4500 that will fill the current gap between the CC3300 and the CC6000. According to Wolfgang; "When this product development is completed, we will have an eight model range of CombiCutters that will serve the excavator classes from 2 tonnes up to 85 tonnes." The company currently has no plans to go beyond the 6.5 tonne CC6000 - the volume end of the excavator market is in the 40-85 tonne range and largely, demolition contractors' fleets, while made up of larger excavators than in the past, are predominantly made up of machines in this size range.
As is the case with every attachment manufacturer, the last 18 months have been challenging for Atlas Copco and its SDTs, but the picture is beginning to change. "From January 2010 onwards, unit sales have picked up, although it is currently a bit quiet again. Nevertheless, I am still optimistic for this year and feel our sales will pick up to a level quite a bit higher than last year, although we will not reach the levels of 2007/2008 for a long time," said Wolfgang.
This was echoed by LaBounty sales manager Europe Heinz Groppe, who told D&Ri: "Where market conditions are concerned, the arrow is pointing upwards and we are getting busier. Nothing like the boom days but rather back to what used to be normal business." He went on to say that, over recent months LaBounty has been finding that its customers have been concentrating on the small and large tools almost to the exclusion of the mid range sized tools.
Wolfgang's belief is that there are two distinct types of demolition contractor when it comes to attachment sales. "Some companies in the sector are only really concerned about how much an attachment costs. Others are less concerned about the price and more focussed on performance, capability and after sales service", he said.
Despite the difficult market conditions, Atlas Copco has not scaled back on its R&D effort. "We are working on providing more power from our tools. Our medium and large CombiCutters are currently available with two jaw sets [shear and universal] but we have been working to provide more performance with a new jaw set, the B version or box jaw."
According to Wofgang, the increasing need for high levels of recycling, driven in large part by EU regulations, is driving a demand for tools that can produce larger pieces of reinforced concrete during demolition, which can then be fed direct into a primary crusher that then crushes the concrete and separates out the rebar. "Key to the new jaw set is the fact that it results in much less dust than a normal pulveriser would do - dust is something that we are trying hard to minimise with our tools," he said.
Modern hydraulic systems have come a long way in recent years and are now much more sophisticated and frequently computer controlled and this requires a close level of cooperation between Atlas Copco and the excavator manufacturers. Of this, Wolfgang said: "It is not a problem, but of course we have to discuss the developments we are working on with the major excavator manufacturers."
In addition to the CombiCutter range, Atlas Copco also offers the Multi Grapple line of attachments, which was refined and updated during 2009 but the company is now working on some other new attachments. According to Wolfgang: "We are now working very hard on a new line of pulverisers for primary and secondary demolition that offer higher performance. This sector is very specialised and end users appear to have varying requirements. We hope to have the first two units ready by spring 2011." A case of watch this space!
Italian perspective
Italian attachment specialist Mantovanibenne has been in the dedicated attachment business for many years, and indeed was among the first to start producing specialist demolition attachments. It has experienced the same challenging market conditions in recent months. According to export manager Christophe Jarrin, this has resulted in the company seeing a distinct change in the market dynamics. He told D&Ri: "Today, our customers are looking towards making their equipment last as long as possible, so they are carrying out more maintenance and refurbishment and the demand for spare parts has grown as a result. However, there is a background trend becoming clear. We do see an increasing demand for larger attachments over 2.5 tonnes as contractors go for the larger carrier classes, especially in Eastern Europe. Where Western Europe is concerned, the need for smaller attachments for compact and ultra-compact machines is also a growing one."
Mantovanibenne has covered both of these with new product launches. On show at bauma was its new crusher, the 8,250 kg (18,150 lb) CR80R intended for carriers in the 70 to 90 tonne range, as well as what it calls the Micro Machine Line. This consists of small MS multisystem tools and the MCP line of smaller pulverisers.
Mantovanibenne of course offers the world's largest jaw opening Multitool in the shape of its MS130R that weighs in at 14 tonnes but has no plans to go bigger. According to Christophe: "We have reached a form of natural limit with this tool. To go bigger would require a carrier of such weight that transport would become a serious issue."
One area that Mantovanibenne is addressing is the demand in the market for more power from tools of the same weight. Christophe said: "There is a new generation of hydraulic cylinder coming. In our shear line for instance, we will gain between 20 to 30% in power with no increase in weight With the SH900, we will be lighter than the SH1000 and more powerful. The CR80 crusher introduced at bauma offers almost the same force at the tip as our existing CR100. Today it is all about optimising tools for less weight but greater power for two reasons. Customers do not really want excavators bigger than 80 tonnes for transport reasons, and the quality of the strength and overall quality of the materials to be processed is improving as more recent structures are scheduled for demolition."
It has been a difficult time for the attachment sector, as it has been for the industry in general. With projects on hold, demand for attachments was badly hit during 2009, but the worst would appear to be over, with demand beginning to pick up again. The road back will be long and slow, however. That is the view of the many attachment suppliers who attended the seven days of the bauma trade show in Munich in April.