TopLift 2022: Choose your winner
By Niamh Marriott20 September 2022
Our annual TopLift competitiont is back and it's time for you to vote for your favourite lift from our selection of ten terrific lifts featured in International Cranes and Specialized Transport magazine. To choose your winner, pick your preferred lift from the selection by completing and returning the editable form at the bottom of this page.
1. HEAVIEST HAUL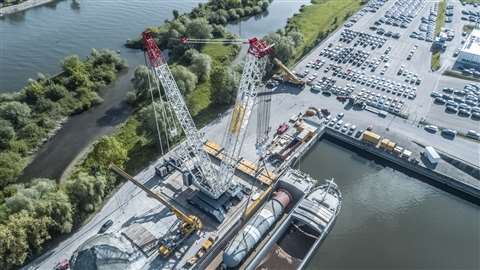 Equipment user: Schmidbauer
Equipment used: Tadano Demag CC 8800-1 crawler crane
Location: Germany
German crane specialist Schmidbauer used Tadano Demag cranes to lift and load onto self propelled modular transporter (SPMT), and then transport, a 700 tonne refinery column from the Port of Kelheim to the Bayernoil factory in Neustadt an der Donau. It was one of the heaviest loads to have ever been transported on roads in Germany.
To lift the load onto a 44 axle SPMT for transport to the refinery 25 kilometres away, a Demag CC 8800-1 crawler was assisted by ATF 220G-5 and AC 500-2 all terrains, both of which were also used as assist cranes to set up the crawler crane. At the Bayernoil refinery, the CC-8800-1, assisted by a 600 tonne CC 2800-1, lifted the load up off the SPMT and into its final vertical position. 
Watch a video of this lift by clicking here.
2. WORLD FIRST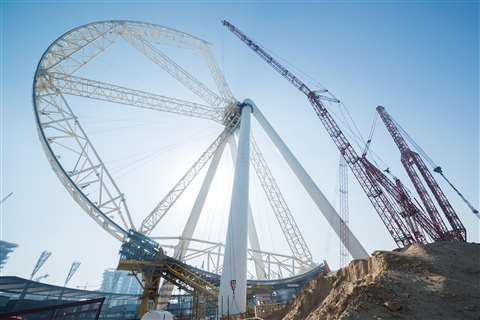 Equipment user: Mammoet
Equipment used: PTC 200-DS
Location: United Arab Emirates
At the heart of Bluewaters, an island destination in Dubai, UAE, the Ain Dubai observation wheel stands more than 250 metres tall. The wheel comprises a 240 metre rim, rotating hub and fixed spindles mounted on four support legs. For the installation, Mammoet paired one of the world's biggest cranes – its PTC 200-DS – a 5,000 tonne ring crane, with a 3,000 tonne crawler crane. Together they ensured the stability and flexibility required to lift each leg and the spindle from the barge into position, while working 137 metres above the ground. Subsequently, Mammoet set a world record by lifting the 1,900 tonne spindle to sit on top of the four legs: it was the heaviest and highest tandem lift ever undertaken worldwide.
3. WATCH TOWER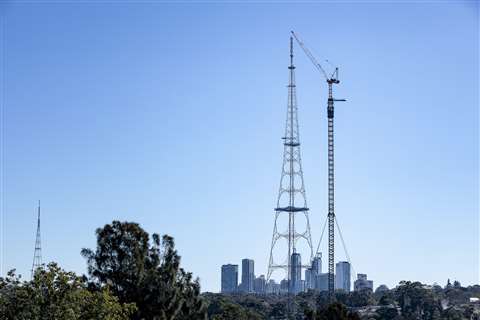 Equipment user: Marr Contracting
Equipment used: Favco M310D luffer, Favco M1280D luffer
Location: Australia
Two tower cranes, a Favco M310D luffer and a much larger M1280D Favco luffer, were used by Marr Contracting to dismantle the 233 metre TCN-9 television transmission tower in Sydney, Australia. The tower was decommissioned in 2021 and not structurally sound enough to attach lateral supports.
"The challenge from a craneage point of view was to find a way to get the crane hook height above 233 metres without the need to build expensive and complicated temporary structures to support the crane," said Simon Marr, Marr Contracting managing director.
4. TESTING TIMES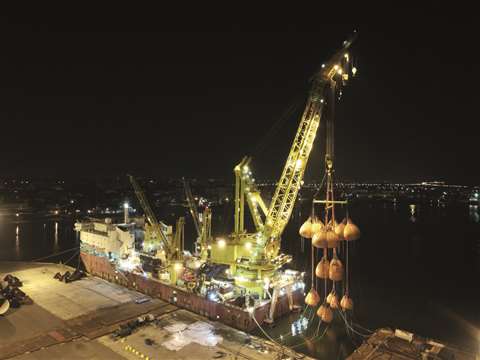 Equipment user: Liftek
Equipment used: Sapura 3500 deck crane, Liftek water bags
Location: Taiwan
A water bag load test of 2,420 tonnes was completed by Liftek, one of the biggest ever conducted. The load test was to verify and certify the revolving capacity of a Sapura 3500 deck crane, owned and operated by Sapura Energy, prior to it being deployed at the Yulin Offshore wind warm project in Taiwan.
5. MODERN MOVES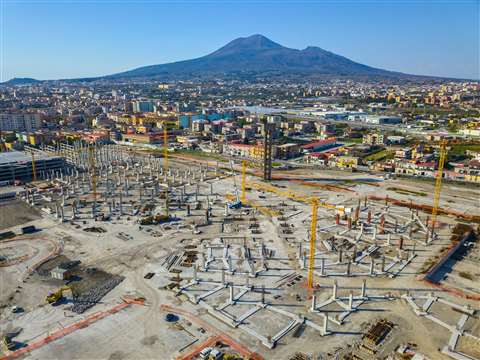 Equipment user: Gruppo Irgenre
Equipment used: 5x Potain MCT 88, 2x MDT 189
Location: Italy
Italian real estate developer Gruppo Irgenre used seven Potain tower cranes, five MCT 88 flat top city cranes and two MDT 189 flat tops, from dealer Edilcom Gru, to help construct a tourist hub in Pompeii, Italy. The 200,000 square metre Maximall Pompeii complex, close to the archeological site, will include 200 shops and 20 restaurants.
6. BIG REACTIONS
Equipment user: Sarens
Equipment used: 5,000 tonne capacity SGC-250
Location: United Kingdom
On of the world's biggest cranes, nicknamed Big Carl, has been in action again at Hinkley Point C nuclear power station in Somerset, UK. The 5,000 tonne capacity Sarens SGC-250 placed the first steel ring section onto the second reactor building, 11 months after the same operation on the first reactor. The 575 tonne prefabricated ring, which is 47 metres in diameter and 17 metres high, forms part of a reinforced cylinder around the nuclear reactor.
7. BUILDING BRIDGES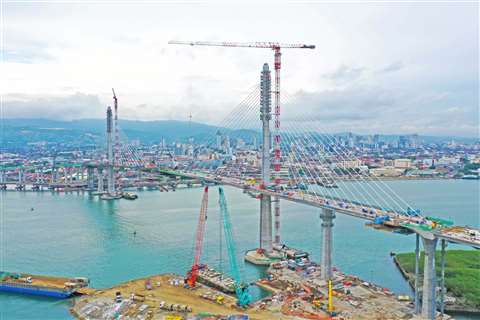 Equipment user: Cebu Link Joint Venture
Equipment used: Comansa 21LC660
Location: Philippines
Two Comansa 21LC660 flat top tower cranes helped construct a cable-stayed bridge which will join two islands in the Philippines. The bridge, named the Cebu-Cordova Link Expressway, will join popular tourist destination Cebu City, the second largest city in the country, with Mactan Island, where the international airport is located. Both tower cranes were struck by lightning during the construction work. No operators were harmed and work continued following electrical checks.
8. PARISIAN PERFECTION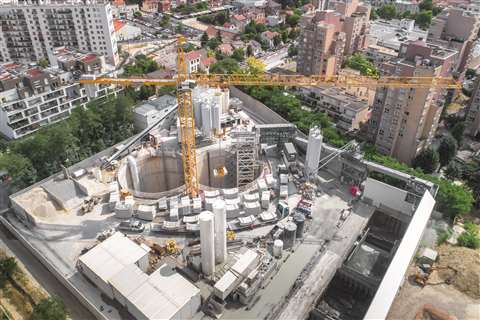 Equipment user: Liebherr
Equipment used: 1000 EC-H 40 Litronic high-top cranes
Location: France
In the capital city of France, four additional Métro lines, 68 new stations and 200 kilometres of new track are being constructed, effectively doubling the size of the current track. Nicknamed "Grand Paris", it is the largest construction site in Europe and forms part of a project that aims to double the current public transport network by 2030. As well as new infrastructure, existing buildings and track are being refurbished and extended. Liebherr has a wide range of its equipment working on the project, including multiple tower cranes.
This Parisian project was the focus of Stephan Formica's presentation at the ITC conference, held in December 2021 in Nice, France. See videos of the event by clicking here.  
9. GAS GIANT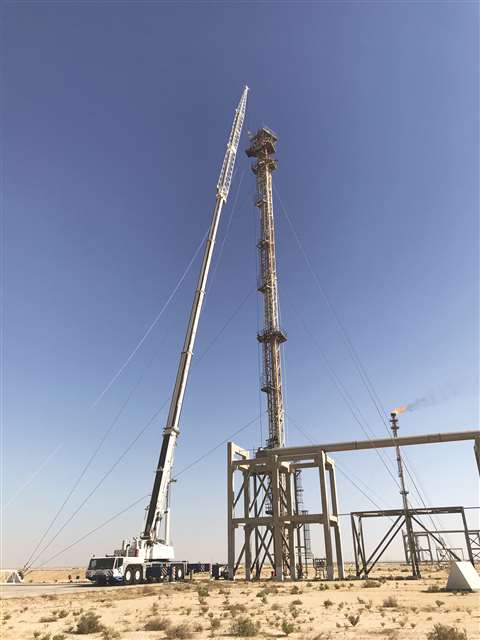 Equipment user: Saudi Aramco
Equipment used: Terex AC 350
Location: Saudi Arabia
Saudi Aramco removed the flare tip assembly at the company's Khursaniyah Gas Plant using a 350 tonne capacity Terex AC 350 wheeled mobile telescopic crane. The weight of the flare tip assembly was around 5 tonnes and the working radius was 22 metres. A requirement to operate at high elevation saw the main boom set at 56 metres, plus a 37.5 metre fixed jib and 32 tonnes of counter weight.
10. CHINESE EXCELLENCE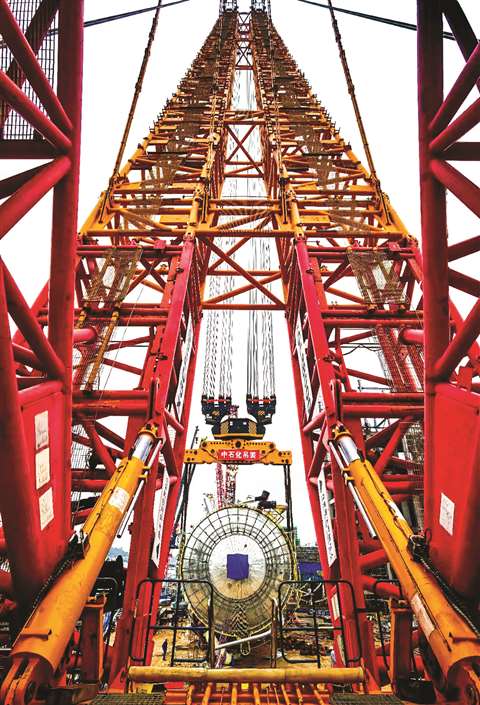 Equipment user: Sinopec
Equipment used: XCMG XGC88000 crawler crane
Location: China
The heaviest and tallest separation tower on the Quanzhou Guoheng Chemical Project in China was installed using a giant 4,000 tonne capacity crawler crane from Chinese manufacturer XCMG. It was the third and final lift on this project for the XGC88000 lattice boom crawler crane owned by the Sinopec Lifting & Transportation Company.
Supporting documents
Click links below to download and view individual files.