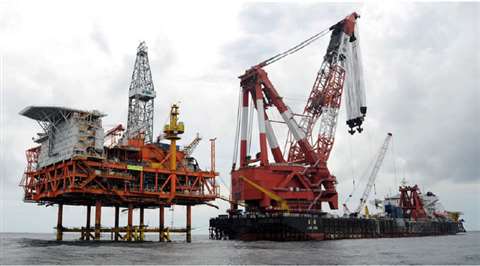 Global heavy lift and transport service provider ALE, based in the UK, has completed the load-out, float-over, offshore lifting and levelling operation of the 13,000 tonne Lu Feng topside in the South China Sea.
For the project, the topside was transported 140 metres from the build location to a float-over barge at Shekou using four 850 tonne strand jacks. The strand jacks were installed in the cellar deck skid beams of the topside, a spokesperson said. The topside was then lifted 10 metres onto the platform.
To ensure safe operation, ballast and barge level monitoring systems were used to allow real-time information of the tidal data and the positioning of the barge in relation to the quayside to be seen, a spokesperson said.
Daniel Kempin, ALE Offshore Services business development manager, said, "The Lu Feng project brought together all ALE Offshore Services expertise: the in-house engineering, operational optimisation and multi-skilled staff working smarter and safer to offer an innovative solution.
"Even with our reliable techniques and equipment, the main highlight for this project was the amalgamation of all of the latest developments in ALE Offshore Services' monitoring systems. Each individual or combined operational phase was witnessed in real-time from a central control station, thus benefiting all stakeholders in the direct total management of the project operating with fluency to avoid any unnecessary stoppages, saving valuable time and money."
The project was carried out for COOEC.