Tower crane focus at ITC in Vienna
By Murray Pollok09 July 2019
More than 200 delegates attended the 6th International Tower Cranes (ITC) conference in Vienna, Austria on 26 and 27 June, with speakers addressing topics including fibre ropes, BIM technology, remote crane operation and the use of drones to inspect tower cranes.
Jörg Hegestweiler, CEO of BKL Baukran Logistik, used his keynote speech to urge tower crane manufacturers to focus more on creating rental-friendly cranes.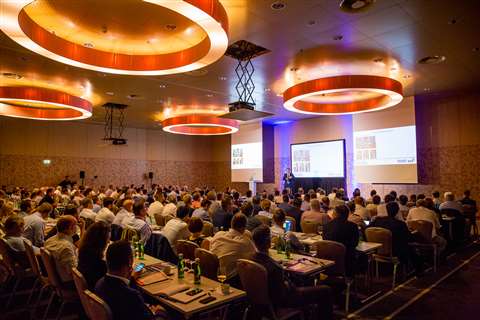 He said the high number of different crane components – bases and tops - meant that a significant proportion of components were often unused, reducing actual utilisation rates. "I estimate that approximately 10% of the machine is sitting in the yard. Utilisation in terms of volume is going down."
He said it was not unusual for a rental company to have more than 25 different crane tops. "In my opinion, we have to reduce this quite quickly…We also have so many different undercarriages - just remember that we have five different brands. The main thing is to reduce the number of components, try to make one base for rental."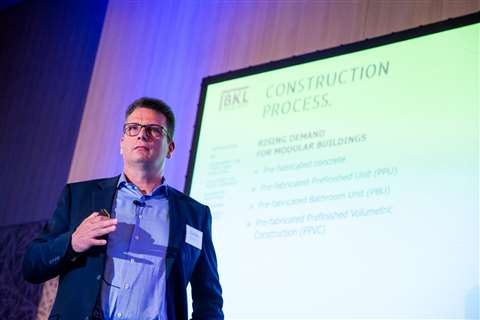 He added that crane manufacturers should also consider the logistics of storing and transporting tower crane sections in a rental business. BKL has developed its own frames for storage and transportation; "OEMs need to keep in mind how to store material, or how to transport it."
All the presentations will be available to download from the conference website – www.khl-itc.com – within a week or two.
The event was well received by delegates. "I enjoyed the day very much", said Aviv Carmel, general manager at Skyline, "To be at the conference is a big value for us. We have met most of the leading people in the industry. It's the third time at ITC for me, and each one has improved. You meet people from the same industry, with the same problems, and share solutions and ideas."
Benson Neo, Capital Cranes Global CEO, a Singapore-based tower crane rental business, said it had been very useful for the business; "We came to gain knowledge, and secondly to network. We have social media etc, but it's not as good as meeting in person; you get a better relationship and connection."
Beth O'Quinn, senior vice president at the Specialized Carriers and Rigging Association (SC&RA), which was event partner for ITC, said; "What I've enjoyed most about today is the interaction with other attendees, learning from colleagues across the world and yet learning that we are all addressing the same issues regardless of where we are."
"I think it's very important for the industry to be able to meet face-to-face. The digital age means that you can get information very quickly; but being able to have relationships and face-to face interaction and learn from your colleagues around the world, that can't be replaced by e-mail."
The conference had four gold sponsors: Jaso, Liebherr, Terex and Wolffkran. The three silver sponsors were AMCS Technologies, Comansa and Potain (by Manitowoc).
Supporting sponsors were Blokcam, Casar, ENG Cranes, ITI (Industrial Training International), RaycoWylie, Skyline Cranes & Technologies, and SMIE. SC&RA was the exclusive event partner.
The next KHL tower crane event – the second Tower Cranes North America (TCNA) conference - will be in Miami, USA in June 2020, with the date to be confirmed.
The next ITC will be held in Europe in May or June 2021. The dates will be announced in due course.