Tower crane operator hoist from Liebherr
By Alex Dahm26 January 2015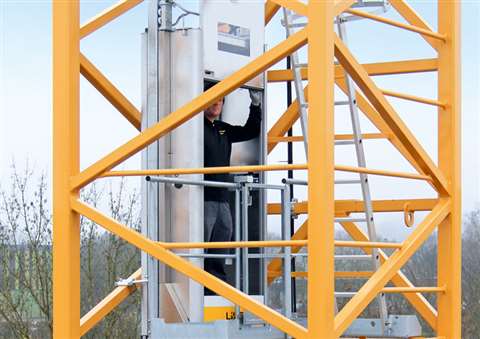 An elevator for tower crane operators has been developed by Liebherr.
The 200 kg (two people or one and equipment) capacity LiUP is mounted inside the tower crane mast or, for smaller cranes, on the outside. It allows the operator to ascend and descend tower cranes with current and older mast systems instead of having to climb ladders to reach the operating cabin. It is a double rack 2 x 2 pinion design and maximum height of lift is 300 metres.
The length of the elevator's rails are matched to the mast section and can be left in position in the tower sections and re-used the next time the crane is erected. New cranes and mast sections can be ordered from the factory with or without rails and the rails can be retrofitted to existing mast sections already in an owner's fleet.
No power supply cables, ropes or drag cables are needed, Liebherr said, as the electronically controlled system is powered by a lithium-ion battery. When the elevator is at the bottom of the mast the battery is docked for charging from a mains power supply. On descent there is an electrical power regeneration system that helps to recharge the battery. Liebherr claims an enegy recovery rate of 40%. In emergency recovery situations the elevator can be operated independently of the tower crane.
Internal mounting is possible on Liebherr masts of 2.3 x 2.3 m and bigger, including the following: 185 HC, 256 HC, 355 HC, 500 HC and 1000 HC. External mounting is required on the following: LC, 120 HC, 140 HC, 170 HC, 256 IC and 355 IC.
The new elevator is designed to comply with the EN 81-43:2009 Safety rules for the construction and installation of lifts. Special lifts for the transport of persons and goods. Lifts for cranes standard. It is also made to comply with the EN 13849-1:2006 standard on safety requirements for design and integration of safety related parts of control systems, including software, Liebherr said.
LiUP will be shown publically for the first time at the Intermat exhibition in Paris, France, mid-April 2015.