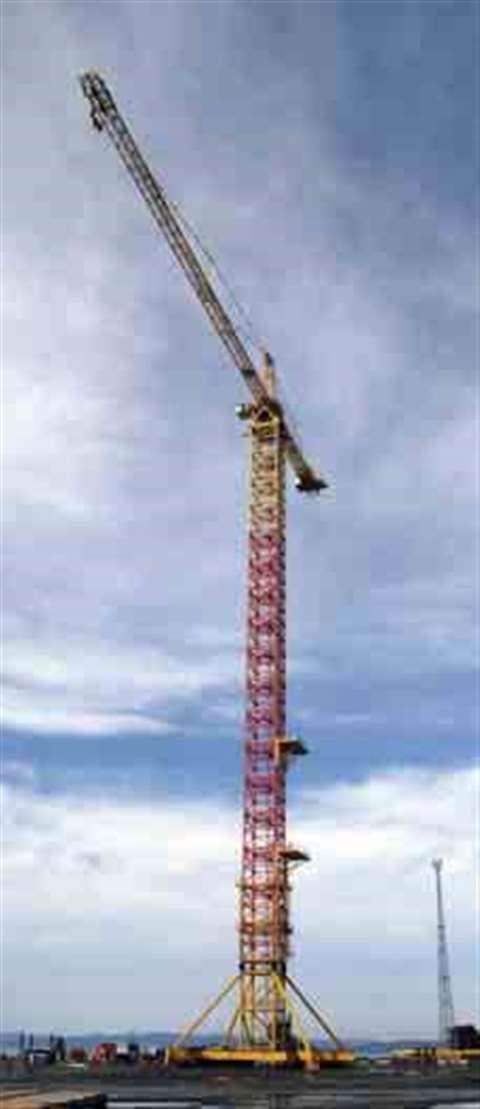 A rail mounting is the usual way to move tower cranes on site, but there is an alternative. Aker Verdal, a Norwegian company that constructs oil and gas offshore modules and platforms, chose another way to move its Liebherr HC3150 tower crane around its yard.
The basic frame of the tower crane has been designed to allow hydraulic modular trailers to be driven underneath and to lift the fully assembled crane. Recently Aker Verdal's crew demonstrated the solution by shifting the tower crane almost 1 km across the yard.
The crane's height of 128.5 m and weight of almost 830 tonnes give it a high centre of gravity but it safely reached its new location. For the move Aker Verdal assembled two Goldhofer modular trailers, each of 18-axle lines. Aker Verdal owns and operates its own fleet of Goldhofers that includes 68 lines of the THP/SL type.
Both trailers, with a total of 288 wheels, were manoeuvred underneath the tower crane's base frame, almost 25 m apart. The trailers' hydraulic suspension, with its 600 mm stroke, provided the necessary lift. Despite the relatively short distance to be covered, three 90-degree turns had to be negotiated. Here Goldhofer's additional remote electromagnetic steering system proved its worth.
Although both trailers were not mechanically coupled, and were a long way apart, the system adapted the radius of the outer trailer to that of the inner for a parallel move during all phases of the operation. Aker Verdal's crew used Volvo wheel loaders, with specially adapted front racks, for traction.