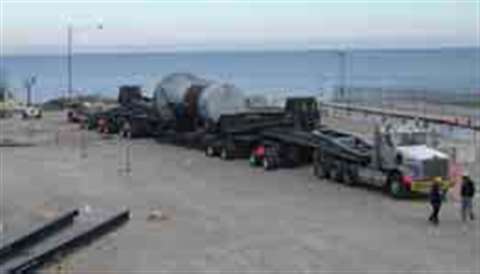 Perkins Specialized Transportation Contracting was called in to complete the delivery of a new reactor head to a nuclear power plant in Wisconsin, US, and to remove the existing one.
The journey began when Perkins collected the 107 US ton (97 tonne) reactor from a ship in Houston, Texas. The head was unloaded from the ship onto a TK250 Trail King Dual Lane Transporter trailer hitched to a Kenworth tractor and the journey north began.
On arrival in Wisconsin, the manufacturer of the head removed the existing one and installed the new replacement. Perkins took possession of the old reactor head and CRD (Control Rod Drive) assembly on the shore of Lake Michigan before embarking on a journey of more than 1900 miles (3057 km) to Clive, Utah, for its disposal at a specialized facility.
The journey, which in total crossed seven States, required ten months of planning with the disposal contractor, plant personnel and Federal agencies that included the DOE (Department of the Environment), DOT (Department of Transport), NRC (Nuclear Regulatory Commission), Homeland Security and authorities from all of the States that the convoy passed through.
Also, a HAZMAT (hazardous materials) consultant trained the Perkins drivers and management staff to 49 CFR 107 (the standard for transporting toxic materials) requirements.
Perkins also developed a Transportation Security Plan and a Risk Management Plan, both of which were subject to Federal approval, before the journey, which took a week, could begin.