TPV adds Liebherr R 914 Compact
France-based construction company TPV (Travaux Publics du Vignoble) has acquired a Liebherr R 914 Compact crawler excavator with Stage IV/Tier 4f engine.
TPV, located in Sundhoffen in the Alsace region, purchased the machine based on its performance, Liebherr's service, and its work in confined spaces.
The R 914 Compact expands TPV's fleet of Liebherr machines, which consists of A 311 and A 314 wheeled excavators and L 506 Compact and L 509 Stereoloader. TPV has been relying on its Liebherr sales partner since the company's formation in 2007.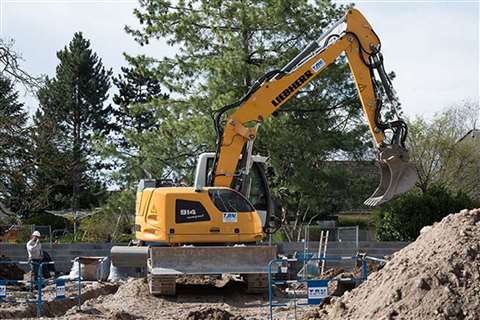 With a tail swing of 1.55 m (5 ft), the Liebherr R 914 Compact can be used to perform various tasks and its compact dimensions make the work of TPV's employees safer and more comfortable and the risk of damage to the construction site environment is low.
The R 914 Compact is the smallest crawler excavator built by Liebherr at its factory in Colmar, France. The model was designed for work in restricted spaces, such as inner city applications and thanks to its 14.9 t operating weight and 90 kW/122 hp engine, the excavator has a high penetration force.