Tracked aerial work platforms offer end-users a range of benefits. Some of the smallest units can fit into a regular 8-foot deep personnel elevator, some models with work heights up to 138 feet can still go through 3-foot single door, and the tallest units will actually challenge the tallest telescopic boom lifts, offering 170 feet of work height – and still sport the ability to go through a 4-foot double door and work on most indoor floors.
One of the newest entrants into the market is Teupen's LEO34GTplus that was debuted at ConExpo. Martin Borutta CEO and shareholder of Teupen, says the industry is seeing a demand for increased capacities, bigger baskets and battery-operated systems.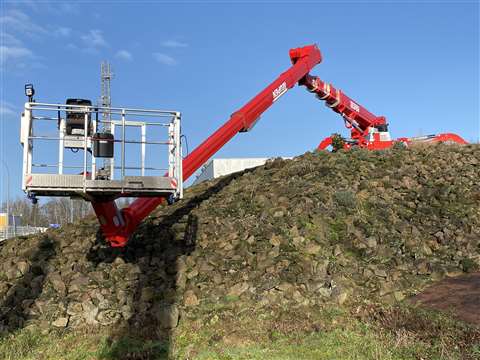 The LEO34GTplus features a maximum working height of 111 feet, maximum horizontal outreach of 20m feet, platform capacity of 881 pounds and 450 degrees of maximum turntable rotation.
Some of the unit's key features are its negative reach of up to 30 feet and its rotating platform. The rotatable platform adds extra versatility to the lift operation. The LEO34GTplus features a 2 by 220-degree rotation for true extra flexibility and the most precise platform positioning possible.
The controls allow safe and easy operation, the company says. To drive on tracks or to set up using the stabilizer function, the radio remote control can be used, allowing the operator to move around the machine to get a better view. A two-line display shows: Fuel indicator, platform capacity/live load during the use of the lifting device and the load capacity in percentage. An additional feature includes: Start/stop of the combustion engine via the radio remote control.
Standard features of the LeoGTplus also include electrical emergency lowering using the Teupen 1-2-3 principle and the swivel function over narrow outriggers when set in a narrow position.
Further new launches
All Access Equipment used ConExpo to launch its new F Series of lifts, including the company's tallest, the CMC 60F. The unit features up to 60 feet of working height, up to 30 feet, 10 inches of side reach and weighs and 5,269 pounds. The unit is just 31 inches wide, allowing it to enter through any standard door.
All Access Equipment said the CMC 60F features a "very user-friendly hydraulic control station on both the ground and the basket. These fast-proportional hydraulic controls make it very easy and intuitive for the operator to learn and get work done immediately."
The CMC 60F comes equipped with a fixed two-person aluminum basket, a standard with a Honda GX390 gas engine as well as the 120V 20A plug-in electric motor. The plug-in electric motor allows users to operate quieter and without engine fumes when working indoors.
Northern Neighbors
UP Equip was founded by aerial equipment industry veterans in 2001, and the company distributes Easy Lift atrium compact lifts in Canada, the United States, Mexico and South America.
UP Equip has evolved to be a major player within the atrium compact tracked lifts market, in 2019 it reported five-year revenue growth of 1,109% and has been listed on the Canadian Business Growth 500 list year over year. UP Equip offers lifts with working heights ranging from 40 to 139 feet.
While many tracked lifts are utilized in tree trimming businesses, UP Equip's Easy Lifts have worked across many industries, and even impressed a recent rental buyer.
"When we purchased the unit, we anticipated arborists and window cleaners customers, but the Easy Lift 70-36AJ has opened us up to a whole new market of industrial customers who have kept the unit out almost constantly," says Richard Durocher of Select Equipment Rentals. "Looking forward to purchasing the next machine."
COVID-19 impact
Tracked platform manufacturers in Italy, one of the countries most affected by the coronavirus thus far in Europe, are reporting factory closures and difficulties in receiving components. Despite this, they are endeavoring to honor deliveries and customer services, while protecting the health of their employees.
Palazzani has followed other Italian manufacturers in closing down most of its operations. The company said three or four employees are on site to finish some products for export but the others are all now at home. There are also problems with local suppliers, which are in the same situation, and therefore unable to deliver components.
At Hinowa, Davide Fracca, sales and marketing director, says the COVID-19 emergency is proving a major test for the country. "During the last few days, we have received an increasing number of communications from our suppliers informing us of the temporary suspension of activities, aimed to sanitize workplaces and install personal protective equipment."
As a result, the company risks receiving insufficient materials for product assembly over time. "Therefore, an interruption of the production lines is necessary to reorganize activities and reprogram the production."
Nevertheless, customer services will continue, with all related European and other export sales and administration departments working from home or the office. "We are doing everything necessary to get back to work with the production lines as soon as possible. The customer base will be promptly informed about any minimum delay in the supply of machines," says Fracca.
Platform Basket, located in Emilia Romagna, not far from where COVID-19 broke out in the country, has shut down operations, following a new government decree, stating that people are no longer authorized to work at their places of employment except unless it is essential.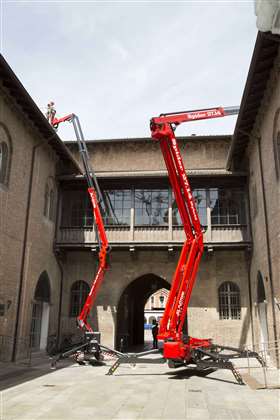 "Despite the information from China in the two first months of the epidemic, I believe we haven't paid due attention and taken the counter measures against it spreading in Italy," said Francesca Mora, marketing at Platform Basket.
"The company is still running pretty well, having a big order portfolio, therefore delaying the deliveries doesn't help or make the customers happy. But the health of our staff is our priority, so, once the epidemic leaves our country we'll dedicate our efforts to catch up the delay.
Changing landscapes
"The core benefits of an atrium lift are compactness, light weight and significant reach," says Ebbe Christensen, president and CEO of Texas-based ReachMaster. "Atrium lifts, or compact lifts as they are often called, are a natural selection for any indoor application where access is often limited to single or double doors, the work area will be on top of somewhat sensitive floor material, not to mention that the interior of a building often is subject to structural limitations."
During ConExpo, it was announced that truck-mount manufacturer Ruthmann purchased ReachMaster. ReachMaster has been a provider of compact aerial equipment and material handling equipment in North America for the past 20 years and has marketed Ruthmann Bluelift products for more than 10 years across the U.S. and Canada.
"With this acquisition, we will adopt and expand ReachMaster's existing operational framework," says Uwe Strotmann, head of sales at Ruthmann. "Additional jobs in sales and service will be created. This is another major milestone in Ruthmann's ongoing internationalization strategy."
Tom Goyer, VP of sales for truck-mounted equipment, said, "The Ruthmann products fit perfectly in the North American marketplace. Together with the extended team and the experience of the ReachMaster employees, we look forward to offering the best of everything in one, coordinated package: High performance, top quality, superb service and customer support."
Christensen, who is also the acting chair of IPAF's North American Regional Council, is excited about the new position as president and CEO of Ruthmann ReachMaster North America.
"After eight years as an independent distributor, it was a natural evolution for our team to partner up with Ruthmann, following years of very successful and always familiar partnership with Ruthmann. I am very delighted to see ReachMaster become a fully integrated part of the Ruthmann Group. The new company will represent the strongest line up of high-quality aerial lift products in North America, bringing added value to our customers on all levels. This new partnership will not only bring an unmatched product portfolio to the market, but expand business relationships across the industry from the rental market to end-users. We are excited to expand our footprint in the industry, while we continue to represent our current lines and provide sales and service to all our customers as usual."