Tracked platforms in demand
By Euan Youdale29 September 2020
The tracked platform - commonly known as spider lifts - is a pioneer of hybrid and electric-powered equipment and it is continuing to refine these offerings, as well as focusing on greater ease of use for these typically complicated machines.
One of the areas of continued development in tracked platforms is the move into electrification, which is well suited to this type of equipment, which is commonly used in sensitive environments like shopping malls, museums and airports, among many other applications, that require it to operate while the facility remains open to the public.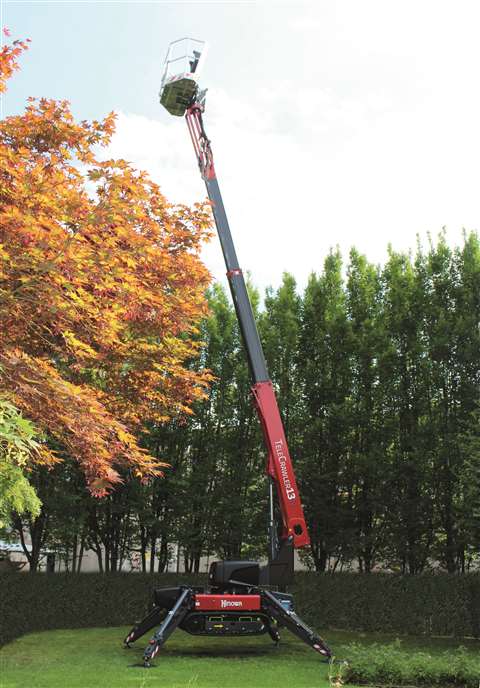 Hinowa recently launched the new full electric tracked telescopic lift, the 13m working height TeleCrawler13; the result of a major research and development (R&D) project and representing the first full electric drive tracked platform on the market. The electric track motors used on the TC13 have an IP67 protection factor, meaning it can work in muddy and dusty environments. (See more about this product in the Hybrid/electric feature in the July/August issue of AI). Furthermore, the new TC series will be expanded in the near future.
David Fracca, sales and marketing director at Hinowa, says, "Market demand is focusing more and more on dual engine machines, diesel and electric engines, and that's why we are going to develop this dual engine philosophy on the other models of our tracked aerial platform range."
Continuing developments in the sector, says Fracca, is ease of use through automatic stabilisation, greater performance and compact lithium-ion batteries, which guarantee a life cycle to match that of the machine. Advanced remote diagnostic systems and remote assistance, including software updates, are trends too.
"Rental companies are looking for versatile machines used in different fields of application, both inside and outside buildings. The dual engine, diesel and electric, allows the customer to optimise investment costs, since customers get two machines in one which allows a higher return on investment (ROI)."
To this end, Hinowa's R&D centre is investing a great deal in new control systems and in testing new lightweight, high performance materials and improved ergonomics, and is working on new dual side entry baskets.
Growth sectors
The tree care industry is a growing segment of the market, particularly in the US; a country that is embracing the benefits of the spider lift on a greater scale than ever before. This is providing opportunities for the established European manufacturers. In the interview with Teupen's CEO Martin Borutta, in the September issue of AI, he explains the growth potential in the US and the reasons behind the launch of its first insulated unit in full production.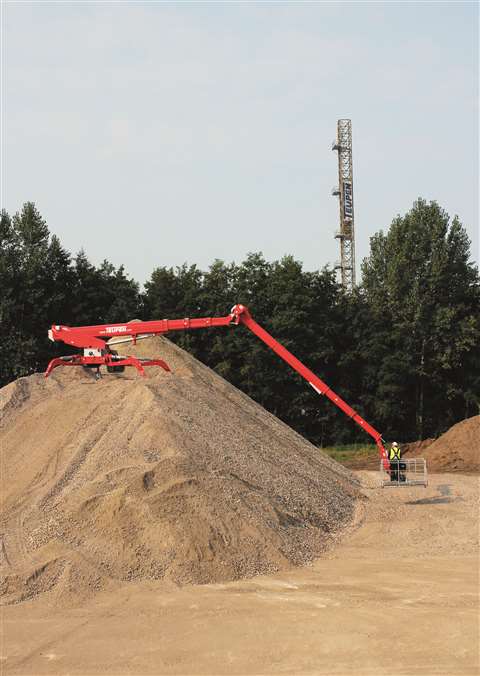 Likewise, Ommelift has just launched its first insulated machine, the 2650 iRX-46kV, which is also aimed at the US market. The model meets Class C insulation and is designed according to the new US-based ANSI A92.2 standards that became official in June. It is insulated with Waco fibre glass sections and is specifically designed to meet the needs of the tree care business. The first deliveries have already taken place in the US.
The new lift is diesel/battery hybrid-powered and has a 26.5m working height, a 12.2m unrestricted outreach and an articulating riser providing up to 13m up and over clearance. Other features include a hydraulic tool circuit, a powerful variable width undercarriage and ability to work on slopes up to 40%.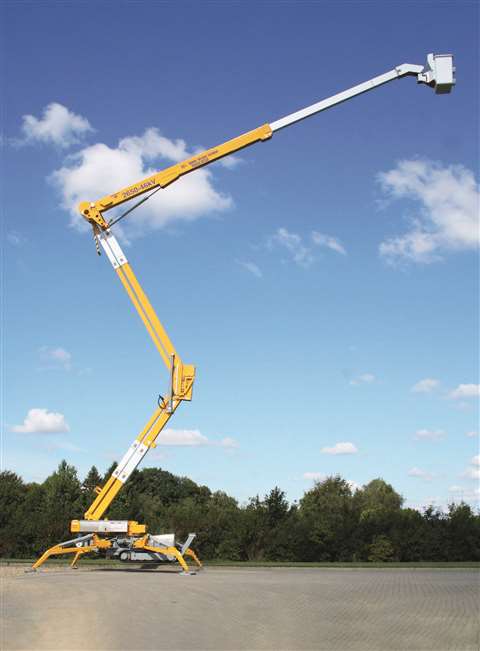 Ommelift's insulated 2650iRX 46 kV tracked lift
Ommelift's CEO Axel Thøgersen said hybrid and bi-energy tracked platforms have become standard in the industry, and to meet this demand, the company offers its True Hybrid system, including battery recharge when the engine is running. "We now see a growing demand for electric-only powered products. This includes new electric power systems and components to improve efficiency."
Apart from that, the company is continuously working on improving its line of tracked platform products in terms of energy efficiency, digitalization and performance. And Thøgersen sees great potential in lightweight boom systems with increased safe working load. "Also, the demand for digitalization and telematics will undoubtably intensify for testing, surveillance, service, tracking, instructions and long-distance trouble shooting. Furthermore, there is a growing demand from the rental business for integrated features to manage and monitor unit operation."
Insulated expansion
CMC, which names the US as its largest market, is also working on the prototype of a new 23m insulated machine, that will be launched in November. It will be insulated to 46kW, and represents a cutting-edge project that will be the pride of the Italian manufacturer's R&D department.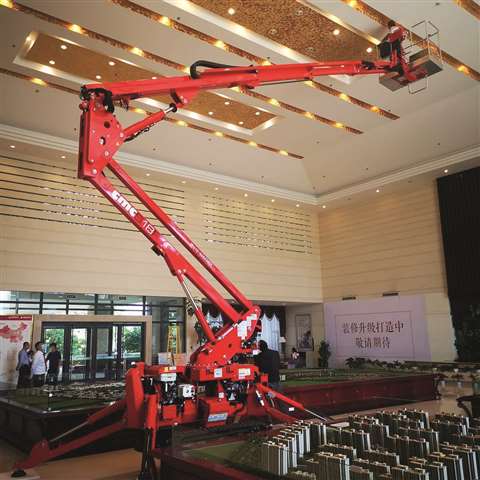 CMC's hydraulic S18F tracked platform
However, the manufacturer says it is seeing an additional and unexpected trend in the tracked platform sector. End users are no longer looking at the technological aspects of the machine, where possible, but are willing to pay more for equipment that is easy to use and to maintain. In accordance, CMC's F-Series product line, introduced at Bauma 2019, consists of three models; the S13F, S15F and S18F. It is a fully hydraulic range, which adds competitive working heights with a large working envelope for multiple applications to the manufacturer's full line of platforms.
Being fully hydraulic makes them very reliable and easy to use, says the company, with the entire range equipped with many of the standard features of electric models, including adjustable undercarriage in height and width, combined with good working outreach. For example, the latest model in the range, the S18F provides an 11.15m side outreach, the longest in the market on machines of 18m working height, says the manufacturer, while it weighs less than 2500kg.
The F-Series is also easy to maintain, since the lack of joysticks prevents errors and damage often caused by inexperienced users in the rental market.
Tracked trend
A further challenge is an evolution in the tracked market, similar to that being faced by the truck mounted platform sector. CMC, which, until a year ago produced truck mounts, understands both sectors well. CMC's Alessio Fasano says, "Customers want to pick up lighter machines, those that they will be able to tow on trailers with a normal driving license, in Europe, Australia and parts of Asia, or within the limit of the maximum transportable weight, in the case of America."
With these requirements in mind, the company introduced the S23, weighing just 3000kg. It is towable with a light trailer and a standard Category B driving license in Europe. Using this technology, CMC is developing new machines that will be launched in 2021.
However, the whole of the CMC range is available with lithium batteries. "Green and energy-efficient versions of these machines are constantly growing in demand and volume. So, we are sure this will be the future of our industry." And Fasano adds that there will be important innovations from the company in this area next year.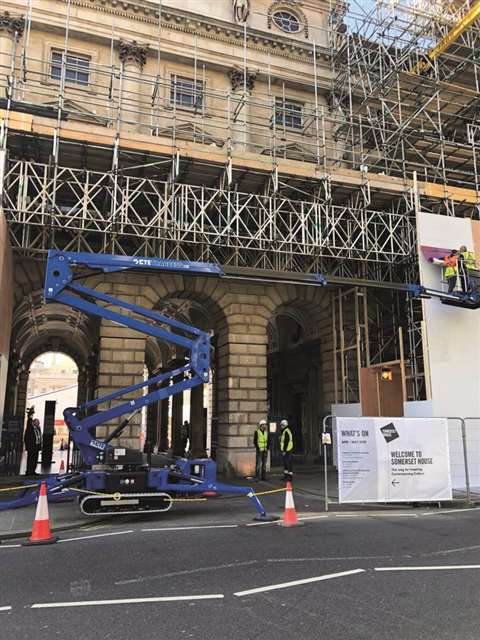 CTE's Traccess 230 spider at work
Fellow Italian manufacturer CTE still produces truck mounts and tracked platforms. Its most recent tracked product is the Traccess 200, launched at Bauma in 2019. The 20m working height unit is the most requested model from rental companies in its range, for everything from tree care to building maintenance.
The compact machine has 8.9m of outreach and a capacity of 250kg, which is unique to the segment, says the manufacturer. Apart from that the model can reach a fully vertical position and is designed to provide excellent boom rigidity. It also has an extensive range of engines and power versions and has intuitive control and easy maintenance.
A taller Traccess model, the 27m working height Traccess 270 will adopt the same features as previous models and will be equipped with CTE's new S3 (Smart Stability System), which controls the working envelope to allow the best performances based on the position of the stabilisers and the load in the basket. Besides S3, the model features automatic stabilisation, home function, integrated diagnostic display and full proportional and simultaneous control. To complete the features, the wheeled detachable basket can fit through standard doors or be replaced with a winch, along with a range of other options for tree care or indoor use. Future developments in CTE's Traccess series will include new models to cover the lower heights in the 16m - 18m area.
Simple compliance
Alessandra Mainini, at CTE, agrees on the trend towards equipment that is easier to operate for cold rental particularly and 100% electric-powered equipment. Mainini's view is that advancing electronics are complementing this trend. "Electronics are present in the industry more and more and have almost become a worldwide requirement. Safety on one side and ease of use are a must for manufacturers and operators. As such, all MEWPs must comply to the most advanced standards related to safety and performance levels, i.e., European EN13849. Moreover, electronics provide 24/7 remote monitoring that is fundamental for fleet management and serviceability."
Mainini adds, "The potential development of battery-powered versions is huge, the spider lift is becoming more and more ideal for operating during the night or inside buildings silently and emission free, which is a must for the future."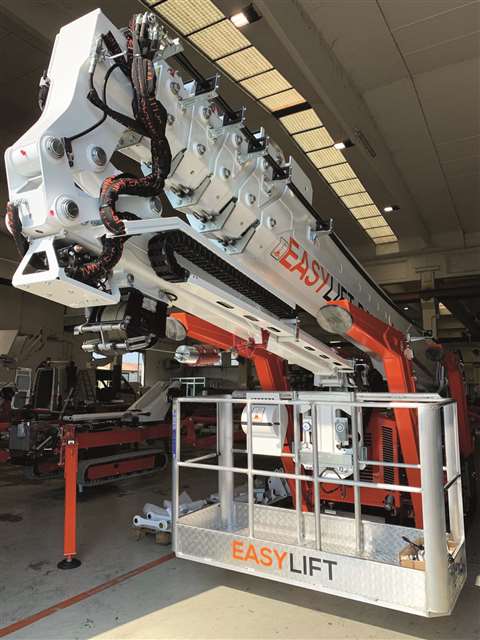 Easy Lift's 42m working height hybrid R420HY spider lift
Meanwile, hybrid and bi-energy tracked platforms continue to evlove. The latest model from Easy Lift, another Italian producer, is the 41.4m working height hybrid R420HY, which promotes itself as having a 500kg hydraulic capacity winch and increased capacity in the basket of 300kg.
The main feature is its versatility; the platform can be transformed from a platform to a crane, thanks to its winch. In addition, the hybrid system, with lithium battery, has a double-speed charger - slow and fast. It takes about an hour to recharge the battery to 80% and includes a generator that automatically recharges the battery while using the internal combustion engine. The manufacturer chose a Li-Fe-PO4 lithium battery for the machine, which it says is the safest and most stable on the market, and has a very long life of more than 4000 charging cycles.
The R240HY was to be launched at APEX, this June, before the show was postponed to 2021. Now, the company is developing a 23.5m working height model to offer an intermediate height option in the range.
Full electric
Easy Lift's Emanuele Sorianini explains, "We always keep in mind the requests and problems posed by customers, and we are very attentive to eco-sustainability and the environment. For this reason, we make two battery and hybrid versions, but certainly the hybrid version is more versatile, above all for working indoors, and for rental companies."
Although, Sorianini believes, "In terms of product design, our future products will be 100% electric. Customers have requested electric machines mainly to work internally, due to restrictions on the use of combustion engines."
Since Bauma 2019, IMER has launched a number of products and updates, including bi-energy and electric versions. This includes the IM R13 T telescopic model, the IM R19SA, single articulation, bi-energy unit and the IM R19 SA lithium, battery powered model.
They increase basket capacity, generally up to 230kg, for two operators, and implement hardware and software for efficient management of the platform. IMER's View telematics system is a new device, that includes remote control across the manufacturers entire range of MEWPs. They also offer a powerful lithium power pack.
Range extension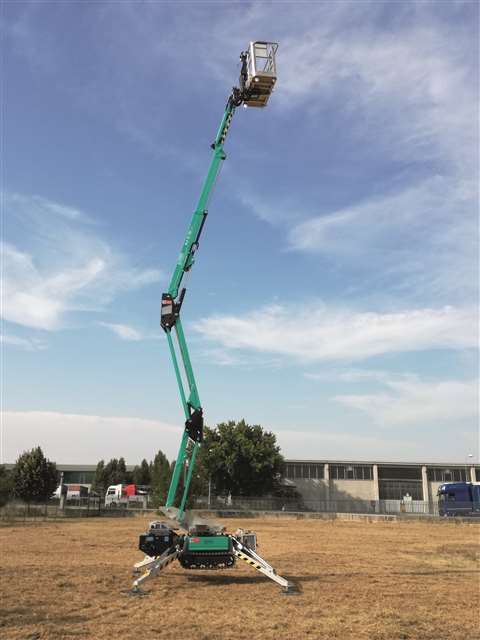 IMER's IM R15 DA was launched at JDL Expo, in Beaune, France, in September
The line is being expanded with two models. The IM R15 DA was launched at JDL Expo in Beaune, France, 9-11 September, while the IM R23 DA will be presented in early March 2021.
Both MEWPs represent a new generation of double articulating boom at the company that are lightweight and have a compact frame and stabilisation area. The new boom design features internal piping and cabling for ease and safe operation. The IM R23 offers an asymmetric stabilisation area, allowing it to be easily placed in cramped or irregular spaces.
These spiders follow the trend of the whole access industry, says IMER, which is moving from classic combustion engines for outdoor use, thanks to new developments in bi-energy (petrol/diesel and electric).
Paolo Pianigiani, commercial director at IMER, says, "Spiders, since their first beginnings have seen a lot of improvement to support the balance of both ease of operation and safe equilibrium because of the limited weight generally expected of this kind of MEWP.
"Nowadays, the available technology has surely marked a deep change, enabling the simplicity granted by direct hydraulic drive systems to the latest electrohydraulic developments, which today are commonly required for fleet management,
troubleshooting, data sharing, for after sales and maintenance."
Rental offering
ATN Platforms has one machine in its tracked platform range. The Mygale 23 is a 23m working height machine, launched in 2016 and updatedin 2018.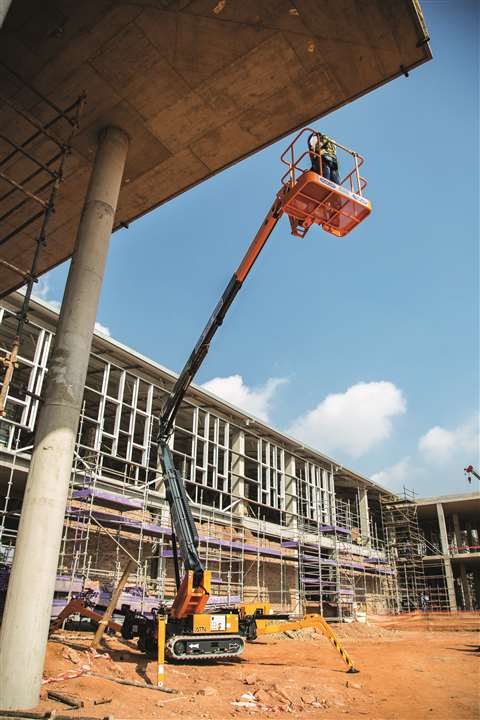 ATN's 23m working height Mygale 23
The main features of the Mygale 23 is a working height of 23m and horizontal outreach of 11m. As standard, the machine is equipped with a diesel Kubota engine and electric motor to allow driving, stabilizing and elevating on 220V. Combined with non marking rubber tracks, the machine fits indoor applications. A unique double telescopic boom allows a very quick elevation, from ground to maximum height in less than 90 seconds.
There is no immediate plans to enlarge the Mygale range of products, said the manufacturer, however Christophe Burel, commercial director at the company, says rental companies are slowly investing in this market segment.
"The main complaint from them is usually the lack of reliability of the machines and the difficulties they face each time with operators training onsite. The Mygale 23 was designed specifically to solve these issues, focusing on user friendly controls and operation to support our rental customers."
To solve the historic problem of spider lifts being complex to set up and operate, the aim of the Mygale 23 was simplified operation and quick set up. Its upper control box is very similar to those found on a typical articulated boom, meaning users are very quickly understand how to operate the machine. "This is a very strong sales benefit for our rental customers that are often reluctant to invest in this type of machine because of the necessary training to give operators for each delivery."
As Burel confirms, tracked platforms initiated the major trend in the industry for electric and hybrid machines. "Whereas spider lifts are widely used indoors thanks to their light weight and narrow width, once in transport position, diesel articulated booms are still mostly used on construction sites."
Burel adds that new electric and hybrid booms are being marketed for these types of rugged outdoor applications. "Manufacturers and rental companies are pleased to show and advertise [elctric/hybid machines], but users are reluctant to use them because of higher costs."
Falcon Lifts has delivered a Spider FS 330Z tracked platforms to a painting company in Nuuk, the capital city of Greenland – the first unit in the country from the manufacturer.
Falcon lands in Greenland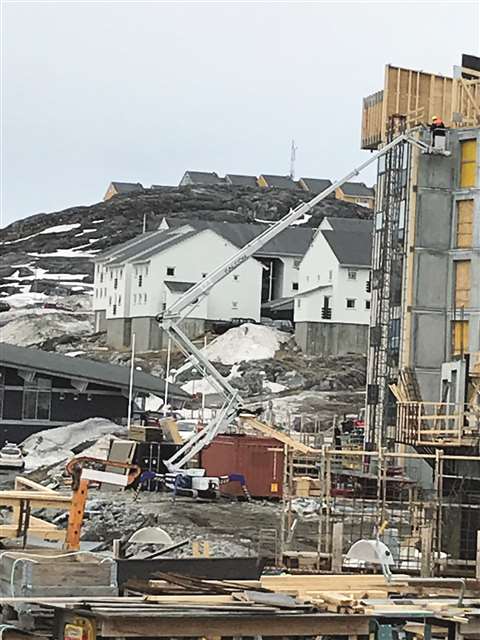 Faclon Lifts' Spider FS 330Z tracked platform in Greenland
The Falcon will also be available for rental and is already in operation at various construction sites in the Nuuk area. Due to the tough environment and often very cold temperatures a high-quality product was needed, said Brian Falck Schmidt, sales director at Falcon Lifts. "In fact, it is the first unit we have delivered to Greenland, and we are quite excited by the trust that Lars Arnskov, [the owner of the unit], has shown in our company by choosing Falcon Lifts."
"The Z-boom and the long outreach were the reasons why I chose the Falcon," said Arnskov, "and I am pleased with the GSM service module and onboard diagnostic system that allows superb service back up within a few minutes."
"The Falcon is the only platform of its kind in Greenland, so quick online back up is a must."