UP Equip, pictured here, is a major distributor for track-base Easy Lift. The company has more than 12 models of tracked units, ranging in working heights from 40 to 151 feet. Paré says the simplicity of the machine "means reliability to users."
The market for compact tracked lifts is growing steadily, according to industry experts, even if it's taking the rental industry some time to adapt. Education is still playing a major part in this segment, with providers going the extra mile to teach the industry the many benefits of these "little" lifters.
"The adoption of these products seems to be increasing as customers better understand the versatility," says Paul Kreutzwiser, global category director – aerial work platforms, JLG Industries, Inc. "The North American compact crawler boom market is poised for continued growth, as it is still relatively early in the product adoption cycle. These specialized machines are proving to be very versatile and necessary tools to address today's unique building designs that feature more natural daylight, windows and higher atriums."
JLG is working to drive the adoption of compact crawler booms over ladders and forklifts with cages to improve safety when working at height. The company is also looking at applications in different industries such as landscaping and general maintenance, in addition to the rental and construction industries.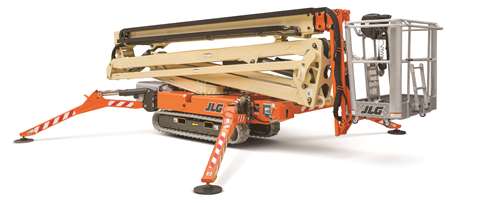 "The adoption of these products seems to be increasing as customers better understand the versatility," says Paul Kreutzwiser, global category director – aerial work platforms, JLG Industries, Inc.
"Compact crawler booms are probably a little less rental-heavy than our other 'core' aerial work platforms," Kreutzwiser says. "While they are still rental products, you will also find them owned onsite for full time maintenance in atriums, warehouses, malls, hospitals, etc."
JLG offers four models of compact crawler booms, from the 2-foot, 5-inch wide X430AJ to the 3-foot, 3-inch wide the X770AJ.
The JLG X770AJ is the largest boom of its kind that JLG offers, featuring a working height of 84 feet and 500 pounds of unrestricted capacity, which allows workers to take more materials with them on the boom's redesigned platform to increase productivity. The machine is versatile, due to a lithium battery option that lends itself to clean, quiet work, such as indoor applications, the company says. Versatility is further enhanced thanks to self-levelling outriggers that level the machine, and non-marking rubber tracks that minimize impact on sensitive flooring and landscaping. Additionally, the upper boom with an articulating jib provides a horizontal reach of 43 feet.
"End-users and operators are also seeking increased versatility, while owners are seeking a lower total cost of ownership," Kreutzwiser says. "JLG's X770AJ compact crawler boom features a narrow chassis and a unique narrow outrigger setting, making it easier to fit through doorways and gates. Transporting the boom is also easier, thanks to fork lift pockets and dedicated lift hooks. In addition, the X770AJ is designed for a lower total cost of ownership with hoods that open wide, making service access easier, and a LCD panel that communicates in text – rather than fault codes – for faster troubleshooting and reduced need for onsite service calls."
Awareness
Alain Paré, aerial specialist for UP Equip, says the market needs both availability of these units and information on what these units can do. UP Equip is a dealer and renter of Easy Lift compact lifts – tracked and wheeled – in Canada, the United States, Mexico and South America.
"The lack of availability [of these units] in rental houses contributes to the slowness in which the market adapts," Paré says. "This market is driven by the simple need of safely working at height where it is not possible to do with standard AWP."
Paré says historically, when these units have been available for rent, a few elements have led to dissatisfaction from customers.
"The lack of knowledge from rental houses toward proper training and technical/operational issues; and prohibitive costs of acquisition of chosen brands, therefore extremely high rental rates," he says. "It seems that rental houses are generally way too busy fighting each other with the common stock to embrace the opportunity of this great niche market. This has a direct result on availability and overall knowledge."
UP Equip is a major distributor for tracked-base Easy Lift. The company has more than 12 models of tracked units, ranging in working heights from 40 to 151 feet. Paré says the simplicity of the machine "means reliability to users."
"They are machines that they can count on, rely on and schedule without fear or being down," Paré says. "No computers/controllers in most Easy Lift units, no sensors that send data to any sort of CPU. Just voltage, driven and controlled by switches, relays and fuses. Plain hydraulics makes the Easy Lift compact lifts the best choice for all contractors, tree care companies, window cleaners, property managers and construction. They will be able to fix the unit with local resources. This is probably the best adaptation to current market needs because they all need working machines. Our competition still struggles with issues of some of these components, leading to problems on the field with the units, henceforth end users and customers."
Two new Easy Lift models were introduced this year: the 50-23AJ and 87-48AJ. The former is 32.5-inches-wide and has 23 feet of unrestricted outreach and a 507-pound capacity in the basket. The unit weighs 4,409 pounds total. The 87-48AJ is 35-inches-wide and has 48 feet of outreach with 265 pounds capacity in the basket. It can work 25 feet below ground and has a total working height of 87 feet.
"The attraction of the Easy Lift 87-48AJ is irresistible," Paré says. "More height, more outreach and all within 35 inches and less than 8,000 pounds. We believe this unit will bring the most adaptability to all needs of rental industry in a really short term period."
The market still hasn't fluctuated wildly, though, according to Paré.
ABLE Equipment, based in New York, currently has the FS170T available for rent.
"We don't think it has changed much, even with the introduction of JLG's Hinowa compact lifts," he says. "The rental industry hasn't seemed to find the right way to train customers with this product. The investment in time and effort doesn't seem to match with the standard well-adopted AWP they carry. If proper training is not present at delivery, end users will not get the most out of the units, and will be late to consider these units as a viable solution."
What's different
ReachMaster has long provided track-based lifts to the Americas markets. President Ebbe Christensen says while awareness is still a factor, training is even more so.
"Training is and will always be an area where the track-based compact lifts differ from the cousins (boom and scissor lifts), as they can do a lot more, and consequently take a little more effort to get the maximum out of," he says. "That being said, all manufacturers have followed a KISS (keep it simple, stupid) trend as far as controls and while perhaps a bit harsh way to state it, keeping controls simple helps a lot."
ReachMaster recently became an IPAF certified training center, and, overall, training has become a larger – and more important – topic in the field.
The company recently debuted the ReachMaster Falcon FS108A Vario at ConExpo, with a side reach of 62 feet. Late last year, the company also took hold of the ReachMaster Falcon FS170T, the first of its kind in North America. The unit features 170 feet of working height and standard double door access. The lift weighs less than 30,000 pounds and is track-based, has 52 feet of outreach, a battery/diesel engine combo, auto-setting outriggers and a 20-foot jib for up-and-over reach.
Christensen says the perception has definitely shifted for these units.
"The rental industry has finally come around and discovered what a fantastic ROI opportunity tracked, compact lifts are," he says. "Sure, they have a different take on internal logistics, technical training and delivery systems (in particular to training), but overall, more and more rental companies want the units in their fleet."