Trackunit tackles downtime
By Thomas Allen27 June 2019
The first Eliminate Downtime industry conference was recently hosted by Bam Nuttall and Trackunit – the company that launched the initiative earlier this year to eliminate downtime in the construction industry by 2025.
Held at Bam Nuttall's site office on London City Airport's £200 million redevelopment project, the event brought together construction companies, machine rental firms and digital technology businesses to share their experiences of downtime across the construction value chain and advance solutions that improve productivity, safety and profitability.
Speakers included Chris Matthew, Strategic Manager at P.Flannery Plant; Ryan Pike, Trainee Operations Manager at Plantforce Rentals; and Simon Beckett, Strategic Accounts Director at Nationwide Platforms.
Stephen Jarvis, director of Plant and Fleet at Bam Nuttall, also spoke at the event, saying that machine technology is already playing a key role in advancing the industry, helping to prevent theft, reduce unauthorised use of machinery and affecting behavioural changes across the supply chain. He said, "Our job is to construct assets which change people's lives and make them better. To do this we need to be innovative and be brave in sharing information and we need to learn collectively."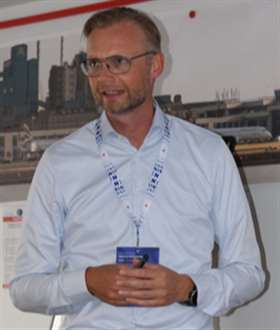 There was consensus among those speaking at the conference that collaboration, open communication and redesigned processes are essential in the fight against downtime. They also agreed about the importance of staff training and incentivised technology uptake.
One example given illustrated how the use of telematics on aerial work platforms working on a major hospital redevelopment project helped to reduce unathorised machine use and theft, and led to a 10% drop in breakdowns.
Soeren Brogaard Jensen, Trackunit, said, "Open software and the mobile App culture are influencing connected applications across our industry. Solutions now support companies, contractors and individuals in best practice techniques in the office, on the road, as well as on site. This new collaborative approach is changing our industry, for the better."