Trailer Mounts: Getting Noticed
By Euan Youdale03 January 2017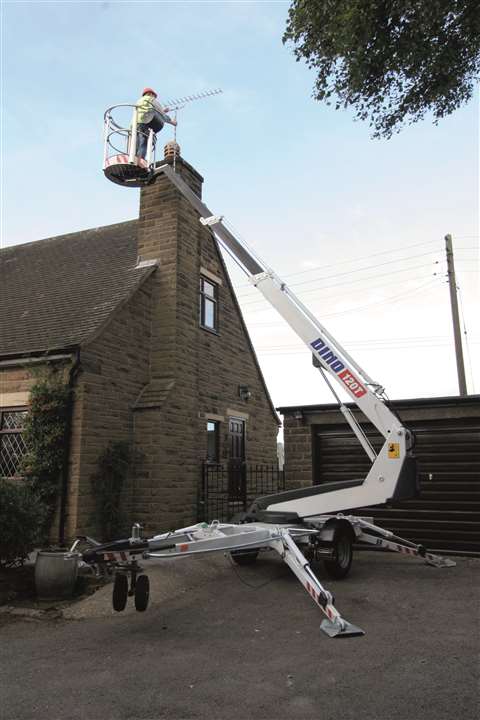 One of the biggest challenges is to persuade the access market of the advantages of trailer mounts.
As Fred Rothlehner, owner of Rothlehner Arbeitsbühnen, says the popular 3.5 tonne truck and tracked mounted platforms have taken over a large part of the trailer market. "But in many rental fleets there still remains a certain quota of trailer lifts and potential for new investments. We can see a small renaissance in some fields because neither the 3.5 tonne truck, nor the crawler mounted machines can substitute the trailer completely."
Since acquiring the assets and rights of Denka Lift in 2013, Rothlehner has not launched any new products. Instead the company concentrated on the production of the equipment. Although there have been improvements to existing models. For example, the revised Denka Lift DL30 was presented at Bauma 2016 in Munich, "Many regular customers have been waiting for this, dealer relationships have been reactivated through quality and reliability, and numerous orders have been placed," says Mr Rothlehner.
Changes to the DL25 and DL30 models are stronger and faster wheel drives, more powerful battery drive system and the new intelligent TT Control system with an error display.
"In our view," says Mr Rothlehner, "The trailer platforms will retain their eligibility in the form of a stable niche market - even if a significant portion of the trailer segment has shifted to truck lifts the 3.5 tonne class and tracked equipment."
In the well-established trailer mount applications trailer mounts play to their advantage with narrow or low clearance access, or a minimal traffic and point load on the ground, for example in inner courtyards with cellars, parking levels, for stadium construction, in shopping centres and churches. The point being they offer low weight, compact dimensions, noise and exhaust gas-free operation and flexibility through battery drives.
"Although the array of construction machine types available are continuously increasing, the trailer mounted work platform still plays an extremely important role. For tradesmen and many end users, they are and continue to be a universally deployable all-round machine, which is cost-effective in its maintenance and transportation. As a result, they cover by far the greatest part of the assignments," adds Mr Mr Rothlehner.
Another established player in the trailer mounted sector OmmeLift, it is actively developing new models for today's users. The 1300 E and 1700 EX were launched at Bauma last year, with both lifts being more compact with a greater working area, without compromising on quick and steady movement.
Narrow solution
The 1300 E has a reduced travelling length of 0.75 m, making maneuvering in narrow and awkward places an easy task and an increased working height of 0.3 m. Adding to this, is an outreach of 9 m, an increase of 0.5 m compared to the manufacturer's 1250 E. The specially designed steel booms made from high and broad profiles give an extra degree of stability and rigidity. As an extra bonus the basket rotation has been increased from 41° to 50° . It is powered by a heavy duty (24V/139Ah/5h) battery pack with built in charger capable of charging the batteries while the platform is in use, and is therefore especially suited to jobs without mains access.
The 1700 EX has a working height of 1680 mm and an outreach of 910 mm with a 200 kg
basket load. The unfolding scissor system gives the lift an increased up and over outreach over high obstacles.
A transport length of just 6250 mm, a transport width of 1660 mm and a low own weight of 2060 kg is designed to make maneuvering easy in narrow and awkward places. As standard it is equipped with proportional controls by using a potentiometer, making control easier.
It is mounted with hydraulic propulsion and hydraulic stabilisers, meaning the platform can propel itself around the work site. The basket has a greater rotation of 50°, which makes it possible for two people to work parallel with a facade, for example. The 1700 EX is powered by an electric motor, connected to 230 V and suited to continuous operation, while the 1700 EXB is powered by a heavy duty battery pack, 24V/200 Ah/5h. Operation is also possible independently of 230 V mains connection.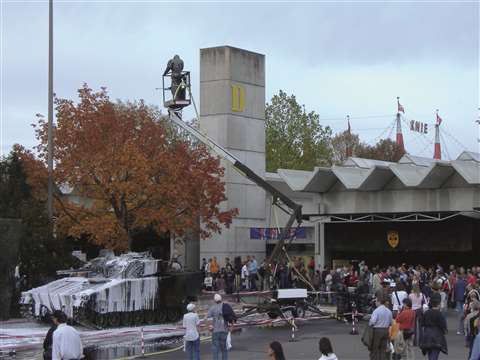 These upgrades bring the trailer mount to a growing nuymber of applications for the product type, incluidng those in awkward places where the lift has to pass through a narrow opening or work in small courtyards, says Harry Lorentsen, managing director of Omme Lift, who can see them being used increasingly indoors, "like in smaller shopping centres. It is a cost effective trailer lift application - the telescopic types provide knuckle-free slewing which eliminates crashing into balconies or hanging decorations."
He adds, "Trailer lifts are very much extreme mobile maintenance machines, particularly for fast turn outs as transportation is easy. Trailers also have the benefit of low weight and high heights for applications where weight is restricted but working height is needed."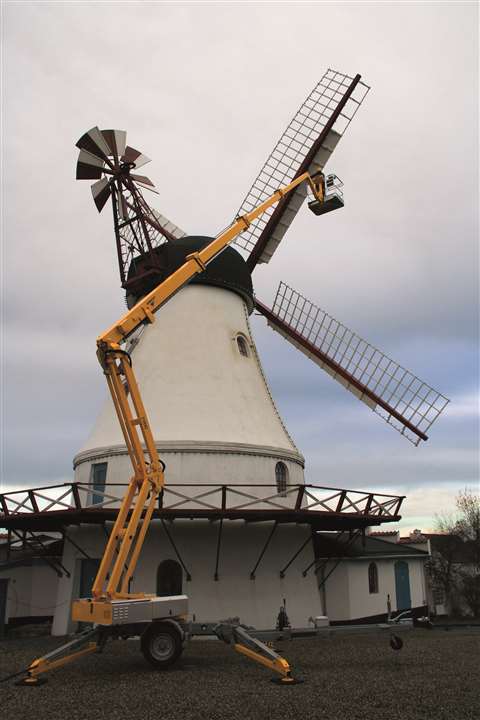 Positive ratio
Dinolift's latest model is the Dino 120TB, a battery-operated machine with 130kg basket capacity in the whole working envelope. "Battery-operation is increasingly popular among our customers as it adds to the flexibility of the machine being able to work without being connected to 230V," says Karin Nars, Dinolift sales director. "Trailer mounts have the best height-weight ratio which make them ideal when there is no possibility to work with a machine that weighs several tonnes. Also, when there is a need for moving between work sites, a trailer mount is the right choice."
Mrs Nars continues, "Weight is more and more an issue on construction sites. High rise buildings in urban areas usually have parking space underneath. Many of the jobs cannot be undertaken with heavy equipment and there is a need for outreach which rules out a scissor lift. In that case a lightweight trailer with outriggers is the best available solution."
As far as Mrs Nars is concerened, there will always be a need for powered access with these simple but important benefits to the user. "Also, in rental companies it is important to be able to offer powered access solutions also to small companies and individuals, who do not have the possibility or resources to transport heavy machines."
There is also the environmental friendliness, which is major topic in today's ever 'clean' conciousness. "Thanks to the low weight, there is no need for a powerful engine with a high fuel consumtion. Trailers work well on 230V or batteries, making them also less noisy than machines powered by diesel engines. Of course, if needed, it is also possible to add small size petrol or diesel packs on trailers."
Turning to a couple of the generalist manufacturers, Genie produces two trailer mounted booms, the TZ-34/20, and the TZ-50. Both models offer a 500 pound platform capacity and true Z-boom, or articulated boom, functionality, at a lower acquisition cost than a similarly featured self-propelled boom.
"One application we have seen growth in is the tree-trimming/arborist segment," says Josh Taylor, Genie product manager, Terex AWP, concentrating on the North American market. "We have also seen an increase in sensitive floor loading applications, where a diesel self propelled machine may simply be too heavy. Trailer mounts are typically much simpler and less expensive than a fully-featured atrium lift, so a trailer mount often provides a great alternative in some applications.
Following up on the environment issue, he adds, "We have heard that emissions regulations are driving increased use of trailer mounted lifts, with the towable lifts being used in place of bucket trucks that do not meet emissions standards.
"These machines are becoming more and more popular in the 'weekend rental' segment, typically offered by retail hardware and home improvement centers thanks to their easy transport and versatility."
JLG's Tow-Pro series of towable boom lifts includes models T350 and T500J, both launched in 2004. JLG's towable booms are not available in all regions due to differences in various local transport regulations. In EMEA region, JLG offers trailer mounts in the Middle East and South Africa but not in Europe.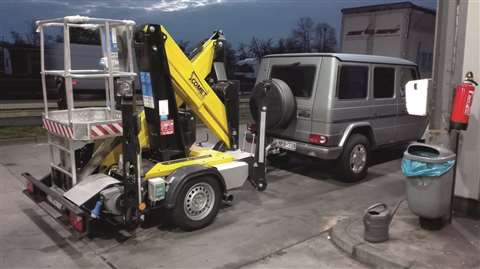 Setting up
JLG's Tow-Pro lifts can level on surfaces up to 11 degrees using the lifts' four hydraulically-controlled outriggers, which can be beneficial for applications not on level ground. Adding to the versatility, the series offers an accessory tray allowing operators to utilise a generator, air compressor, or pressure washer for their jobs. The standard air and water lines provide added versatility.
Additionally, the outriggers are auto-leveling, making setup fast and easy for the operator. "Homeowners, DIYers, and general handymen/contractors have boosted demand for towable boom lifts, as they are products anyone with a truck can rent and take home themselves," says Paul Kreutzwiser, global category director for aerial work platforms, JLG Industries.
Mr Kreutzwiser adds, "Trailer mounts offer increased efficiency when it comes to site-to-site work. For instance, DIYers can pick up the machine and take it home for the weekend, resulting in no deliverly set-up, lead time, and cost. This provides flexibility for smaller jobs – or jobs on multiple sites – helping set trailer-mounts apart from traditional MEWPs."
Trailer mounts sit in a niche section of the access sector, but they will always be needed.