Training and certification: Lessons for life
By Christian Shelton08 May 2018
We look at various approaches to training and certification adopted by equipment manufacturers and service companies. Christian Shelton reports
Variations in regulations and standards around the world mean the subjects of operator training and certification can be more complex than they might first appear. Italian manufacturer of telescopic hydraulic cranes and rough terrain cranes Locatelli Crane says the degree to which laws regulating the qualification of lifting equipment users and crane operators differs around the world and makes standardised training difficult. As a result, it offers customised training designed to suit the requirements of the country its customers are in.
Locatelli says it thinks Italy has done a good job with the 2014 State-Regions 53/CSR agreement. This regulation establishes the duration (in hours) training should last, the topics it has to cover, and ways in which it can be verified. These are dependent on each crane type and takes into account the use of additions, such as fly jibs or lattice extensions.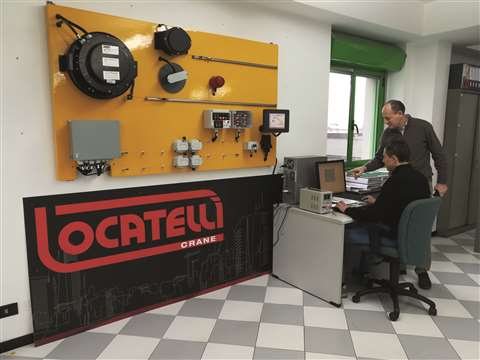 Furthermore, Locatelli says, the Italian regulation establishes the accreditation methods of the bodies that provide training, based on strict parameters. Locatelli says it hopes this approach can be implemented by a European Directive which will lead to the standardisation of crane operator training.
German crane manufacturer Liebherr also highlights the difficulty of standardisation in a global context. "It's very difficult, almost impossible, to unify differing legislative requirements and training standards around the world," says Wolfgang Pfister, Liebherr-Werk Nenzing spokesperson. "That's why the focus of our training courses is on the safe operation of Liebherr cranes. We offer a training programme to prepare the operator in the best possible way for the requirements on the construction site. This is the optimal prerequisite and an essential basis for fulfilling specific legislative requirements."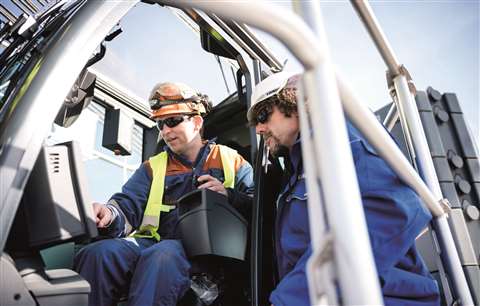 Liebherr's mobile and crawler crane division offers two types of training: standard and individual. "With individual training Liebherr customers can get to know their cranes in the manufacturing works as well as at the construction site with the support of our trainers," elaborates Wolfgang Beringer, Liebherr-Werk Ehingen spokesperson. "Here the focus can be set on individual customer requirements."
Liebherr-Werk Ehingen offers its standardised training courses from its Ehingen, Germany, headquarters as well as at subsidiaries, including Brazil and the UK. Here trainees can gain a crane operator licence that complies with local legal regulations, Liebherr says. The course lasts two weeks and is both theoretical and practical in nature. Liebherr says the theoretical training covers the basics of how to operate a Liebherr crane safely. Once this has been completed, trainee operators can then undertake a more advanced class that extensively utilises a crane simulator. "Training using our LiSIM crane simulator is highly effective," maintains Pfister. "It can offer training under a range of elemental conditions without the risk of damage to either people or machines." The simulator also enables step-by-step training and allows emergency scenarios to be played out without any actual danger. Liebherr also says the influence of fatigue can clearly be demonstrated with the simulator, while the virtual environment saves on real-life fuel costs and wear and tear on equipment.
Liebherr also says it is working with other manufacturers to try and develop a European crane operator licence.
At the academy
Another German manufacturer that offers a range of training is Sennebogen. In 2014 the company set up a dedicated 10,000 m² training academy at its headquarters in Straubing. The academy includes an outdoor area for realistic testing and demonstrations, as well modern, well-equipped meeting rooms and training halls for theoretical lessons and practical product training, says Sennebogen.
At the academy Sennebogen offers customised training concepts according to the crane, target groups, and objectives. For example, Sennebogen's User Training courses are aimed at operators, who learn how to operate the machine correctly and safely, under realistic job site conditions, while being mentored by a competent trainer. Sennebogen says students learn how to avoid typical risks occurring while operating the machine and how to perform routine maintenance and cleaning, which the company says is also important for preventing accidents.
Sennebogen's Technical Training is a modular course aimed at its dealers and service partners, designed to provide a continuous transfer of knowledge. The course comprises: Basic Training, Technical Training, and Experts Training. For master mechanics there is also Sennebogen's Experts Updates. Within these courses Sennebogen says participants receive an overview of the equipment, its components and functions. This mixture of theoretical expertise and practical exercises is designed to help extend service life, maximise efficiency, and safely run the machine. This knowledge, Sennebogen says, is then passed on to customers and operators.
Sennebogen's 10,000 m2 training academy includes an outdoor area for realistic training use
Sennebogen also offers customised training and courses enabling crane operators to gain driving licences for cranes and-or material handling machines. These licences, Sennebogen says, are generally based on the instructions and regulations of the German government safety organisation (BGV D6, formerly VBG 9) and cover both safe and efficient operation of the machine. However, Sennebogen says it is always trying to adjust the training as far as possible to comply with international standards or individual national requirements.
In addition to helping achieve the best possible machine uptime and increased efficiency, Sennebogen says its training and certification courses help improve safety as participants become familiar with all relevant accident prevention regulations and learn how to comply with all legal and employer's liability insurance regulations.
Holistic approach
Global heavy lift service provider ALE says training and certification for its operators and engineers is essential for delivery of its heavy lifting and transport services, all of which are performed in safety critical environments.
ALE says that, over the last few years, it has taken a more holistic approach to training to realise what it describes as "learning and development as opposed to just simply training". This, ALE says, is achieved by having a dedicated, independent learning and development (L&D) resource rather than a 'training management' function. "We've embraced the concept that real performance improvements and behavioural changes that deliver a step change in safety do not come from typical 'training courses' where trainees are based in a classroom with somebody talking over a Powerpoint presentation," explains Kay Sproulle, global training specialist at ALE. Instead, ALE uses its in-house Standard Schemes of Training (SSOTs) to promote what Sproulle describes as "learning by doing".
Initiated approximately seven years ago, there are now 25 SSOTs covering all of ALE's fleet of specialised equipment, from SPMTs and gantries to jacks and cranes. It is compulsory for all equipment operators to enrol on a scheme, which gives them the opportunity to progress through different belt levels (from yellow to green to brown, and potentially up to black) and many of the learning activities have been designed by ALE's 'black belt' operators themselves. "It's written by the operators, for the operators," qualifies Sproulle. "The SSOTs are specific to us and our equipment. These are not skills that can be learnt in a classroom environment – people learn best by 'doing'. They are designed to help prevent incidents, injuries or damage and maintain global consistency and quality. More and more our clients want to see traceability and evidence of the training our teams undertake, and our SSOTs deliver this.
"We also work closely with our research and development division in the Netherlands, to ensure that key learning requirements are also captured from the design and test phases of the new equipment's lifespan."
ALE says it has witnessed a huge success with this programme and has introduced new SSOTs that cover additional equipment and sectors, including marine.
"Looking to the future, we're developing ways to recreate the control rooms of some of our Innovation Series equipment," concludes Sproulle. "We also launched a new Supervisor Development Programme this year to further engage the key operational players. Our Leadership Programme already includes a dedicated HSQE module designed to help our future leaders embrace safety."
ALE employees in UAE 'learning by doing' under the company's in-house Standard Schemes of Training programme