Transdzwig Zawadzcy buys Demags
By Christian Shelton12 February 2018
Polish crane rental company Transdzwig Zawadzcy has purchased a Demag AC 250-6 all terrain crane from Terex Cranes.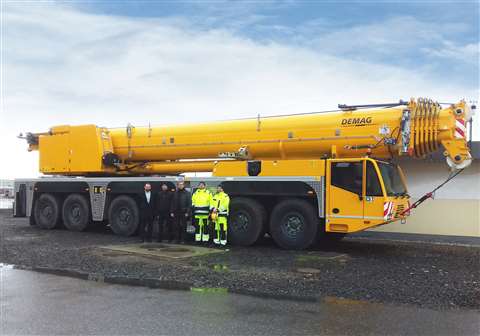 Left to right: Edgar Graeber (Terex Cranes), Maciej Dobski, Miroslaw Zawadzki, Boguslaw Karpinski, Zbigniew Zyskowski from Transdzwig
According to Terex, the main reasons Transdzwig purchased an AC 250-6 were because of its proven drive design with powerful and reliable Mercedes engines, its long 80 metre boom, and its IC-1 control menu, which is available in Polish.
The Demag AC 250-6 was collected in person from Terex's plant in Zweibrücken, Germany by Transdzwig Zawadzcy's owner Miroslaw Zawadzki and two of his crane operators. Zawadzki commented, "What really surprised us was the low fuel consumption despite a high average speed."
The crane was ordered through Polish construction equipment dealer EWPA.
In addition to using it for customer rentals, Transdzwig will use the crane to recover damaged trucks and other large machines.