Transformer transport for Collett
By Laura Hatton26 October 2015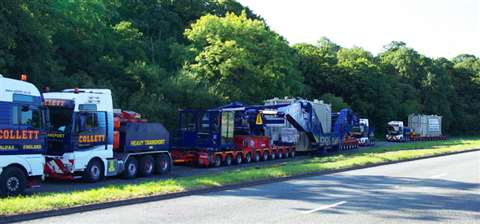 UK-based transport service provider Collett & Sons used its 550 tonne Scheuerle girder bridge to help deliver two 200 tonne transformers to an onshore substation on the River Mersey, North West UK.
The transformers are for the extension to the Burbo Bank offshore wind farm which is on the Burbo Flats in the Liverpool Bay at the entrance to the River Mersey. The site is 32 offshore wind turbines. The farm will be connected to the national grid and will help generate power for more than 180,000 homes.
Main contractor is Dong Energy. International transport and logistics provider SDV UK contracted Collett for the delivery of the transformers from the Port of Mostyn to the site.
Collett used two ballast tractors and a 14 axle modular hydraulic flat top trailer. A 1,200 tonne crane was used to unload the transformers from the ship onto the trailer. The loads were then transported to a holding position at the port ready for delivery to the substation.
The transformers were 11.4 metres long, 4.4 m wide and 4.75 m tall and weighed 200 tonnes each. The first challenge on route included crossing a rail track at the Port of Mostyn. Due to the weight of the loads official track permission was required. This allowed the two transformers to travel over the level crossing on modular trailers.
The loads were then positioned in a local lay-by, approximately one mile from the Port, where they were moved from the 12 axle flat top to the 550 tonne capacity Scheuerle STB 550 girder bridge for onward transportation. To achieve this, the loads were positioned on stools while the Collett Team took to building the modular girder bridge around the load, a spokesperson explained.
Once constructed and secure, the cargo could continue on its journey. Due to the overall dimensions of the load, the Collett Consulting Team was required to provide traffic management plans and route analysis ahead of the project. This included mapping data, route planning, swept path analysis and conventional surveying techniques.
Part of the route plan included a weak bridge, which was considered too fragile to accommodate the girder bridge and load. To avoid the bridge it was suggested that the cargo was transported along a contra flow on the A55 dual carriageway in the wrong direction. Travelling under police escort, the cargo was transported overnight from the port to the site in St Asaph.
On site the team unloaded the transformer using a jacking and hydraulic skidding system. The second transformer was collected from the lay-by and delivered to site using the same process and plan as the first.