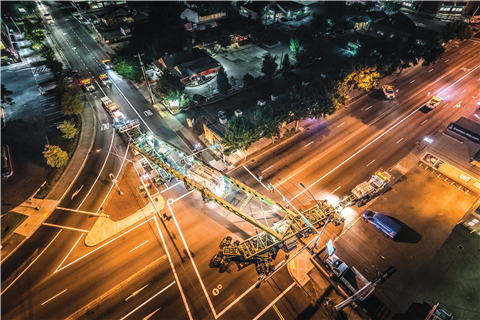 Moving into its 41st year in 2018, SC&RA's Specialized Transportation Symposium continues to bring together oversize and-or overweight transportation professionals and permitting officials to discuss permitting, harmonisation and safety concerns. The annual gathering also offers up a valuable opportunity for attendees to benefit from a distinguished list of presenters supplying the latest news and information on key industry issues and regulatory updates.
The STS runs from 27 February to 2 March 2018 at the Hyatt Regency St. Louis at the Arch, St. Louis, Missouri, USA). Features include countless networking opportunities among hundreds of member companies. Attendees comprise leading operating managers, safety directors, pilot car professionals and permitting and federal officials in the industry. To top it off, an exhibit centre showcasing more than 50 companies provides attendees unparalleled interaction with the most cutting-edge products, services and ideas the industry has to offer.
In addition, regional and state highway and transportation officials from MAASTO, SASHTO, NASTO and WASHTO, along with SC&RA's Pilot Car Task Force, Permit Policy Committee and Transportation Safety Education & Training Committee will meet prior to the Symposium's opening session.
Regardless of what part of the world Association members might call home, this annual event is an undeniable opportunity to stay plugged in to the latest information, regulation, education and innovation within the specialized transportation industry.
SC&RA Transportation Group chair Rafael de los Santos, managing director at Tradelossa in Mexico, remembered how important, and productive, it was for him to attend his first Symposium. "The first time I went was for the networking; I was looking forward to getting to know the people at all the companies whom I only knew from magazines," he said.
He added that, without question, his first Symposium was a success, and the event remains so to this day. "Absolutely, that first symposium was a success. And I think it has evolved since that first time ten years ago. It's so dynamic now – there are so many components, and it offers such value. When I first attended, the Symposium was definitely a great networking opportunity, and I'll always remember how welcome everyone made me feel – how everyone included me – and that hasn't changed ten years later."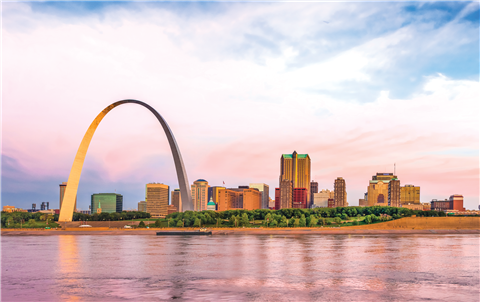 De los Santos now considers the Symposium's evolution as one of its most lasting benefits, and a key reason behind why Association members from around the world should consider attending – perfectly represented in 2018 by more than a dozen sessions and more than 20 presenters.
Four session titles, in particular, underline the range of information available to Symposium attendees: In-Cab Technology: Changing the Role of Drivers; Manufacturers' Perspective on the Future of Trailers; Bigger is Better: Using New Driver Training to Break Down the Complexity of Specialized Carriers; and Nudging Local Permitting Processes into the 21st Century.
More diverse
One session, especially, said De los Santos, shows how far along the industry has come, and how willing the Association is to embrace diversity and change. "I'm excited about the 'women in the industry' initiative that SC&RA is bringing forward at the upcoming Symposium, and I intend to promote this idea that SC&RA has decided to prioritise. Tradelossa will be represented in St. Louis by some talented, hard-working women who are having a positive impact on the industry."
The session – How Changing Your Company's Hiring Practices Can Lead to Greater Success – will be presented by Marcia Taylor, CEO, Bennett International Group, and Ellen Voie, president & CEO, Women in Trucking.
Audience members will experience how Taylor transformed Bennett into a US$266 million logistics and freight services powerhouse with a distinctly feminine "we care" motto that reaches customers through loyal employees.
Echoing Taylor, Voie will expound upon the notion that, while women have traditionally been under-represented in the specialized transport industry, the trend is changing. Essentially, both women will walk attendees through the practical steps they can take to change staffing practices and include more women in the specialized transportation workforce for greater success in all areas and levels of their organisation.
In addition, hosted in conjunction with the Symposium, but on a separate track, the 2018 SC&RA Leadership Forum will engage rising stars in their 20s and 30s, providing them with the necessary tools to leverage their SC&RA memberships for company and career success.
Missy Feeny, of Anchor36 Trucking & Logistics, LLC, attended the most recent Forum at the Crane & Rigging Workshop in September 2017. "I highly recommend it; it was incredibly informative, enjoyable and inspiring," she affirmed. "It's an opportunity to meet some of the best young industry leaders – in a relaxed setting that encourages long-term engagement and interaction. Everyone at SC&RA went out of their way to connect me with industry mentors and provided just the right amount of follow up upon my return home."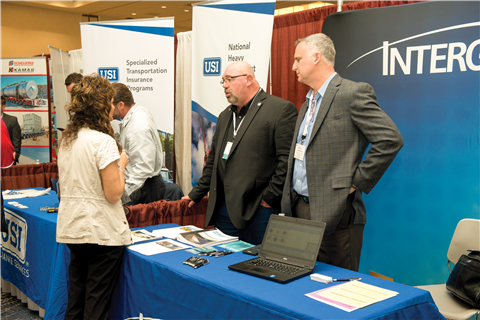 Up-and-comers from companies throughout the Association are encouraged to apply. All information is at: www.scranet.org/leadership
Wide range
"The benefits for Symposium attendees are obviously diverse," emphasised De los Santos. "For Tradelossa, we've had tremendous success developing networks and making friends – versus just being an outside company from another country. Another thing about an event like this is that the people and companies and projects encourage us all to keep dreaming big. It inspires me to believe that I will also pursue the types of jobs that I see happening throughout the year within the Association. So those two things for me are huge: inspiration and networking."
As Transportation Group chair, De los Santos sees the impact of the Symposium as something that makes him want to continuously strive to be his best. "I'm extremely honoured – I never imagined I'd be in this position," he noted. "Of all the dreams I had when I came to SC&RA, I never thought that I'd have the opportunity to lead the Transportation Group. In that regard, it speaks very highly of the Association – that it welcomed me in and I was able to eventually head a group. For me, it's a big, big responsibility. I see myself there as a representative of what is so good about SC&RA, and I strive to honour this position and the people it represents – the standard set by the folks who elected me. My motivation is to fill the shoes of the people that came before me, and represent the people who make up not only the Group, but the Association overall – by doing as good a job as possible."
As far as advice for anyone, and especially international members, looking to get involved with the Association by attending their first Symposium, De los Santos stressed that the decision should be easy. "I would suggest to anyone that they join. SC&RA is a community made up of the best – the who's who – and you quickly realise that it's also made up of genuinely good people at the end of the day. The community makes you feel comfortable from the very beginning. My advice would be: show up, don't be shy and take the risk of getting to know people. The benefits are significant; get involved and experience all the Symposium has to offer."
For more information, and to access the full STS schedule, visit: www.scranet.org/events