Transport in St. Louis: STS preview
By Alex Dahm18 December 2017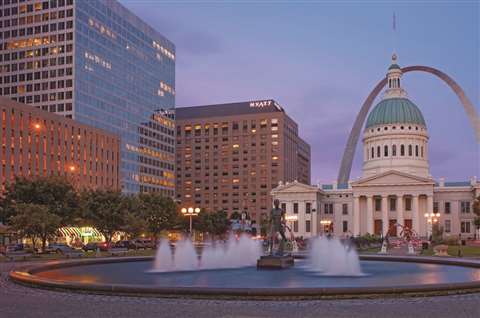 The next annual SC&RA Specialized Transportation Symposium (STS) is coming up fast and looks like a must-attend event. ICST sister magazine American Cranes and Transport reports
An element of the next SC&RA STS addresses the fact that women have typically been underrepresented in the specialized transportation, rigging and lifting industries. The reasons are myriad but research shows that gender-diverse companies enjoy better financial returns and may be better poised for success. The STS runs from 28 February to 2 March 2018 at the Hyatt Regency St. Louis at the Arch, in St. Louis, Missouri, USA.
The Symposium's opening session, How Changing Your Company's Values and Hiring Practices Can Lead to Greater Success, will feature speakers Marcia Taylor, CEO, Bennett International Group, and Ellen Voie, president and CEO, Women in Trucking. Kim Yeager, director of marketing and member relations, Nevada Trucking Association, will moderate the session that will touch on how Taylor and Voie found success in the industry.
In another session, Todd Gibson, bridge evaluation/hauling/permit engineer, West Virginia DOT, and Doug Miller, vice president, Burkhalter, will co-present Oversize/Overweight Uniform Permit Transport 2021: Specialized Transportation Commits to Uniform Permit Weight Analysis/Allowance. They will unveil SC&RA's Uniform Permit Transport 2021 proposal as a basis for discussion with individual states and regions. SC&RA representatives will also share a plan of action to fight for uniformity to save members time and money.
Bryce Baker, COO, Oxcart Permit Systems, will address what it will take to make local permitting processes more efficient. His presentation, Nudging Local Permitting Processes into the 21st Century, will cover local permitting challenges, trends and best practices.
A highlight of the symposium will be entertainment by Mack Dryden, a comedian from Mississippi who won two AP writing awards as a reporter before becoming a professional entertainer. His presentation is titled Falling on Your Face Is Still Moving Forward.
Dave Osiecki, president, Scopelitis Transportation Consulting, will discuss What's Really Going on in Washington D.C. Get the latest updates on DOT rules, regulations, and compliance issues such as hours of service, CSA scores, and ELDs, from a transportation expert and insider.
Other presentations and breakout sessions are listed below.
Tipping the Scales in Your Favour: Overcoming OS/OW Challenges features speakers Don Braman, licence and applications supervisor for the oversize/overweight unit, Connecticut DOT OS/OW; Jackie Darr, permit section manager, North Dakota Highway Patrol Motor Carrier Operations; and Shelley Latham, sales and operations, Perkins STC.
In-Cab Technology: Changing the Role of Drivers, presented by Joe Doerr, product line manager, NBIS and Dave Merrill, general manager, Pahoa Express.
Bigger is Better: Using New Driver Training to Break Down the Complexity of Specialized Carriers will be presented by Fred Kovall, field safety specialist, ATS, Inc. and Pete Trimble, director, corporate safety and claims at Keen Transport.
It's Time to Take Another Look: Effective Permitting Techniques From a Permit Services Representative will be addressed by Marka Woodruff, team manager and president, Permit America; Becky Woods, vice president, WCS Permits; and Gladys Work, RCS regulatory and business analyst, Comdata.
Inspections and OS/OW Enforcement in the Midwest and Beyond will be discussed by Todd Armstrong, master sgt., Illinois State Police and Chris Turner, Kansas Highway Patrol captain, and Commercial Vehicle Safety Alliance (CVSA) president.
When Time is Your Friend: The Importance of Planning Ahead with States on Large and Complicated Loads includes a panel presentation by Mihir Patel, vice president, Logisticus Project Group; Rob Simon, vice president, heavy haul & specialized, Bennett Motor Express; and Justin Underwood, assistant director, Tennessee DOT.
Manufacturers' Perspective On the Future of Trailers, will feature the perspectives of two leading trailer OEMs, Troy Geisler, vice president, Talbert Manufacturing; and Dave Lutz, president, TransMaster Trailers and Master Solutions.
Other highlights of the Symposium include the Exhibit Center, presentations of the winning 2017 Transportation Jobs of the Year; a presentation by SC&RA's Jason Bell and Lisa Grepps on five ways to leverage your SC&RA membership investment.
About the event
WHAT: Specialized Transportation Symposium
WHEN: 28 February to 2 March 2018
WHERE: Hyatt Regency St. Louis at the Arch in St. Louis, Missouri, USA.
INFORMATION AND REGISTRATION: www.scranet.org/symposium