TransWorld debuts spreader bar line
By Hannah Sundermeyer09 September 2016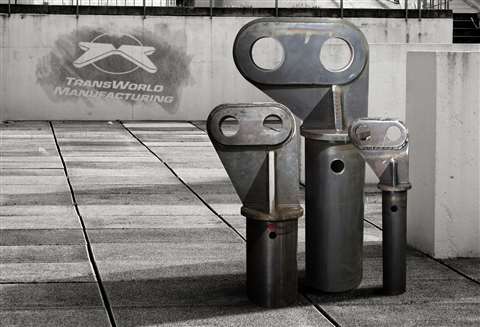 TransWorld Manufacturing has designed and is now marketing two new spreader bar end cap sizes and new telescoping spreader bars. These new products offer a wider range of lifting options and rigging configurations for the crane industry, the company said.
All of the TransWorld spreader bar end caps are engineered to work with two different sizes of readily-available steel pipe. The two new models round out the product line. TransWorld now offers end caps to work with 2-inch (50 mm) diameter pipe up to 16-inch (400 mm) pipe.
SBC2/3 and SBC4/5 are the new additions to the product line. SBC2/3 uses 2 and 3-inch (50 and 76 mm) pipe to lift a maximum of 26 US tons (23.6 metric tons) and up to a 19 foot (5.8 meter) span. SBC4/5 uses 4 or 5-inch (102 or 127 mm) standard pipe up to a 30-foot (9 m) span, with up to a 66-ton (60 metric ton) working load limit. Each new set of caps can be purchased with center cap couplers to use different lengths of the same specified pipe. This enables the user to pin together caps and pipe in a multitude of variations to assist with diverse project challenges, Transworld said.
TransWorld has also developed a new standard size of telescoping spreader bar. The TS12-8.5 is designed to be the go-to spreader bar for boom trucks, the company said. It telescopes from 5 to 8.5 feet (1.5 to 2.6 meters) with a working load limit of 12 tons (10.9 metric tons). At only 75 pounds (34 kg), this is an ultra-light rigging tool that any crane technician can easily handle and have in their rigging tool box for a quick pick, said Crystal Dieleman, president of TransWorld Manufacturing.
"We are thrilled to provide end caps and our best-selling telescoping bars to a wider range of end-users," Dieleman said. "Every aspect of these products are designed with the crane operator in mind and they will be safe and efficient tools for years to come."