Traversing the gorge
By Euan Youdale28 November 2016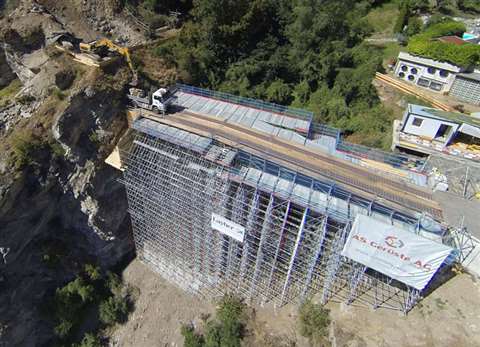 The 270m-long Chinegga bridge is being built across a gorge in Stalden, Switzerland, as part of the construction of a bypass.
To achieve this, a rock spur had to be blasted out. To save time and costs, the resulting rubble is to be cleared away using a truck that traverses a temporary 33m-long roadway made from scaffolding – a challenging task for the scaffolding specialist AS Gerüste.
Firstly, the structure, up to 24m high, had to safely disperse the loads of the laden vehicles, weighing up to 20 tonnes. Secondly, it was crucial to adapt the scaffolding to the very difficult geometry of the gorge, with rock spurs and crevices, uneven surfaces and differing heights.
AS Gerüste used TG 60 Allround Shoring from Layher, integrated into its Allround Scaffolding, to provide an initial frame, standard frame and equalising frame. The prefabricated frame elements, with an individual component weight of no more than 18kg, reduce the number of individual components. When used in conjunction with Allround system ledgers and system diagonal braces, they can be quickly combined using the bolt-free wedge head connection method to build shoring towers with a load-bearing capacity of up to six tonnes per standard.
Since the number and the weight of the components have a major effect on the speed of assembly, the TG 60 shoring frames are much more economical than structures made up of individual Allround parts.
In cooperation with Layher applications engineers and the engineering office of Volker Knobloch, the scaffolding constructors planned a well thought-out structure. The TG 60 shoring towers directly underneath the roadway were used for load dispersal and linked together with heights of up to 24m.
Thanks to the use of standard components with a specified system dimension, there is also no need to measure out the individual shoring towers. Unlike in complex structures using tubes and couplers, this means a reduction in the assembly time. Safety during assembly of the shoring towers is also assured. Thanks to the fixed and predefined assembly sequence, erectors automatically have side protection all the way round.
Adjustment of the shoring structure to the challenging geometry of the gorge was achieved by combining TG 60 with components from modular-designed Allround Scaffolding, which can be adapted to any terrain thanks to its varying standard lengths.
The sloping roadway, which resulted from the gorge edges having different heights, was built by the scaffolding erectors without any problem, said the company. At the side of the shoring, support scaffolding, also using the Allround System, was put up to improve stability. It was even possible to use standard parts to build an integrated stairtower for site access. Layher steel decks form a platform incorporating fall prevention next to the roadway.