Global construction equipment sales will be around 1.05 million units this year, down 12% from the 1.19 million sold in 2022. That forecast has just been downgraded by Off-Highway Research – the previous expectation was for a 7% drop in sales in 2023.
The change in outlook is due entirely to the horrible market conditions in China. In the world excluding China, equipment sales will have a soft landing and will only fall 5% this year, and that forecast remains unchanged from the start of the year.
Ongoing turbulence
After two years of abnormally high sales in 2020 and 2021 thanks to stimulus spending, the Chinese market collapsed in 2022 with a 39% decline. This was not only due to the stimulus money running out, but the impact was compounded by turbulence in the Chinese real estate sector coupled with the country's difficulties in getting to grips with COVID. The only bright spot in China over the last year or two has been mining, which has invested in dump trucks and large excavators to take advantage of high global commodity prices.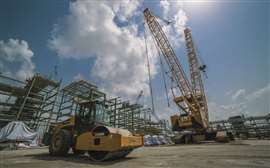 Sales have continued to fall just as steeply this year with around 144,000 construction machines now expected to be sold in 2023. Compare that to the peak in 2020 when almost 413,000 machines were sold in China, and you see just how brutal the collapse has been. The market has fallen to a third of its former size in just three years.
The main construction-specific problem in China is the ongoing turbulence in the real estate sector. House prices are falling in the over-built major cities and debt-laden developers are having to fall on the mercy of their creditors to prevent balance sheet implosions. In addition, the equipment market is being impacted by the general headwinds of stalled economic growth, falling exports, failing consumer confidence, high local government debt and high unemployment among the young.
Grim conditions at home mean that China's OEMs will be focusing more and more on export markets this year and over the short term. As a result, 2023 will be the first time in history that more Chinese equipment is sold outside the country than within it.
Beyond China
Elsewhere in the world, the construction equipment industry looks pretty good this year. Most markets are cooling off from the highs of the last year, but declines look small and volumes are still very good in historical terms. There are also a handful of markets which are set to grow this year, the most significant in volume terms being India.
Looking a little further ahead, there is more uncertainty building around the prospects for 2024. OEMs report that their order intake is falling and this could mean a worse than expected further dip in global sales next year. Off-Highway research's current forecast is for a 7% decline overall in 2024. If there are any revisions to that, they are likely to be downwards, not upwards.