Trime launches sanitising tunnel
By Thomas Allen10 July 2020
Italy-based manufacturer Trime has introduced a new X-Mist sanitising access control tunnel to help combat the spread of Covid-19 on construction sites.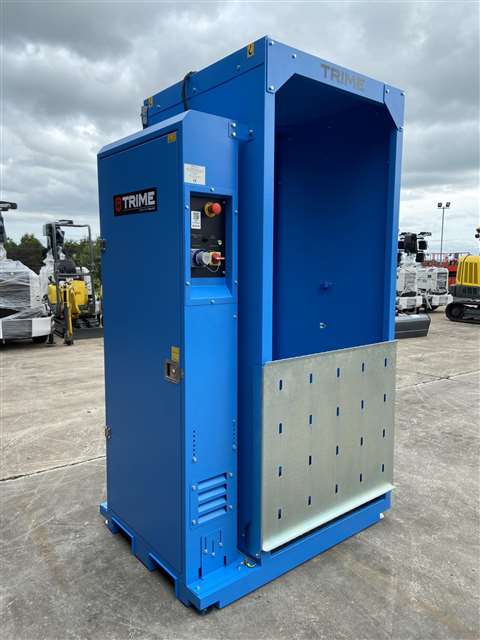 Two versions – the 1m long ST100 OZ and the 3m long ST300 OZ – are available across Europe. They are due to be officially launched to UK rental companies at the end of July.
Trime's Northern Ireland distributor Glendun Plant Sales is currently distributing the product to rental companies in Ireland.
The ST100 costs £8,950, while the ST300 is priced at £13,980.
Trime said its suggested weekly rental rates will give a return on investment in less than 20 weeks, and the unit's capacity to combat viruses other than Covid-19 will extend demand for them beyond the Covid-19 pandemic.
When a person enters one of the walk-through units, a nebulised solution of ozone stabilised in water is automatically sprayed.
The unit uses the Stabilised Aqueous Ozone (SAO) system provided by Canadian company Tersano, which is already used by specialist cleaning companies, particularly in the health care and food service sectors.
People walking inside the tunnel are exposed to the mist for 5-7 seconds.
Fine nebulisation avoids the wet effect and minimises the use of water. The units consume 0.6 litres per minute.
The ST100 OZ has the capacity to spray 200-300 people her hour, while the ST300 OZ can spray 750-1,200 people per hour.
The ST100 OZ measures 1,000 x 1,280 x 2,350mm and weighs 320kg, while the ST300 OZ measures 1,153 x 2,950 x 2,550mm and weighs 640kg.
The 3m long model has walk-in ramps for wheelchair access.
Both units must be connected to mains water, and they are powered by mains electricity via a CEE 220V 16A plug.