Trime's 'Monster' lighting tower
By Thomas Allen27 July 2020
Italian manufacturer Trime has introduced a new lighting tower aimed at the mining industry.
The globally available Trime X-Mine Monster is a lighting tower fixed onto a wide crawler undercarriage, giving it stability in all terrains.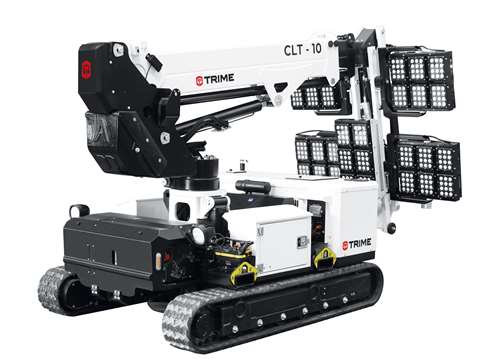 The unit has a dynamic levelling system that automatically tilts the mast when on an incline, so that the tower remains vertical and the lamps steady.
Thirty multi-directional and adjustable 150W energy-saving LED lamps are fitted onto a 10m hydraulic and foldable mast, with 240˚ rotation. As a result, the X-Mine Monster can illuminate an area of up to 24,500m2.
The new lighting tower was said to be easy to operate and simple to manoeuvre.
Remotely controlled via a Wi-Fi enabled joystick-operated console, it has a maximum driving speed of 2.2km/h.
Ground level headlamps are fitted for safety, and the unit has a 150 litre fuel tank that allows it to run continuously for up 94 hours. 9kVA of auxiliary power is also available at 48V DC.
Trime designed and manufactured the X-Mine Monster in response to a request from an Australian open cast mining contractor that was working twenty-four hours a day.
The contractor found that traditional wheeled lighting towers were unsteady and provided insufficient lighting. They were also proving difficult to transport around the site.
So the X-Mine Monster was made to provide lighting in areas that are difficult to access with traditional vertical lighting towers, and to light up a work area above and below an excavator's digging arm.
"We always have a very open mind when we receive special requests for bespoke machinery," said Matteo Tagliani, Sales Director, Trime. "We will always listen carefully to individual requests and work hard to achieve a satisfactory outcome for both parties."