Trojan Battery acquired by C&D Technologies
By Alex Dahm08 November 2018
Manufacturer Trojan Battery Company in the USA has been acquired by C&D Technologies.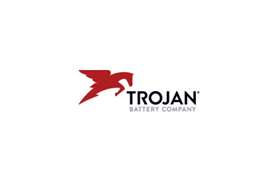 Its current majority owner is an affiliate of Charlesbank Capital Partners and battery manufacturer C&D is owned by KPS Capital Partners. The acquisition will create one of the largest energy storage providers with total revenue of more than $1.0 billion. There will be eight manufacturing facilities and a presence in every major region, Trojan said. The transaction is expected to close in about 60 days.
Trojan makes heavy duty, deep cycle and traction monobloc batteries for trucks, electric vehicles, aerial work platforms and other industrial equipment. C&D makes reserve power systems.
Commenting on the deal, Neil Thomas, Trojan Battery president and CEO, said, "Trojan Battery is an industry leader with a great heritage and an amazing team of employees. I'm excited about the agreement with C&D and believe that it will secure the company's future and position it for even greater success in the years ahead."
Trojan Battery was started by the Godber family in 1925. Rick Godber, chairman of the board, said, "Although this will end 93 years of ownership in Trojan for the Godber family, we all look forward to watching the continued growth and success of the brand and its legacy."
Neil Thomas added, "The synergies between Trojan and C&D will create a global leader in energy storage solutions with two iconic brands, quality products and the ability to supply advanced battery technologies to customers around the world."
Armand Lauzon, C&D chief executive officer, said, "We are committed to preserving everything about C&D and Trojan that our respective loyal customers, suppliers and employees have come to expect over the years, while also using our larger scale and resources to take advantage of many exciting new opportunities."