Trojan to showcase latest battery at APEX & IRE
By Leila Steed09 May 2023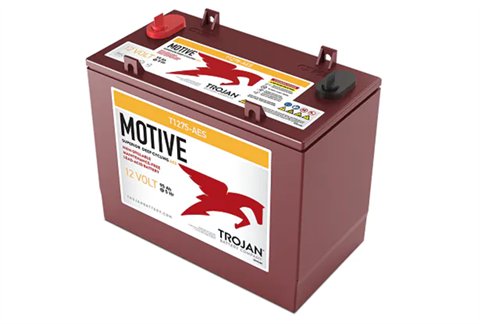 Manufacturer Trojan Battery Company is to present its new AES Battery model at the upcoming APEX and International Rental Exhibition (IRE) events in Maastricht, Netherlands, in June 2023.
The new battery is a premium valve regulated lead acid model that is designed for MEWPs, telehandlers, material-handling equipment and floor-cleaning machines.
On display at booth 525, the AES Battery incorporates AGM (absorbent glass mat) technology and offers around 2,500 charging cycles, with no loss of performance even when units are partially charged.
According to Trojan, this is double the 1,200 cycles offered by traditional AGM units and means rental companies and equipment users will be able to "decrease their total cost of ownership".
"The VLRA battery is designed and manufactured to absorb vibrations and shock and is backed by a three-year warranty", said the manufacturer. "It is virtually maintenance-free, and charges with existing AGM chargers and profiles."
The AES Battery will be showcased at the APEX and IRE exhibitions, which will be held together at MECC Maastricht from 6 to 8 June, alongside Trojan's full range of deep-cycle flooded lead-acid, AGM, gel, lithium-ion and other AES batteries.
More than 225 suppliers of compact construction equipment, aerial platforms and rental IT solutions have registered to showcase the latest battery powered equipment and tools, as well as digital technologies at IRE and APEX 2023.
The full exhibitor lists, and free online registration, can be found at www.ireshow.com and www.apexshow.com.