Truck mounted platforms
By Euan Youdale04 September 2019
Compact and environmentally friendly truck mounted platforms are a major focus for today's manufacturers. Euan Youdale reports.
Continuing on the theme of last year's truck mounted platform feature (AI October 2018), much of the truck mount news of late has been around the lower end of the working height spectrum.
This year's Bauma was full of machines in the 3.5 tonne GVW zone, complemented by manufacturers adding hybrid and electric versions of their equipment into the mix. In addition, there is a heavy focus on total cost of ownership (TCO), not just for users in emerging markets but those in developed markets too, many of whom are looking for lower cost and simpler alternatives.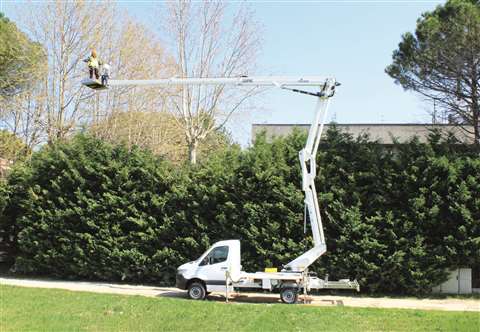 The truck mount platform market
As Piero Palmieri, product manager at GSR says, the truck mount market, specifically at the smaller end of the market can be divided into three segments.
This includes:
simple machines for emerging markets
high-spec machines for developed markets, and a third segment,
equipment that sits somewhere in between.
While emerging nations generally require simplicity and robustness at a lower cost, Europe is particularly choosy, partly because of the European Category B standard license that allows drivers to operate any vehicles up to 3,500kg GVW. This can push technology to its limits in a bid to provide as much lift performance as possible, combined with personnel, tool and material carrying capabilities. "The demand for machines, which can only be used with a B license, is on the rise because the self-drive rental market is growing steadily and for this we need light machinery that is easy to use," explains Palmieri.
Four new models from GSR

GSR has launched four models this year, all on 3.5 tonne vehicles. They include the B200PX and the B220PXE, with 22m working height and an innovative end-mounted basket. The 24m working height telescopic B240T has also been introduced recently, along with a new hybrid system that has been placed on its B180T model and offers a full intensive working day, for example street lighting.
The B200PX is a 20m up and over machine, with an outreach of 9m, 250kg in the basket, in-shape stabilisation and unrestricted 360 degree rotation. The B220PXE version can reach up to 11.2m with 120kg in the basket. The end-mounted basket, a common sight on self propelled access platforms, is a novelty for truck mounts. "This solution simplifies work for the operators who now require more complex machines," adds Palmieri.
The B240T completes the manufacturer's 3.5 tonne range, and has a maximum capacity of 250kg, and can reach up to 14.5m with 80kg in the basket. The new Hybrid system installed on the B180T is designed to optimise weight and performance without using Lithium batteries and allows eight hours continuous work.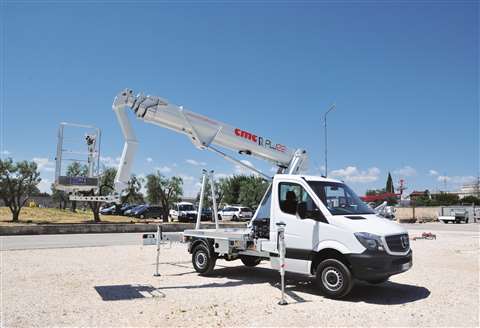 The latest from CMC
The latest truck mount from fellow Italy-based manufacturer CMC also follows this rule. It is the 22.2m working height PLJ22, a telescopic platform with a fixed boom and three extensions plus 180degree jib, mounted on a 3.5 tonne Mercedes. The unit uses the company's established SCS (self-control system) to control all movement and platform speed and the multiple stabilization options, including hydraulically removable sections, offering optimised performance in tight spaces or more accessible areas. As a company spokesperson says, "an increasingly smaller truck with an ever higher equipped platform is the trend in the industry."
Oil & Steel
Fellow Italian manufacturer Oil & Steel has also been extending this area. The company used Bauma to showcase its new Snake 2111 J Plus - a 21m working height double articulated platform with jib and 11m of outreach. It has a 120kg capacity and is equipped with H-stabilisers. The Snake range of machines can also be installed on a Ford Ranger pick-up using a special set up.
Ruthmann introduced its new 3.5 tonne TB/TBR-Steiger series at Bauma, which it is dubbing as its Hi-light Performance range. The series includes five models; the TB 300, TB 290 pro and TB 270 pro as well as the TBR 260 and TBR 230. The TB 300 can reach an impressive 30m of working height with a full 250kg basket load, while the TB 270 pro has broken through the 18m reach barrier for the first time - 1.7m more than on the previous model, the TB 270. At 90 degrees, operators have 2.8m of additional reach capacity. And, there is a list of new features, including a completely new base frame, new basket design, and other technical enhancements. Compared to the previous series, the new Hi-light Performance range has an increased basket load up to 250kg, faster movements and enhanced stability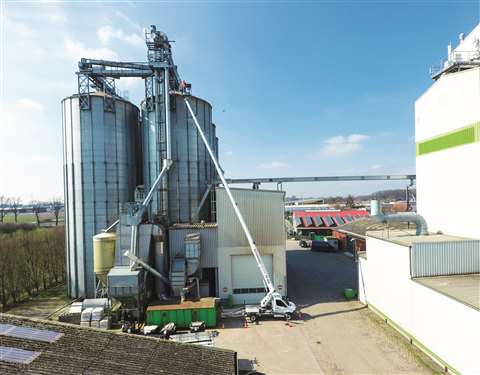 Weight challenge
Socage also launched its latest truck mount during Bauma 2019, the 28m working height ForSte 37DJ Speed. It is the first model in the Speed range and marks a new push by the manufacturer to provide a wider range of platforms. It is available with a 32m working height. The main features are fast and easy use, inside the mirror stabilisation and compact dimensions.
As the company says, in Europe weight is a major challenge issue. "To become successful in this increasingly competitive area there needs to be research into new and higher strength materials.
"Rental companies are becoming more and more important in the market and we decided to produce a range that could meet their needs. What they are looking for most is fast and easy use."
Next, the manufacturer plans to launch an articulated unit with a working height of 16m. The 16A is designed for South America, East Europe and Middle East countries and is designed to be versatile. It can be installed on different types of trucks and pick ups and will incorporate the SPP (Socage Project Profile) that increases working height capabilities, while maintaining a low weight.
And the company is preparing for the next phase in technology. "Electric and hybrid is for sure the future in the truck mount segment too," says a Socage spokesperson. "The real challenge is to make this kind of machine competitive in respect to the combustion fuel ones. In Europe, this is going to be an important point in the decision of customers."
To accommodate all this, production has already moved to its new plant in Carpi from its previous home in Sorbara. "We have developed a more efficient product line that will meet the increase in orders that we expect."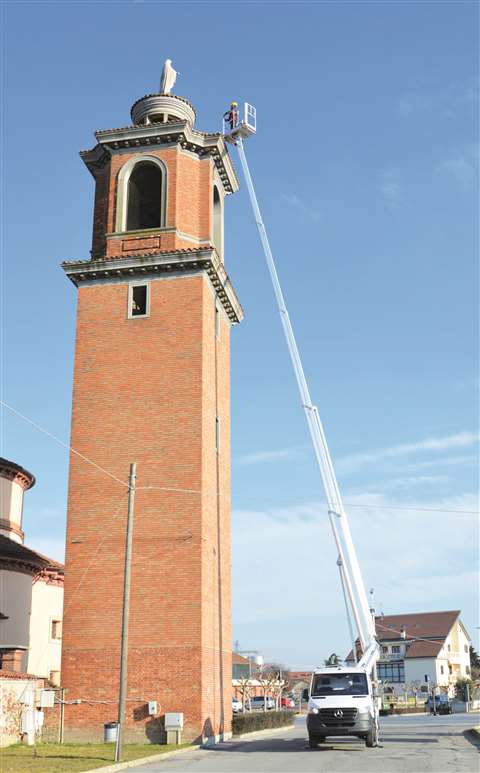 Multitel Pagliero has stepped up its production in the 3.5 tonne arena too, as well as expanding its hybrid offering. The 3.5 tonne GVW MZ 250 is the latest entry. The 25m working height platform is mounted on a compact 3000mm wheelbase Iveco Daily. It is designed to increase up and over and outreach capabilities, and the platform can work at a negative level of -2.5m and offers the Multitel Self Adapting (Musa) outreach system, which adjusts the working envelope automatically based on the basket load and the outrigger position. This maximises the outreach at any given time.
The company is well known for its aluminium booms and has a new unit in the form of the MTE270 EX, which will extend the telescopic range, again on a on 3.5 tonne chassis. The 27m model has a strong aluminium alloy sub-frame, cold extruded aluminium alloy boom sections and tops out the range that starts at 14m. It offers a 250kg basket capacity.
The rear outriggers are permanently in line, while the front outriggers can be deployed in line, extended on one side or on both sides. With the outriggers all in line the platform offers the full 16m of outreach over the rear and 9m to the side. It is available mounted on a MB Sprinter or on Iveco Daily and can be supplied with a selection of customised options.
Chassis configuration
Versalift's latest models are the updated version of the VT-54-NF, mounted on a Renault D14 truck chassis, that complements the VDTL-155-FZ, both launched at Bauma. "To get the configuration of the chassis as we want. These days the chassis manufacturer has to move several components on the truck in order to make room for our outriggers, etc. This often gives us headaches and it makes the chassis more expensive," says Per Torp, business development director with Versalift.
The VT-54-NF is a high-performance 19m working height machine with 265kg capacity at an outreach of 14m, with narrow jacking and 180° fly boom with 2x90 rotation in each direction. It includes a workshop and has a robust upper-control unit with integrated light for work at night, dual joystick and LCD screen. The truck can be drive with the lift in working position. It also has a home function and powder painted subframe, for protection against rust.
Torp, explains, "We had an increasing demand for a product like this in France and we can now see that the unit matches requirements from customers in other countries also." The success of the VTL line VTL has led the company to expand it facilities by 3500 square metres, providing a total of 15,000 square metres, doubling production on last year.
Extendable outriggers
Klubb released a new range of 16m, 18m and 20m telescopic platforms on 3.5 tonne chassis at Bauma. The products are mainly designed for the growing rental market. They include the 16.8m KT 17, a telescopic platform with lateral outreach of 11.5m; the 17.60m KT 18, with a lateral outreach of 11.5m and the KT20, which features a working height of 20.6m and lateral outreach of 12.5m. They all offer 300kg in the basket and boast a fully aluminum structure with chains and cylinders protected in the boom for improved durability.
Extendable outriggers at the front of the vehicle enable the operator to adapt the footprint to the road, while proportional controls allow multiple operations simultaneously, while controlling the speed of each movement independently The manufacturer produces lifts up to 26m. "Nevertheless, rental companies in most of the countries are asking for light truck mounts from 16m to 22m. If we wanted to continue growing our market share with these companies, we needed to develop new products on trucks," says Julien Bourrellis, president of Klubb.
The company will now launch telescopic chassis mounted platforms ranging from 18m to 22m with jib. Adding the jib enables users to easily overcome all types of obstacles, from tree branches, roofs, balconies and electric cables. Bourrellis, says, "One of the greatest challenges in the truck mount sector is the integration of the platform on to the vehicle. The difficulty is the considerable number of different vehicles which obliges us to develop a wide variety of conversions and a huge investment in R&D. The evolution of these vehicles, the changes in regulations and the diversity of these vehicles in the different countries makes our business more challenging every year."
Electric & low emission truck mounted platforms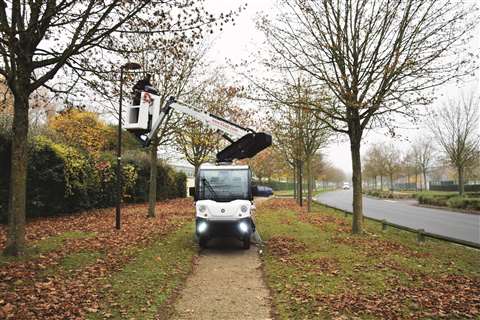 Klubb is also heading down the green route. It offers the 11.80m working height K26 on a Renault Master truck fitted with green pack technology, and recently developed a new version of the existing all-electric K20 mounted on a super-compact Goupil G4 truck, that is 100% electric, and designed for working in pedestrian or residential areas. The vehicle width is 1.5m and has autonomy of 70km on the road. With a working height of 10m and an outreach of 4m, this electric lift is ideal for all cleaning companies, public lighting or maintenance of green spaces and local authorities.
Greener solutions have also led Palfinger's developments in recent months. The P 370 KS E is its first electrically-operated access platform and is designed for night working, indoor, bridge maintenance, tunnels and city centres.
At the heart of the platform is its intelligent energy management system, with components such as an electric motor with hydraulic pump and the integrated battery charging system. The model also offers an electric drive system, which aims to provide the same performance and service life of a diesel-powered machine at lower operating costs through fuel savings. With a maximum cage load of 500kg, it can achieve working heights of up to 37m and lateral outreach of up to 31.5m. However, it remains compact and manoeuvrable with a vehicle length of just 8.35m and has a patented counter slewing device.
The Ampero TBR 250 E is the first answer to Ruthmann's green ambition. The E-Steiger can do everything the 250 HV5 can do, says the company, but by means of a complete electric drive. It has a working height of 27m, an outreach of 16.4m and a top basket load capacity of 230kg. Project manager Thomas Vilain describes the challenge, "Not just any series manufacturers offer vehicles with electric drive in this weight class. Furthermore, not just any manufacturer will in the future authorise access to its batteries for external consumers."
Hybrid development
After comprehensive research and technical discussions, Ruthmann chose a development partner in the vehicle conversion company Orten Electric-Trucks. Together with its partner EFA-S, Orten has considerable experience in the modification of Sprinters.
To compensate for the weight of the battery pack, the TB 270 Hybrid is installed on a 3.5 tonne Mercedes Sprinter chassis with GRP-RA suspension (leaf springs made of glass fibre reinforced plastic) and a 45-litre tank. In addition, the passenger seat has been removed. Should a customer require a chassis with a greater vehicle load capacity or a passenger seat, it is possible to use the 5 tonne class Mercedes Sprinter.
Another such launch was represented by the Multitel MT204 Lithium, powered by an on-board battery pack. It is based on the existing MT204EX, with front extendable outriggers, 20.4m working height and a maximum outreach of 14.3m. Maximum basket load is 300kg, with an outreach of 8.2m, and 12.9m with 80kg. It is mounted on a standard Iveco Daily 35 S 13 or MB Sprinter and stays below the 3500kg weight limit with fuel and driver. The MT204H unit is powered with a conventional engine to travel to site, while a second alternator recharges the battery pack and powers the vehicle's lights.