Turkey air service for Haulotte platforms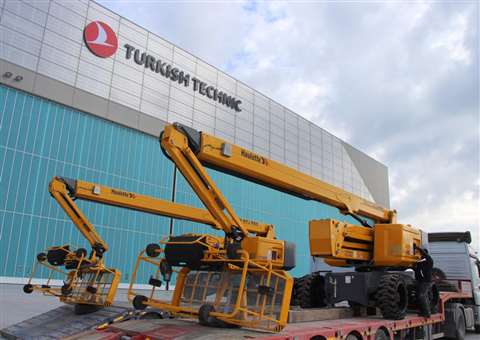 Aircraft maintenance and repair specialist Turkish Technic has ordered 26 Haulotte MEWPS for its new service centre at Istanbul Airport.
Recently, the Turkish company received the last Star 6 Picking unit to complete its current fleet, which now consists of more than 70 Haulotte machines. The new order includes various products, such as scissor lifts, articulating booms and electric vertical masts. The HA26 RTJ Pro and HA41 RTJ Pro articulating booms will be used to maintain the high ceilings in the hangars.
Serkan Acar, general manager of Haulotte distributor in Turkey Acarlar Makine, said, "The maintenance of aircrafts is highly regulated, in order to ensure safe and correct functioning during flight. For this reason, high performance machines are required to finish the work to an exact timing and providing the highest safety levels for the engineers and operators."