Turner and Central receives first Grove GMK5250L in NSW
By Ian Vallely17 November 2016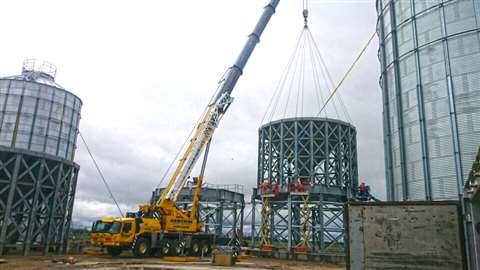 The first Grove GMK5250L all terrain crane in New South Wales (NSW), Australia, has been delivered to Turner and Central Crane Services. It is a construction equipment rental company serving the Central West area of NSW.
Graeme Jenkins, Turner and Central Crane Services director, said the company was proud to add this latest crane to its portfolio. "We have full trust in the Grove GMK5250L and we're glad to have it in our fleet.
"This new GMK5250L replaces an older 200 tonne capacity crane and is ideal for our needs. We were particularly attracted to the 70 metre main boom and the flexibility in counterweight configuration, which works better for our transport operation than other solutions on the market."
The 250 tonne capacity crane offers several capabilities, including, it is claimed, the best reach and strongest load chart of any five-axle crane. The 'L' designation for the GMK5250L indicates it is a long boom model. The 70 m boom has Grove's Megaform shaping for better strength and stability.
The GMK5250L is also said to be better suited to the road regulations of NSW than the 200 tonne capacity unit it replaces. Jenkins said, "The unit is lighter than others in its category, which means we can run it on the road carrying the fly jib and hook block. Many of our jobs involve lifting 50 tonne loads or placing concrete panels, and the GMK5250L gives us more flexibility for these types of tasks.
"We run it as a 160, 200 or 250 tonne crane, depending on the job, so it's spread across a number of different categories giving us better adaptability. I'm confident that we'll be achieving very high utilisation of this unit."
The crane's Viab turbo clutch module is designed to eliminate both fluid overheating and clutch burning, while enabling wear-free starting and braking. It also contributes to fuel savings – GMK5250L fuel consumption is estimated at around 30 percent below that of its predecessor, the GMK5220.
Boosting overall reach is a 21 m hydraulic swing-away jib, which can be extended with either an 8 m boom extension, two 8 m jib inserts, or a combination of both for a total possible length of 37 m.
The full jib can also be operated while the crane is working with its full 70 m boom extended. Another benefit of the jib is its ability to offer increased offset of up to 50 degrees compared to a typical 40 degrees on other Grove cranes in its class – plus an integrated heavy duty jib is available. It also has Manitowoc's Crane Control System, which is a standardised operating system being included on all new cranes from the company.