Turning risk into a competitive advantage
By Shawn Los09 April 2020
After meeting and spending time with hundreds of organizations over the years, it's clear that some companies understand the difference between stroking a check to buy insurance versus financing and controlling risk. Proactive organizations understand there are a number of risk financing options out there and it's not a one size fits all proposition. The most effective operators work with their insurance agent and carrier to take control of their insurance program and develop a comprehensive well thought out plan that allows them to turn risk into a competitive advantage.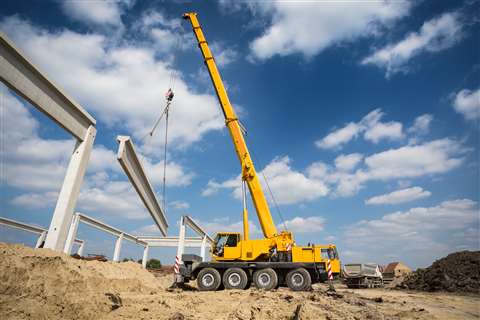 Shawn Los discusses the options in risk financing and how proactive organizations are understanding why it no longer has to be a one-size fits all proposition.
The basics
Insurance is a highly cyclical business where a number of external factors can affect your premium level. From swings in the investment market, catastrophic events, litigation funding, highly publicized accidents, large jury verdicts and changes in underwriting appetites it can be a real challenge to control and understand one of your top operating costs. The good news is there are more advanced options today than ever before and there are resources to help you understand all of them.
There is general consensus that the insurance market for Crane, Rigging and Specialized Carriers is in a hard cycle for Commercial Auto Liability and Excess, while other lines are less challenging. With that being the case, now is the ideal time to be proactive with your options while adopting a mindset of managing and financing risk versus buying insurance. For wise organizations, long gone are the days of buying a policy and not doing or expecting anything for the next 365 days. Operators that bury their head in the sand and ignore risk mitigation tools like Return to Work Programs, Physical Abilities Testing, Automated Event Recorders and the like, will be left with high rates and limited options. Those that are proactive will find a place on the spectrum of risk and reward that is appealing and palatable for them.
Understanding options
When looking at the risk and reward continuum, it is generally the case that with more insurance risk comes the opportunity for more reward. Guaranteed cost, zero deductible insurance is a basic risk transfer mechanism where the operator pays insurance premium to the carrier in exchange for transferring all of their covered risk for a set premium. Under this scenario, the insurance carrier benefits if claims costs are lower than they priced for and the insured has the peace of mind of transferring all risk covered by the policy. On the other end of the spectrum, there is self-insurance, where an operator assumes all exposure; which is clearly not an option for most organizations. In the middle of these two ends of the spectrum there is a world of possibility where the insured takes on some level of risk in exchange for the opportunity for reward if claims costs are lowered.
Deductibles are a common option that provides some middle ground whereby your organization can take a reasonable amount of risk while still insuring away the majority of the exposure. Deductibles provide the immediate benefit of lower pay in costs to account for the risk assumed by your organization, the level of which will be determined by the size of your deductible. The downside of this arrangement is many insurance carriers will require collateral to protect against their credit exposure and often times there is no limit to the amount of deductible reimbursements your company may incur. As you consider this arrangement, some options to review with your insurance agent include basket deductibles which aggregate your multiline claims into a single deductible and deductible stop losses which provide a set cap on deductible reimbursements during any given policy term.
Best of both worlds
While certainly not for everyone, captive insurance is an option that provides the best of both worlds for the proactive organization: a palatable level of risk that oftentimes includes a defined best and worst case scenario, allowing organizations to take advantage of their favorable claims experience. Captives can be a daunting proposition as there are a number of varieties and options, but with a little analysis the concept can be readily digested. While all captive programs differ, customarily a portion of the insureds premium is set aside in an investment account that functions like a checking account where losses up to a certain level are pulled out as they occur. If there are extra dollars in the account after the accounting cycle those funds may be returned to the company, conversely if losses exceed the amount in the fund the company may need to contribute additional funds. The most common captive approach for medium sized operations is to band together in a group with like-minded safety conscious companies to share in that risk and reward. This symbiotic relationship where the captive members share in risk and reward creates alignment with the insurance carrier and insurance agent that is not present with many other options. Creating this alignment where the insured and insurance carrier both win and lose together is a powerful tool.
The benefits of captive programs include a closer relationship with your insurance program, long-term control over your risk financing and ideally a removal from the swings of the traditional marketplace. Captives may also come with an increased level of servicing and safety focus that raises the performance level of all risk takers. The potential downside consideration for this approach includes a higher time commitment to your insurance program, increased safety expectations and the potential to pay additional premium if losses exceed expectations. There are a number of options to consider under this scenario. Your insurance agent will need to be well versed and able to outline the differences between rental versus owned programs, group versus individual, homogenous versus heterogeneous and so forth. While they may seem complex on the surface, alternative risk transfer programs may provide long term control and stability while allowing you take a palatable level of risk with the peace of mind of a defined worst case scenario.
World of possibilities
Between the low risk, low reward option of first dollar guaranteed cost insurance and the high risk, high reward concept of self-insurance lie a number of programs that may work for your operation. Long gone are the days of fly by night operators obtaining reasonably priced insurance which creates opportunities for proactive companies to turn their insurance program into a competitive advantage; and for the top performers, the opportunity to make it a profit center by taking part in the risk. Each option requires careful consideration, but if you dig in carefully with your agent you may find a number of appealing options you had not thought of previously.