TVH shows new JLG booms
By Euan Youdale12 September 2019
TVH Equipment is displaying a range of JLG's recently-announced equipment at the Matexpo show in Belgium this week.
Its new full electric midsize range of construction booms is represented by an EC450AJ. The midsize series of boom lifts offer working heights from 12m to 18m and an unrestricted platform capacity of 250kgs. The range is equipped with Lithium batteries and 2-wheel drive as standard.
The electric EC340AJ, EC450AJ and EC520AJ offer similar lift speeds and platform capacities as their conventional diesel counterparts. Equipped with 2-wheel drive, the range provides good terrain capability in semi-rough terrain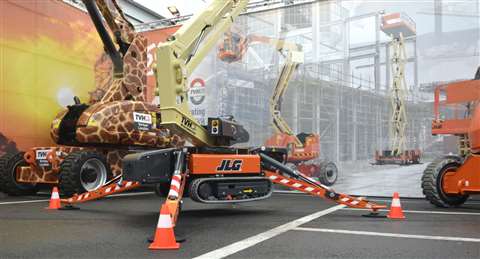 "While these machines perform equally to conventional boom lifts, they do not produce hardly any noise or emissions", said Jan-Willem van Wier, JLG's senior product marketing manager for the EMEAIR region. "The market wants more electric solutions; which can operate in urban areas. With the availability of these electric midsize construction booms our customer's fleet can be optimised and made future proof."
Additionally, an all-new JLG 460SJ featuring Hi-Capacity will be on display representing the two models from JLG's popular 400 Series. The 460SJ HC3 offers a working height of 14m and a maximum platform capacity, restrictedof 454 kgs. Depending on the platform load, the 460SJ has a maximum outreach of 12.35m. The 400S HC3 and the 460SJ HC3 will be available for delivery on commencing fall 2019, followed by the 600 Series at the very end of 2019.
"The increasing demand for more lifting capacity in the platform of boom lifts will be fully covered by JLG's HC3 solution", says Jean-Pierre de Nil, director sales at TVH Equipment.
We are really excited to have this product at our stand. As the 460SJ will allow not only two workers with heavier tools or materials, but also three people can now perform a wider range of tasks on height in all safety."
JLG's high offer industry leading basket outreach and capacity, says the company. Load sensing will automatically adjust the work envelope, while the LED display in the platform indicates to operators which load chart is operated.
Other machines on the TVH Equipment stand at Matexpo (D35), takimg place 11 to 15 September in Kortrijk, Belgium, will be a selection of low level access products and the new DSP-M stockpicker.