Two new trucks from Bell
By Chris Sleight31 March 2009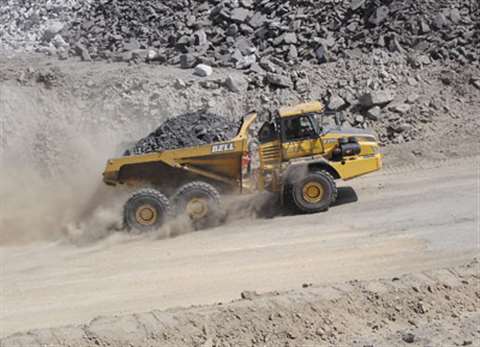 Bell will be adding two new trucks to its range at Intermat. At the lower end of the scale is the B25DN, a narrow bodied version of the standard 25 ton (22,7 tonne) B25D. According to Bell France is one of the key markets for such a machine, where there are a lot of quarry sites built around on-highway trucks. The new B25DN it says has the ability to fit under smaller silos, while offering the safety and off-road driving advantages of an articulated dump truck (ADT).
Further up the scale is the B45D, a 45 ton (40,9 tonne) capacity machine added to fill the gap between the B40D and B50D ADTs. Based on the range-topping B50D, the new truck has a 350 kW engine, as opposed to its bigger brother's 390 kW unit, but retains the many of the larger machine's well-proven components.
Bell is also planning to upgrade its larger trucks to its new Mark VI specification in the first part of this year. Innovations include a hydraulic suspension 'comfort ride' option and a new cab layout featuring a keyless start system and new body tipping control.