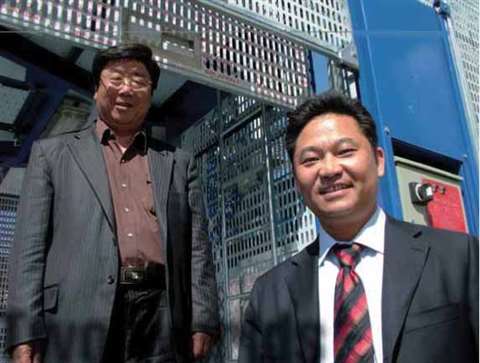 The evolution of Chinese hoist and mast climber manufacturer Jing Long Eng. Machinery Co – better known under its main product brand GJJ – mirrors closely the changes that have taken place in China over the past 25 years.
In fact, the company's two founders – Mr Wang Hua Long, president, and Mr Liu Yue Jin, general manager and chief engineer – even anticipated the economic opening up of the country. The men had worked together since 1982 at a public owned construction equipment manufacturer in Beijing, but decided in 1991 to move to the south of the country and try to market hoist technology to other public companies.
Mr Wang, who focuses on financial and administration issues at GJJ, tells AI that even in 1991 he was thinking about founding a privately–owned manufacturer, although it wasn't until 1996 that they actually founded their first business. It wasn't an easy decision, but he says the public sector made it difficult to fully develop a business career. Mr Liu, who takes the lead on technology, says the two had already started to develop the GJJ brand as early as 1991.
The move to Guangzhou – the current headquarters location – also made it easier to access export markets in South East Asia and the Middle East, both early targets. It was after the second Bauma China exhibition in 2004 that the GJJ name became better known around the world, to the extent that 60% of the 1500 units it built last year were exported (with a quarter each to the Middle East, North America, South East Asia and the rest of the world).
China remains a growing market, however, partly as a result of a 2004 regulation that made construction hoists compulsory on high rise buildings over 30 m (in certain areas). And if demand in the past was primarily in Shanghai and Beijing, that is now being supplemented by sales in smaller regional cities. The two say that the total hoist market in China was 3000 units in 2006 and will rise to 4000 this year.
The company's Chinese customers are mainly end–users, with only around 5% going to rental companies. However, GJJ thinks that rental will grow and has established its own rental operation with around 100 hoist units, with plans for that fleet to double this year and possibly reach 700 to 800 units within five years. The fleet is currently based mainly in Beijing and Shanghai, and in the south, with around 20–30 likely to be located in Hong Kong this year.
Mr Wang says that big project developers have preferred to own their own equipment, but the growing number of small, private contractors and developers are more open to rental. GJJ still wants to focus on sales, but rental will be part of the strategy as well.
The company has doubled its turnover every year since 2002, and continues to develop its manufacturing footprint. Its main factory at Guangzhou was expanded last year and now totals 130000 m2, and it has two subsidiaries in Beijing and Xi'an which together provide an additional 70000 m2 of production space. (GJJ also owns a 70% share in a joint venture tower crane manufacturer.)
GJJ is relying on dealers outside of China, but longer term it will look to establish its own subsidiaries. Before then, however, the company is considering some major changes, and is investigating a stock market floatation – possibly in 2008 – or a joint venture or cooperation with another manufacturer. Mr Wang tells AI that the company has already spoken to several companies in the US, Europe, Japan and Hong Kong about possible deals – including the sale of the company.
The company's most important products are its hoists, which have capacities of up to 10 t and include both standard drive and frequency controlled versions, but it also produces suspended platforms, mast climbers and tower cranes.
If GJJ is helped by being in a fast–growing market – and one with a low cost of production – new Netherlands company Raxtar, although a much smaller, start–up company, is taking a different approach, using the considerable rental experience of its two founders to develop what it sees as flexible and rental–friendly hoists.
Raxtar's owners (the name is a play on the words 'rack', as in rack and pinion, and 'star') are John Blok and Pascal Matheeuwsen, who are also co–owners of the well–known Netherlands hoist rental company ANC, which means that they understand very well the needs of rental owners.
Mr Blok tells AI that its range of construction I hoists, industrialhoists and 'renovation hoists' (the latter are temporary elevators while a building's existing permanent hoists are being refurbished) "combine all the advantages of existing machines and eliminate all the disadvantages."
The machines carry some features specifically designed to appeal to rental owners. The hoists' control box will record how the machine has been used (or misused), and can be programmed for use on buildings with up to 60 floors. The rental company can set up the hoist with certain parameters, which can't be changed by the customer.
The doors use chains to open and close rather than cables – "they will last for ever" says Mr Matheeuwsen – and both the cage and gate are galvanized. Rack and pinions are noisy, but Raxtar's owners says that doesn't stop you from sound–proofing the cage itself.
The cage also has a modular design, with cage length able to switch between 3.2 m and 4.0 m. Mr Matheeuwsen says the ground enclosure can be erected or dismantled in just 20 minutes, and a special trolley design means that the hoist doesn't need to be erected 1 m above ground.
One other option is to use reinforced polyester panels with a steel structure. These panels are lightweight – the same weight as aluminium panels – and easy to repair by patching. Raxtar also says that any damage to the panels on the inside doesn't show through to the outside.
ANC is itself a customer, having acquired 10 of the approximately 50 Raxtar hoists built to date. One feature of all the ANC hoists is the use of remote computer control using mobile telephone technology. Raxtar has developed a computer monitoring system that allows an owner to dial in to his hoist, see how it is working and detect faults.
Mr Matheeuwsen says the system will save companies the cost of call–outs to solve simple faults; "We say, for an average problem, where we have to go to site, the cost is around ∈500, plus an unhappy customer. Every problem that we can solve like this saves ∈500."
Raxtar says this kind of remote monitoring capability is becoming even more important as technicians become more expensive and more difficult to find.
Mr Blok says the company is still only a year old, but is hoping to sell worldwide. "The market is looking for an alternative", he says. Its products are CE–marked for Europe and next Raxtar wants to obtain ANSI certification for the US market.
There were, of course, some other notable hoist and mast climber launches at Bauma. We have reported previously on Alimak Hek's new Hek Modular Range of mast climbers and transport platforms using mast sections compatible with Alimak hoists. Also new was its A3 remote monitoring system which can be used with Alimak hoists and also other brands. Like the Raxtar system, A3 will allow a hoist owner to keep tabs on a hoist via a web interface.
Meanwhile, Steinweg–Bocker–Baumaschinen – the hoist division within the Bocker Group – also finally launched its new Giantlift series. With payloads of up to 3200 kg or 28 persons, the frequency controlled lifts have hoisting speeds of between 30 and 60 m/min and cabin lengths of between 3.0 m and 3.8 m. The hoists use 1508 mm long, zinc–plated mast sections that Bocker says are "compatible with various manufacturers".