Tyres and wheels: Carrying pressure
By Alex Dahm25 October 2016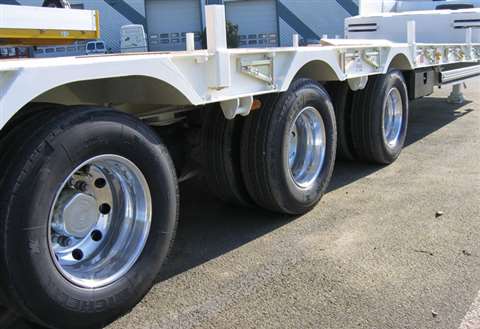 High performance, long life and low cost are just some of the requirements end users demand from tyres and wheels for cranes and specialized transport equipment. Katherine Weir investigates new products and developments for the industry.
Tyre and wheel manufacturers work together to meet the evolving design requirements and demands of end users of cranes and specialized transport equipment. These products enable companies to carry heavy loads on different terrain. They have to offer stability, traction and allow flexibility in load distribution.
A recent addition in the crane tyre market is the Mitas 445/95 R25 with CR-02 tread design that extends the company's current range of CR-01 crane tyres. Jaroslav Musil, Mitas product manager, says, "Mitas CR-02 has improved operating efficiency thanks to its lighter construction. It is also possible to mount the tyres on a one piece rim, which reduces the overall weight of the mobile crane. These improvements have a positive impact on fuel consumption.
"The tyre is designed for speeds of up to 85 kilometres per hour. The maximum operational load capacity at a speed of 80 km/h is 6. 7 tonnes under 9 bar. The size 445/9 R25 CR-02 has a symmetrical tread pattern and can be re-treaded. It meets the requirements for winter conditions and can also operate in mud."
The Czech Republic-based off road tyre manufacturer also offers three sizes of CR-01 crane tyres, which are a popular choice for manufacturers, including Liebherr and Manitowoc, the company says. CR-01 tyres are available in sizes 525/80 R25, 445/95 R25 and 385/95 R25.
For international off road tyre manufacturer BKT, its Airomax AM 27 is specially designed for all terrain crane applications requiring travel at high speed. The company says that this tread design offers "superior traction for all on and off road services." BKT says it will soon introduce a new size in the Airomax AM 27 range, the 525/80 R25.
Dilip Vaidya, BKT president and director of technology, says, "The five rib pattern with a continuous shoulder rib ensures high speed along with excellent steering performance. The tread is made of a special compound optimising both wear and cut resistance. Airomax AM 27 has a strong all steel casing, which provides extraordinary durability as well as resistance to cuts and punctures. The radial tyre construction also improves the comfort for the driver.
This tyre is currently available in the following sizes: 385/95 R24, 385/95 R25, 445/95 R25, and 505/95 R25.
Debuted at the Bauma exhibition in April was Magna's MA03+ for highway and off road use. The Netherlands-based tyre company describes the tyre as "optimised for long distance transport and savings on fuel consumption." It is also said to enhance operator comfort and is available in sizes: 385/95 R25, 445/95 R25 and 525/80 R25.
Key benefits of the new tyre include an improved irregular tread pattern that reduces rolling resistance, a lug design that gives traction in severe off road conditions and an all steel construction and improved protector piles for optimised load performance, explains Magna.
Wheels
Coming in September 2016 is the new 17.5 x 6.75 inch (444 x 171 mm) aluminium wheel from international wheel manufacturer Alcoa Wheels. It is made for low deck trailers, has a maximum load of 3 tonnes and weighs 13.7 kilogrammes, which is 40.3 percent lighter than the steel wheel on the market, the company says. Alcoa also says that its aluminium wheels are up to five times stronger than steel wheels.
Crane manufacturer Manitowoc fits radial tyres that are made for off road travel and highway speeds to its Grove all terrain cranes in three sizes: 385/95 R25, 445/95 R25 and 525/80 R25. Andreas Cremer, global product director for all terrain cranes at Manitowoc, says, "All of the sizes are available on steel rims but we also offer aluminium rims to reduce weight or, in some cases, improve the look of the crane."
Crane manufacturer Liebherr is offering customers a new wheel design to fit 445/95 R25 tyres. Instead of a three part steel rim it is a single piece design. The company says that the advantages over conventional steel split rims are less weight, less corrosion and higher safety during tyre fitting and removal.
Material options
Wolfgang Beringer, responsible for sales promotion at Liebherr-Werk Ehingen, comments on the US market, "There is growing demand for aluminium wheels in the USA. We offer 525/80 R25 tyres on aluminium rims providing a more attractive design as well as less weight and corrosion. The high difference in price is accepted in this region."
Each material has its pros and cons and it is a choice that divides most of the industry, depending on reason for use and the region where it will be used. Aluminium wheels save a lot of weight - a crucial requirement on a crane - and they can be as much as 60 % lighter than steel wheels. The material also allows the wheel an attractive finish. It increases the entire crane's 'curb appeal', something many end users are increasingly finding important. With this style and performance, however, comes a bigger price tag.
Vaida at BKT says, "Alloy wheels are lighter, providing enhanced agility and improved acceleration. However, alloys are apt to bend more easily than steel under road impacts and have the tendency to crack if there is much bending."
Speaking in relation to the USA market, Cremer at Manitowoc says, "Aluminium rims allow customers to carry more equipment on the crane and in some cases to get them road legal when axle loads and GVW [gross vehicle weight] are slightly above the limit."
Steel wheels are heavier and the extra weight does dampen acceleration and agility, although they are stronger and more durable than aluminium, meaning less bending or cracking occurring. Maintenance and replacement is generally less frequent with steel as well as them being considerably cheaper.
Chris Putz, principal engineer, commercial highway and agriculture at manufacturer Maxion Wheels, says, "The cost is significantly different between aluminium and steel wheels used for cranes and specialized transport applications. It may be as high as a factor of 3:1."
The international wheel manufacturer has been around for more than 100 years and has seen many changes to the wheel industry in that time. Putz continues, "The evolution in North America over the last few decades, as driven by the tyre manufacturers, has been the conversion from tube type rim products to tubeless wheel designs. The usage of 20" and 24" multi piece rims is now replaced with 22.5" and 24.5" single piece disc wheels.
"Maxion has focused on weight reduction with higher strength steels and improved coating performance. We have recently introduced a new 5 year finish warranty on our MaxCoat Extra powder coated wheels."
BKT also describes steel wheels as advantageous when driving on snow. Thanks to the extra weight, the tyres "bite" better into the snow, improving vehicle control, the company says.
For transport equipment manufacturer Tii Group (Scheuerle, Nicolas, Kamag and Tratec), there is only one option for its specialized transport equipment. The company says that considering the huge payloads it handles; only steel rims are chosen. Scheuerle has also created special rims to better support the tyres on 60 tonne axle loads.
Preventative measures
Despite being heavy duty and of multi-ply construction, a pneumatic tyre for crane and transport applications can suffer a puncture at a critical moment. Christopher Rimmele at Tii Group speaks about the method the company uses for heavy loads off-highway. "Polyfill tyres have a solid polyplastics core and will not get perforated on critical transports," he says. "On industrial sites punctures due to scrap and other metal parts can be a problem. Solid polyfill tyres are the answer."
The company describes the advantages of poylfill tyres as increased failure safety, a possible higher axle load and more tip resistance.
For wheels Maxion explains that they are designed to perform for the life of the vehicle when used in the proper service environment and vehicle application. It is under conditions of overloading, poor service environment, unintended application and improper maintenance that wheels for these applications may become buckled, the company says.
Putz adds, "Our recommendation is not to straighten the wheel, most notably in the rim flange area. Such actions may unintentionally weaken the structure of the wheel, potentially causing issues with tyre fitment or ability to retain inflation pressure. Proper torque and maintenance practices are essential to the long-term performance of the wheels.
"Other problems in the field may be associated with loss of fastener torque, paint degradation, or flange wear. Exceeding the load capacity of the wheel can cause other issues such as cracks in the disc, distorted bead seats, or broken fasteners."
Cremer at Manitowoc explains that wear is always an issue. He says, "We try to minimise wear with speed-dependent optimised steering angles controlled by our modern steer-by-wire system and our Megatrak independent suspension. Each wheel is able to remain on the ground at all times, so that stresses and weight are not continually transferred between axles."