Tyrolit wire saws go to work in Bremerhaven
Wire saws from Austrian manufacturer Tyrolit have played a major role in the demolition process ahead of the construction of a new Quay 66 at Bremerhaven port area in Germany.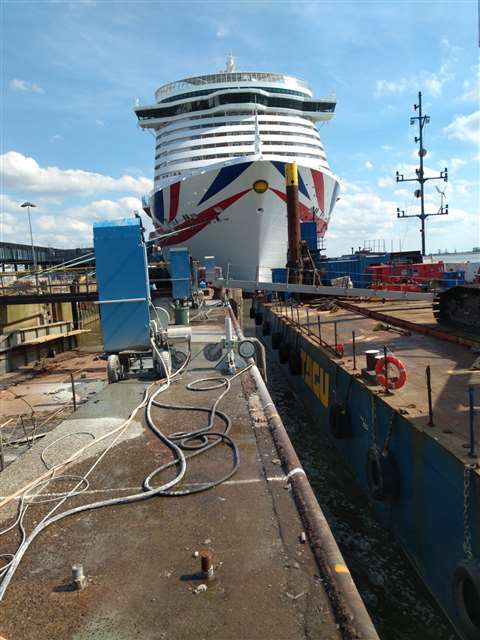 The original quay was built in the 1960s and suffered considerable damage over the years, so in early 2020 it was decided to bulild a new one and demolish the old quay to ensure safe shipping traffic.
Bidding consortium TAGU Tiefbau, Unterweser and Ed Züblin, together with Diamant-Technik Sanitz under managing director Frank Weu, developed a concept that included breaking up the quay using a wire saw and removing the individual parts by a crane on a floating pontoon.
With available working areas restricted to a width of 1.4 to 1.9 m (4 ft 7 in to 6 ft 3 in), the consortium decided to plan this project together with the support of Tyrolit.
In the summer of 2020, several WCU17 wire saws were used to cut around 130 sq m (1,400 sq ft) of reinforced concrete and more than 1,000 t of reinforced concrete was removed. Vertical wire saw cuts with individual areas of up to 11.4 sq m (122 sq ft) were carried out. The concrete parts, with individual weights between 26 and 87 t, were excavated via drilling holes.
Tyrolit said work was made more difficult by the high demands on occupational safety and the temporary use of the floating pontoon due to the lock traffic. However, the project was completed nine days ahead of schedule.
"Among other things, the horizontal partitions, which were very heavily reinforced and 2 m (6 ft) under water at high tide, were particularly demanding. In some cases it was even necessary to start cutting on steel," said application engineer Jörg Koppe.