UK App-based renter raises expansion funds
By Thomas Allen28 August 2020
A London, UK company that has provided a mobile App-based rental service for skip rental has raised £1.2 million in funding to help it expand into different types of construction equipment and nationwide..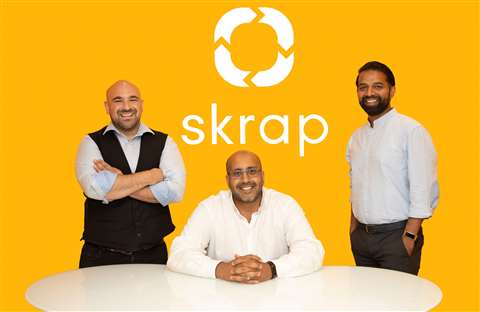 Skrap, which acts as an online broker for rental products and does not own its own equipment, started in 2017 by focusing on London's skip hire market, and now intends to add the supply of concrete, portable toilets and wider construction machinery.
By the end of 2021, the company aims to provide coverage in all major UK cities through its mobile App.
Hussain Hilli, co-founder of Skrap, said, "We're thrilled to have some amazing investors on board and look forward to leaning on their expertise as we broaden the horizons for Skrap.
"Our team has huge ambitions to scale across the UK and globally. Having laid the foundations in skip hire, we are fast expanding in all construction hire verticals.
"Skrap is making its mark in the industry by introducing the first mobile App that makes it simple and convenient for construction companies to access resources they need."
Skrap was founded in 2017 and is targeted at small and medium-sized contractors.
The company has a team of 25 people building an App dedicated to automating construction equipment rental. It has been trialled with hundreds of suppliers across London, Manchester and Birmingham, and in that time has executed more than 10,000 deliveries to thousands of construction companies.
Skrap's strategic ambition is to automate the entire construction rental supply chain across major cities globally over the coming years.
Founders Marwan Field, Hussain Hilli and Ahmed Rao came across the problem while running a construction business where logistics were unorganised and fragmented, prices were "asymmetric", and suppliers and brokers were doing everything manually.
Hilli said, "The UK construction hire industry is a £20 billion market, yet it is poorly served with services not fit-for-purpose in a digital age.
"Skrap is well positioned to bring innovative solutions to help transform the industry."