UK construction gloom
By Sandy Guthrie08 August 2017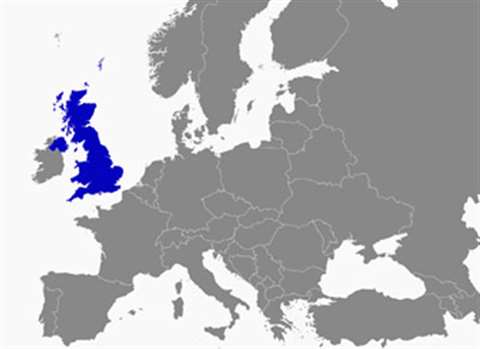 A slowdown in growth has been reported by UK construction companies in July, reflecting lower volumes of commercial building and a softer expansion of housing activity, in the latest IHS Markit/CIPS (Chartered Institute of Procurement & Supply) UK survey.
It also revealed a reduction in new business volumes for the first time since August 2016, which "acted as a headwind to job creation and input buying across the construction sector".
At the same time, intense supply chain pressures continued in July and prices for construction materials increased at one of the sharpest rates since the first half of 2011.
Meanwhile, the UK's Construction Products Association has said that growth prospects for the construction industry in 2018 have been downgraded as the UK prepares to leave the EU.
In the CPA's latest forecast, it said output was expected to soften, blaming a slowing economy, falling real wages and rising costs which it said would adversely affect the industry.
It said growth for 2018 was therefore only expected to rise by 0.7% – the slowest in six years, and a downward revision from 1.2% in previous forecasts.
The IHS Markit/CIPS UK Construction Purchasing Managers' Index (PMI), when adjusted for seasonal influences, dropped from 54.8 in June to 51.9 in July, which was said to signal the weakest construction performance since August 2016.
The latest reading was below the long-run survey average of 54.5, and pointed to only a moderate pace of business activity growth.
Lower levels of commercial construction were identified as a key factor holding back overall business activity growth in July. Although only modest, the reduction in commercial activity was the fastest for 12 months. IHS Markit/CIPS said a number of survey respondents had cited delays in decision making by clients, linked to worries about the economic outlook and heightened political uncertainty.
Residential
Residential building remained the strongest performing category of activity in July, although the latest rise was the slowest for three months. The only upturn in output growth was recorded in the civil engineering sector.
Construction firms were reported to have noted a greater reluctance from clients to commit to new projects in July. Weaker demand led to an overall reduction in new business volumes for the first time since a rebound following the Brexit referendum (for the UK to leave the European Union) began in September 2016.
The July PMI data suggested that UK construction companies responded to lower sales by tightening up purchasing activity at their business units. The latest increase in input buying was only marginal, and the weakest since March.
Tim Moore, associate director at IHS Markit and author of the IHS Markit/CIPS Construction PMI, said, "July data reveals a growth slowdown in the UK construction sector, mainly driven by lower volumes of commercial development and a loss of momentum for house building.
"Weaker contributions from the cyclically sensitive areas of construction activity more than offset resilience in the civil engineering sector."
He said that worries about the economic outlook and heightened political uncertainty were key factors contributing to subdued demand. Construction firms reported that clients were more reluctant to spend and had opted to take longer in committing to new projects.
"The combination of weaker order books and sharply rising construction costs gives concern that an extended soft patch for the construction sector may be on the horizon," he added.
Duncan Brock, director of customer relationships at CIPS, said, "Continuing price pressures from the weak Pound lingered, driving cost inflation near to a six-year peak, stifling purchasing activity and jobs growth."
At the CPA, while saying that growth prospects for the construction industry in 2018 had been downgraded, it reported that for now, activity on site was high and output was expected to rise by 1.6% in 2017 – an upwards revision from 1.3% in previous forecasts.
It said this would be partly a result of a sharp rise from new contracts and activity in the £6.9 billion (€7.62 billion) public housing repair, maintenance and improvements to deal with short-term urgent measures that would need to be made in light of the Grenfell Tower fire disaster which occurred in London during June.
Increases in infrastructure activity and private housebuilding were expected to be the primary drivers of growth over the next two years, which the CPA said would help offset a sharp fall in the commercial and industrial sectors.
Major projects
It said growth in infrastructure would be a result of major projects in rail, and water and sewerage – such as HS2 high speed rail, and the Thames Tideway Super Sewer in London – with activity forecast to grow by 7.4% in 2017 and 6.4% in 2018.
Growth is said to be reliant on delivery of these projects, while it added that the extent of the continued delays to main works at the Hinkley Point C power station meant it was no longer included in the CPA forecasts.
Growth for the industry in 2018 was also said to be heavily reliant on private housebuilding, but that the sector was still reliant on the government's Help to Buy equity loans to drive housebuilding numbers. The policy is in place until 2021, and was expected to support demand for new build and drive growth in private housing starts of 3.0% in 2017 and 2.0% in 2018.
However, the CPA warned this was slower than in previous years given uncertainties over the strength of consumer confidence and falls in real earnings.
Further ahead
Looking further ahead, growth for 2019 is projected to be 1.8%, but given the unprecedented economic and political uncertainties following the lack of a significant majority for the UK government as the UK leaves the EU, the risks around this forecast were felt to be considerable.
Noble Francis, economics director at the CPA, said, "Construction firms are still reporting that activity remains high and there are still lots of cranes around. But there are clear signs that construction output is slowing and that next year, in particular, will be difficult for the industry."