UK construction leaps in July
By Mike Hayes21 August 2020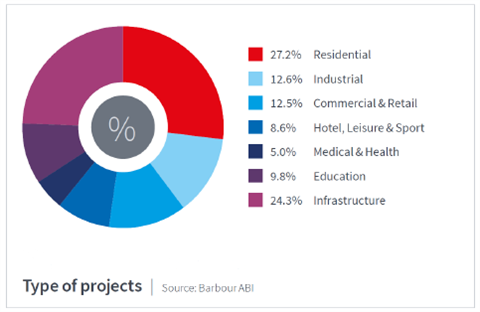 The total value of construction contracts awarded in the UK in July was more than double that of the previous month, according to a new report.
Construction industry analyst Barbour ABI released its Economic & Construction Market Review this week, revealing there were £6.3 billion (€7 billion) of awards in July, compared with £3.1 billion (€3.5 billion) in June.
The figures stand at odds with the general UK economy, which is now in recession as a result of the Covid-19 pandemic.
According to the report, every sector within the UK industry saw a minimum 33% growth in July, compared with the previous month, with some sectors seeing growth of up to 98%.
Infrastructure leapt up 75.4%, while residential construction grew by 65.9% and the value of education construction contracts rose by 43.5%.
From a regional perspective, London led the way, taking an 18.5% share of all UK contracts, with Scotland hosting 17.1% and the South East region of England seeing 12.8% of contracts.
Tom Hall, chief economist with Barbour ABI and AMA Research, said, "While the economy entered a recession, the construction industry has seen significant increases in activity over the last two months. This could potentially be due to the restarting of activity that had stalled in previous months. A strong planning pipeline could suggest the industry will continue to strengthen but at what rate remains to be seen."