UK construction products recovering
By Sandy Guthrie25 July 2018
The UK's construction products manufacturing industry has begun to catch up on activity lost to bad weather conditions during the first three months 2018.
The State of Trade Survey from the UK's Construction Products Association (CPA) for the second quarter of 2018 looked at the £56 billion (€63 billion) UK construction products manufacturing industry.
The association said that construction product sales acted as an early indicator of wider activity in the supply chain and that these results signposted a rise in total construction output levels over the next 12 months.
It found that heavy side manufacturers reported an increase in activity, with sales in the second quarter rising for 40% of firms, following two previous quarters of falling sales.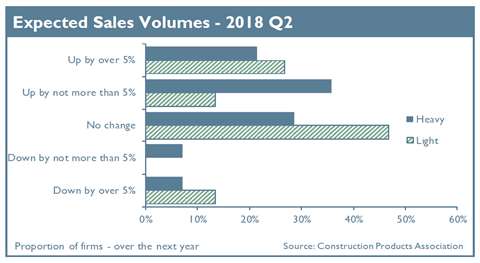 For light side manufacturers, it reported that 29% of firms on balance reported a decrease, which was the weakest performance since the third quarter of 2012. It said this reflected the lagged impact of the industry's decline in the first quarter, as light side products such as insulation, boilers, glass and lighting tended to be used at the end of the building process.
Manufacturers expected a return to growth in the coming quarters, the survey found, with 43% of heavy side firms and 27% of those on the light side expecting an increase in sales over the next 12 months.
The CPA said that input cost inflation continued to persist, however, particularly for the energy-intensive heavy side, which has been experiencing the effect of rising global commodity prices on fuel and energy costs.
Rebecca Larkin, CPA senior economist, said, "These results fit the profile of construction catch-up from a weather-affected first quarter.
"As we've moved from a freezing spring to a hot summer, groundworks and work on external structures has been able to resume, and this has been reflected in increased sales for heavy side manufacturers."
She said the disruption in the first quarter was likely to have delayed interiors and finishing works starting on site, which was evident in the decline in light side sales during the second quarter.
"Manufacturers' product sales, capacity utilisation and new hiring are all still expected to increase over the next year," she added, "but price pressure is coming from all directions across fuel, energy, raw materials and labour, which is likely to be felt throughout the construction supply chain."