Ukraine to get €450 million highways loan
By Mike Hayes21 December 2020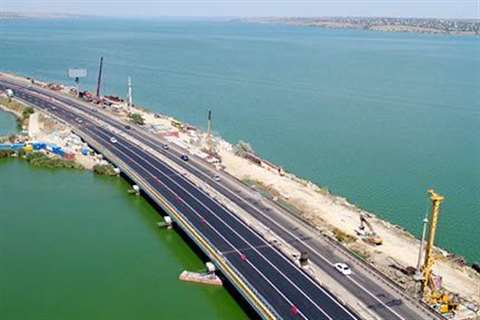 Part of Ukraine's road network which will benefit from the €450 million EBRD loan to Ukravtodor
The EBRD (European Bank for Reconstruction and Development) has offered a €450 million loan to Ukraine's state road agency Ukravtodor.
According to the bank, the loan has a dual purpose: firstly, the construction of new roads and rehabilitation of others; and secondly, to support the Ukrainian government's goal of rooting out corruption.
From a road building perspective, €290 million of the loan will go towards the rehabilitation of a number sections of the M05 Kyiv-Odessa road, boosting the connection between the capital city and ports on the Black Sea coast.
A further €160 million will aid the construction of a new bypass around Lviv, the largest city in in western Ukraine.
Both projects form part of the Trans-European Transport Network (TEN-T) and are a significant element of the government's strategy to improve Ukraine's connection with the European Union.
The anti-corruption programme, jointly initiated by Ukravtodor and the EBRD, aims to tackle widespread illegal practices, which have soared to record levels within the country's road construction sector.
Matteo Patrone, EBRD's managing director for Eastern European and the Caucasus, said, "This cooperation to strengthen anti-corruption measures in the road sector will serve as a pilot – and a litmus test – for a broader anti-corruption and good-governance programme backed by the EBRD and target all Ukrainian state-owned enterprises and public sector entities."
Oleksandr Kubrakov, the head of state road agency Ukravtodor, said, "We are grateful to our partners for their trust and as a result of the project we expect to receive not only rehabilitated and newly built highways, but also sustainable solutions to minimise corruption risks."
Including the latest loan agreement, EBRD has made a cumulative commitment of almost €14.5 billion through 486 projects in Ukraine and is the largest institutional investor in the country.