Uncertainty clouds Fehmarnbelt project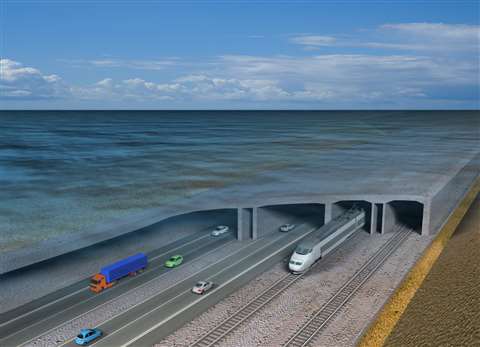 A final decision on the future of the proposed cross-border Fehmarnbelt tunnel is due in December after regulatory delays and legal challenges.
Linking the Danish and German coast, the €6.2 billion Fehmarnbelt Fixed Link is planned to stretch 18 km, consisting of a four-lane motorway and a double-track rail line. Construction was scheduled for completion in 2021.
Rental companies Ramirent and Zeppelin have a lot of potential business riding on the approval of their bid for the project. The companies have formed a joint venture – Fehmarnbelt Solution Services – to bid for work on the tunnel, with the plan of offering a 24/7 service on site with rental depots on the Danish and German side.
Femern A/S is the company formed by the Danish government to be in charge of preparation, investigations and planning in relation to the establishment of a fixed link across the Fehmarnbelt between Denmark and Germany.
It said that German regulatory approval for the project was expected to be delayed until 2017, while the deadline for tenders for the project is May 2016. Femern said it was considering an extension of the tender period, "and the possibility of reaching an agreement that is conditional upon German regulatory approval."
Ferry companies are also challenging the legality of the project. Stena Line and Scandlines have filed appeals with the European Union's General Court disputing the public financing of the project. They claim state backing for the Fehmarnbelt project amounts to "unjustified state aid" creating an un-level playing field and distorting competition.
Meanwhile, Femern also said the political parties behind the project have commissioned external quality assurance of the project's construction risks and reserves ahead of a decision in December.
"The quality assurance will be carried out following Femern's receipt of the final bids from the contractor consortia to carry out the four major construction contracts on the Fehmarnbelt. Prices are significantly lower overall than the preliminary bids, which were received in December 2014.
"Quality assurance involves, among other things, clarification of what kind of risks are passed on to the contractors, and the risks Femern is liable for on behalf of the State," Femern said.

It added that the political parties were also considering the various possibilities for making use of the final bids for the four major construction contracts on the basis of delayed German regulatory approval.