Underwater demolition: Hand-held tools and wet suits
By Lindsay Gale12 June 2008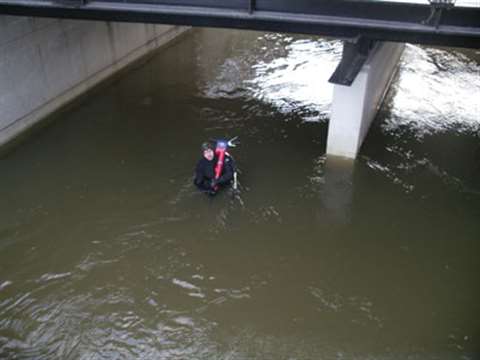 Over the last few years, the Danish city of Aarhus has seen a major transformation, with many buildings having been renovated. A major part of the work is the opening up of the river that runs through the city centre. For many years, it had been buried out of site under concrete and asphalt, but this is now changing, as it to become a major element in the modified Aarhus city centre look.
General contractor Pihl & Sons was awarded a contract that involved cleaning out the river and making changes to its course. It was during the clean-out that Pihl discovered its problem – underwater foundations that originally supported a road that crossed the river. These had to be removed.
Attempts to demolish the foundations using machinery failed – first using an excavator with a bucket and then an excavator-mounted hydraulic breaker - came to nothing (and nearly blew the excavator's hydraulic system when water got into it).
As a result, Pihl started to run late on the contract and risked incurring fines because of the delay. In the nick of time, they found a possible solution – hand tools and wet suits.
It was identified that a 23 kg (50.5 lb) Hycon HH23 hydraulic breaker would be able to work underwater as a result of the fact that its hydraulic system is closed, a fact that prevents water penetration.
Pihl then brought specialist demolition company Total Diamenten to actually carry out the work, and rented the Hycon equipment from Hycon's Danish dealer, Tzacho, along with a Honda HPP 13 power unit and 30 m (98 ft) of special lightweight hydraulic hose. The Total workers then simply donned their wetsuits, jumped into the river and began the demolition of the foundation structure by hand. While perhaps not the most pleasant of working conditions, the task that took less than two weeks.