Unimog off-roaders for UK power
By Euan Youdale15 November 2021
Electricity network operator UK Power Networks has commissioned six new, all terrain Mercedes-Benz Unimogs, with access platforms, which are now being used to maintain overhead lines across the East and South East of England.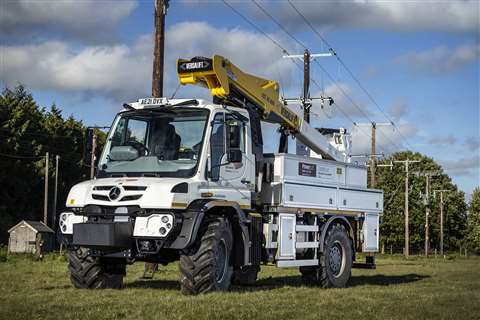 Supplied by Dealer Arthur Ibbett, in Cambridgeshire, the Unimog U530s are equipped to work in the most inaccessible locations. Permanent all-wheel drive, plenty of ground clearance, and portal axles with differential locks all contribute to their impressive cross-country capability.
The new models have replaced older versions that had provided 15 years of solid, reliable service. They are fitted with insulated Versalift hydraulic access equipment, and are used by highly trained 'hot glove' teams responsible for the repair and replacement of power lines that carry anything up to 46,000 volts. Each lift has a basket big enough to accommodate two engineers who work at heights of up to 14.85m. 
Key specifications
Members of the operator's team played an important role in helping to draw up the final specification for the new vehicles. As well as being consulted on key features, colleagues from UK Power Networks' Bury St Edmunds, Hemel Hempstead and Kings Lynn depots visited the Versalift factory in Kettering to see the vehicles being built.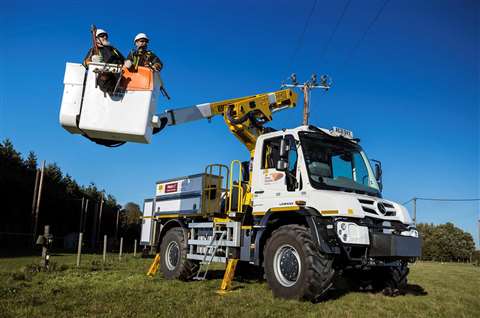 Each body features an array of secure lockers, some of which are heated, as well as working lights and beacons powered by a 1,000-watt invertor. The VST-40-MHI telescopic arm is fully insulated against electrical grounding and has a lifting capacity of 455kg, while the two-person basket represents a first for UK Power Networks; its previous Unimogs had only single baskets
Transport operations manager Cliff Allender said, "These vehicles are deployed daily across the area we serve, which stretches from East Anglia to the South Coast, and are used to maintain overhead power cables supported by wood poles.
"Many of these are in remote and difficult-to-access locations but the Unimog's fantastic off-road capability allows us to go anywhere, at any time, in all conditions. The extra lights and heated lockers that we included after consulting with our crews will be a great help if they are called out at night or in severe weather.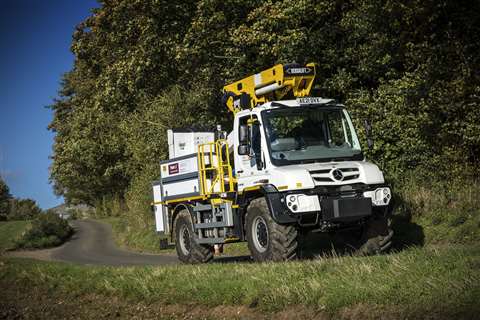 The Unimog can also travel on road at speeds of up to 56 mph, and is significantly more fuel-efficient than an agricultural tractor. "These are highly specialised vehicles,"Allender continued. "With its unique set of capabilities, the Mercedes-Benz Unimog is really the only viable choice for such a demanding application.
"Its performance on both rough ground and road, reliability and cost-effectiveness have been well proven over the last 15 years. The new vehicles combine all of the attributes of our previous examples, with a specification that incorporates a number of refinements and makes them even better suited to the role."
High power 
The U530 is powered by a 7.7-litre, in-line six-cylinder engine that produces 220 kW (299 hp) and 1,200 Nm of torque. UK Power Network's vehicles are fitted with the biggest permissible agricultural tyres (Michelin 495/70 R24s) and equipped with optional Central Tyre Inflation (CTI) technology. This unique system allows drivers quickly and easily, and without leaving the cab, to lower tyre pressures, which creates a larger, flatter 'contact patch' and thereby helps minimise damage to particularly soft ground.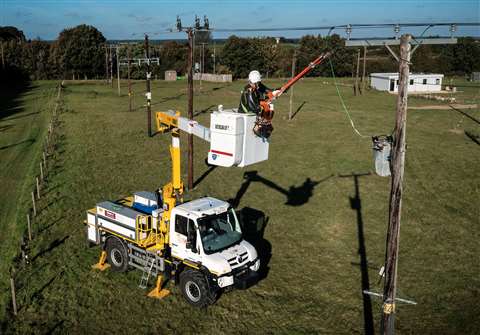 UK Power Networks manages the network that provides electricity to 8.3 million domestic and commercial properties across an area of some 29,000 square kilometres.
Allender added, "It's an essential service and our investment in these hugely capable vehicles will help us to respond quickly and efficiently to any electrical emergencies, while also ensuring that our colleagues as well as customers are safe at all times, for many years into the future."
Mercedes-Benz is celebrating the 75th anniversary of its off-road icon this year. All Unimogs have 4x4 chassis with single rear wheels, while gross weights vary from 7.5 to 16.5 tonnes. The range is built around two core variants: a UGE implement carrier and a UHE extreme off-roader that can be fitted with many different types of body.