United Rentals announces Q3 results
By Lindsey Anderson18 October 2017
United Rentals shows no signs of slowing down. The company posted its third quarter 2017 financial results which included total revenue of $1.76 billion and rental revenue of $1.53 billion. Total revenue was up more than 17 percent compared to the same period last year, and rental revenue jumped more than 16 percent.
Within rental revenue, owned equipment rental revenue increased 15.8 percent, the company said, and Pro forma rental revenue increased 8.9 percent year-over-year, reflecting growth of 7.6 percent in the volume of equipment on rent and a 0.9 percent increase in rental rates.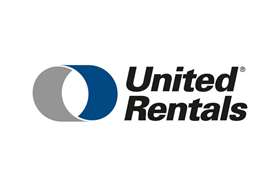 The company also announced its completion of the Neff Corporation purchase for $1.3 billion. The assets acquired included $860 million of fleet based on original equipment cost and 69 branch facilities.
"We're very pleased with the gains we reported for the third quarter," said Michael Kneeland, president and CEO. "These include significantly higher volume and time utilization, margin growth, and strong cash flow. Importantly, we delivered positive rental rates both sequentially and year-over-year for every month in the quarter. Our U.S. end markets are driving robust demand for our fleet, and Canada is continuing to rebound. Given these many positive dynamics, and the extended hurricane recoveries, we've raised our 2017 gross capex plan by up to $200 million to best serve the current and anticipated needs of our customers."
Kneeland continued, "Looking at the balance of 2017, our updated guidance reflects the combination of a fundamentally strong market and the contributions from our acquisitions this year. The integration of Neff is well underway, with all locations on our operating system. We expect fourth quarter market activity to exceed normal seasonality, and based on everything we see, we have confidence in the operating environment for 2018."
The company also issued new full-year guidance, upping its previous outlook of total revenues between $6.25 to $6.4 billion to $6.525 to $6.625 billion, a rough estimated increase of more than 4 percent.
The size of the rental fleet was $10.76 billion of OEC at September 30, 2017, compared with $8.99 billion at December 31, 2016. The age of the rental fleet was 46.3 months on an OEC-weighted basis at September 30, compared with 45.2 months at December 31, 2016.