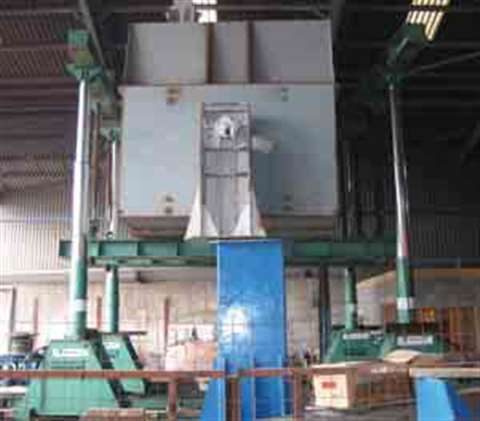 In the UK, LGH Megalift designed and supplied an alternative lifting solution for FE Mottram, a processor of scrap aluminium for the motor trade, and installed its scrap preparation plant.
The 6x3x4 m high, 32 tonne, heating chamber was needed as part of an expansion plan to satisfy rising demand. The structure had to be mounted with swivel bearings on two 4 m high legs to allow the chamber to rotate when the heat treatment process is completed, and to discharge the prepared product.
Limited headroom above the furnace prevented lifting from above, which made mobile crane access virtually impossible, and the structure was also close to the factory's roof support columns, meaning access alongside the furnace was severely limited.
LGH Megalift's solution was to design a system that would lift the load from beneath, which meant that the heating chamber had to be built just above floor level, directly in front of the supporting legs.
After construction had been completed, two 5 m lifting beams were slid underneath the furnace
Until they projected from either side.
Two track lengths were also slid underneath, external to the beams, but passing on the inside of the support legs, thereby alleviating the space restriction caused by the roof support columns.
Two pairs of LGH Megalift hydraulic cylinders were erected onto these tracks either side of the chamber. Each pair of cylinders was connected with a lifting beam at the front and rear of the chamber. Each lifting beam contained two adjustable lifting links. At this stage the height of the cylinders meant the beams were much lower than the top of the actual chamber. Wire slings were attached to the links and then to the lifting beams projecting from underneath the unit. The Megalift jacks were raised, effectively creating a "Basket Cradle" lifting arrangement, which enabled the chamber to be lifted from underneath and counteracted the headroom restrictions. Once at the correct height the chamber was tracked along the rails into position on the supporting legs and bolted into place.