UpEquip receives new Easy Lift 50-23AJ
By Lindsey Anderson23 May 2016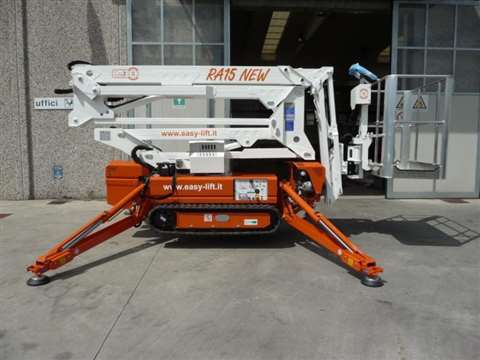 Canada-based UpEquip has taken delivery of an Easy Lift 50-23AJ compact, tracked lift.
The unit offers 23 feet of unrestricted horizontal outreach with full 507 pounds in the basket. The Easy Lift 50-23AJ features an overall length of 12 feet, 6 inches and can fit in an elevator. The unit has outriggers (with a footprint of 9 feet, 8 inches by 9 feet, 9 inches) and standard features include: wired remote control, aluminum basket, articulated jib operable at full capacity, hydraulic basket rotation, hydraulic variable width carriage, and A/C power and air/water lines to the basket. The unit also has no computers on-board.
Optional features include: lithium-Ion battery; emergency descent electric 12V pump; non-marking soft rubber tracks; wireless remote control and self-leveling outriggers.