Upgrade for Liebherr's 750 tonne crawler
By Alex Dahm04 March 2015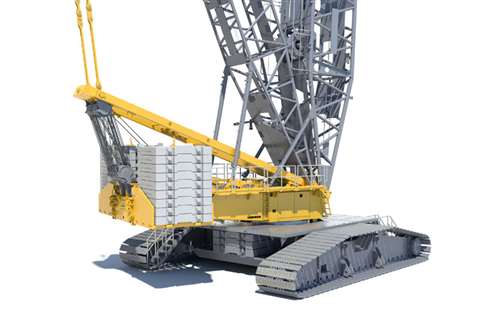 Performance is increased by as much as 30 % on manufacturer Liebherr's upgraded 750 tonne capacity LR 1750 lattice boom crawler crane.
A strengthened main boom and modified derrick system give the higher load capacity on the new LR 1750/2. The crane now offers much better value for money, the manufacturer said. Its derrick boom is extended by 7 metres to 38.5 m. In line with the heavy boom kit for the LR 1600/2 the strengthened boom on the LR 1750/2 has an "H" for "heavy" suffix.
Also modified is the ballast trailer which now has hydraulic drive to improve handling. Additional work platforms, access points and extended railings are included to improve operator safety. To help owners of the LR 1750 its components can also be used on the new LR 1750/2, Liebherr said.