US Democrats push US$500 billion infrastructure bill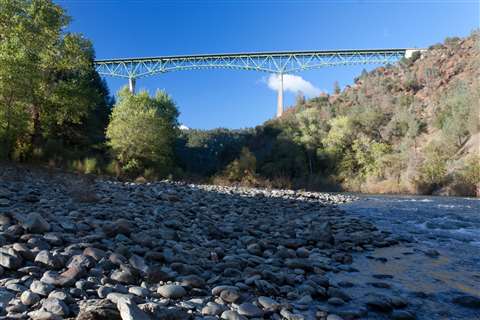 Democrats in the US House of Representatives are proposing a nearly US$500 billion infrastructure bill to renew America's aging roads, bridges and mass transit.
Part of the Invest In America Act, funding would be split, with the majority (US$319 billion) going to roads, including the repair of 47,000 structurally deficient bridges, easing congestion and the reduction of carbon emissions.
Another US$105 billion would be dedicated to mass transit, including new routes and more reliable services, while US$60 billion would be spent on rail, including tripling funding for US railroad firm Amtrak over the next five years.
Passenger rail improvement, modernisation and expansion would receive US$19 billion, with the remaining US$10 billion going to vehicle safety.
The US$494 billion bill is due to be discussed on 17 June, and must be approved before 30 September.

"The bulk of our nation's infrastructure – our roads, bridges, public transit and rail systems, the things that hundreds of millions of American families and businesses rely on every single day – is not only badly outdated, in many places it's downright dangerous and holding our economy back," Peter DeFazio, chair of the Democrats in the House, was quoted.
"Yet for decades, Congress has repeatedly ignored the calls for an overhaul and instead simply poured money into short-term patches. The result? We're still running our economy on an inefficient, 1950s-era system."
Associated General Contractors of America (AGC) officials said new federal infrastructure investments in roads, bridges, transit and rail systems, like those proposed in the new transportation bill released on 3 June, would provide a needed boost to construction employment in many parts of the country and support a broader economic recovery.
They cautioned, however, that new programmatic and regulatory requirements in the measure could undermine some of the bill's potential economic benefits. They urged Congressional leaders to work in a broad, bipartisan manner to rapidly pass a measure that expands highway capacity, improves bridges, builds transit and rail systems and supports long-term economic growth before current legislation expires.
"It is encouraging to see House Democrats proposing a significant increase in investments for transportation infrastructure," said Stephen E. Sandherr, AGC chief executive officer. "With over 40 million people unemployed and construction jobs declining in most metro areas, Congress needs to ensure that new, sustainable, investments bring as many people back to work as possible to help improve our aging highway, transit and rail systems."
In its 2020 Bridge Report, the American Road & Transportation Builders Association (ARTBA) reports one out of three US bridges needs repair or replacement.