US equipment exports fall
By Chris Sleight02 March 2015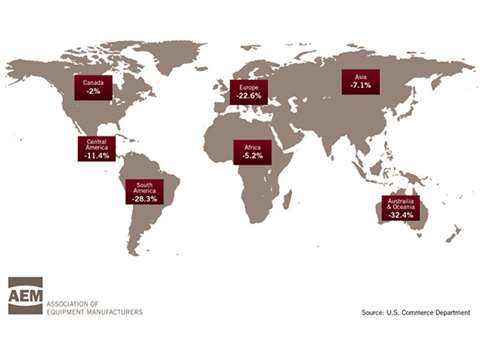 Exports of US-made construction equipment fell -13.2% last year compared to 2013 for a total of US$ 17.3 billion, according to the US-based Association of Equipment Manufacturers (AEM), citing US Department of Commerce data.
The AEM said US exports all regions of the world fell last year, with business in Europe, South America and Australia/Oceania hardest hit.
The biggest export market for US manufacturers is Canada, where sales were down -2% last year to US$ 6.66 billion. The next biggest region was South America, where sales were down -28.3% to US$ 2.57 billion, while exports to Central America fell -11.4% to US$ 1.95 billion. This meant US manufacturers saw an overall fall in the value of construction equipment exports to Latin American of –21.8% last year, for a total of US$ 4.52 billion.
Meanwhile, the -22.6% fall in the value of exports to Europe meant this market had the same value last year as Asia for US equipment manufacturers – US$ 1.98 billion. Exports to Asia were down -7.1% last year.
Exports to Africa were down -5.2% to US% 1.23 billion last year, while the Australia/Oceania market was down 32.4% to US$ 890 million.
The biggest individual countries as far as exports of US-made equipment last year were concerned were, Canada (down -2% to US$ 6.66 billion), Mexico (-11.3%, US$ 1.59 billion), Australia (-34.9%, US$ 808 million), Brazil (-19%, US$ 721 million), South Africa (-1%, US$ 617 million), Chile (-38.2%, US$ 617 million), Belgium (-25.2%, US$ 461 million), Peru (-27.8%, US$ 460 million), China (-3.1%, US$ 368 million) and Saudi Arabia (+10.7%, US$ 327 million).