US Regional Report: High Plateau
By Thomas Allen26 February 2020
The past year has given the US equipment rental market reason to be positive. Demand for machines has been strong, on the whole, and fears of recession in the US economy have subsided somewhat since this time last year. And even if there were an economic downturn, it is expected that rental would continue to do well.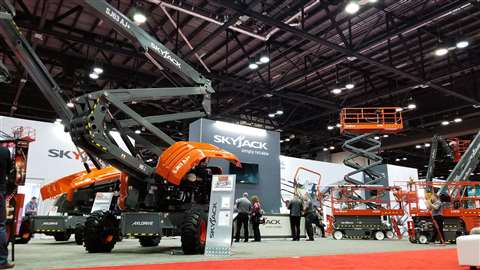 At this year's ARA Show, in Orlando, Florida, the American Rental Association (ARA) said rental penetration had significantly increased in the past year, with its penetration index rising from 55.9% to 56.7% between 2018 and 2019.
The reasons for the increase include uncertainty over presidential elections, which has been prompting companies to mitigate risk by renting rather than buying equipment.
In addition, the growing technical complexity of equipment is making contractors less inclined to maintain equipment in-house, choosing to have rental companies deal with that instead.
A third factor was highlighted by ARA Vice President of Government Affairs and Chief Economist, John McClelland: "We believe this increased penetration of rental equipment into the construction market is because equipment rental companies have become problem-solving companies, helping customers make more efficient business decisions and reducing the uncertainty that comes with making large capital investments in equipment. Our view is that this trend will continue for the foreseeable future."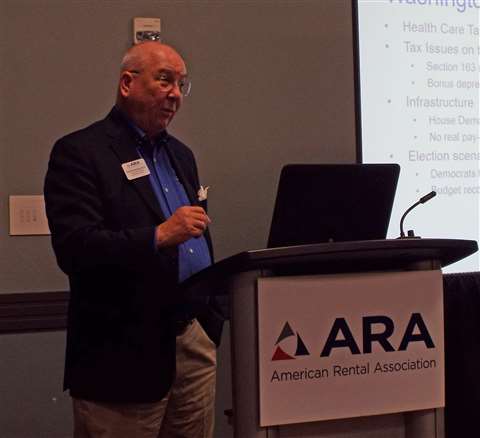 He added, "This [increasing penetration] is one of the main factors that is keeping rental revenues growing faster than GDP and in the face of a flat outlook for construction spending."
Healthy forecast
The ARA defines rental penetration as the proportion of construction equipment currently in use in the US that is owned by rental companies.
The association also forecast that US rental revenues would grow by 3.8% to $58.1 billion in 2020. It projected 4.1% growth in 2021, 4.2% in 2022, and 3.5% in 2023, reaching $65.2 billion. This is higher than the previous estimate of $64.1 billion.
McClelland said, "We are in a fairly steady growth pattern with the chance of recession relatively low, keeping rental revenue growth moving higher throughout the forecast period."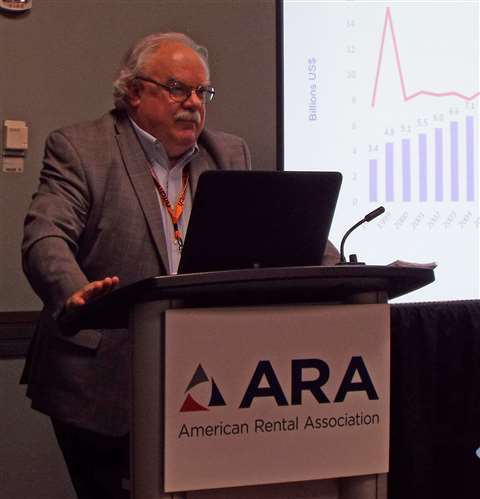 Scott Hazelton, Managing Director of IHS Markit, the forecasting firm that partners with the ARA, added, "The good news is that the US economy will hold to a moderate growth path, and the risk of recession has fallen.
"However, the markets that equipment rental primarily serves are likely to see some challenges. The US economy continues to slow as the impetus from tax cuts, fiscal budget stimulus and interest rate reductions all wear off."
Austin Bonnema, Commercial Business Manager of US equipment manufacturer Vermeer told IRN that 2019 had been a good year for the company, with increased purchases, especially at the start of the year. He described customers as bullish, requiring equipment as they chased a lot of growth opportunities.
"They were dealing with rather high utilisation and saw that as an opportunity to refresh some fleet as well as try to tackle some of that growth," Bonnema said.
End-of-year slowdown
However, towards the end of the year the market cooled, with big players such as United Rentals and Sunbelt pulling back, specifically in the northeast; "United pulled down a couple-hundred million dollars – maybe $300 million – and Sunbelt pulled back maybe $100 million," Bonnema said.
He continued, "They cancelled some orders, they wanted to slow some deliveries down, as I think they were getting into their second and third quarter performance results and saw that maybe they needed to back off fleet spending a little bit."
The trend has continued into 2020. Initial discussions with some major national players have suggested they are taking a relatively conservative replacement-only approach to begin with.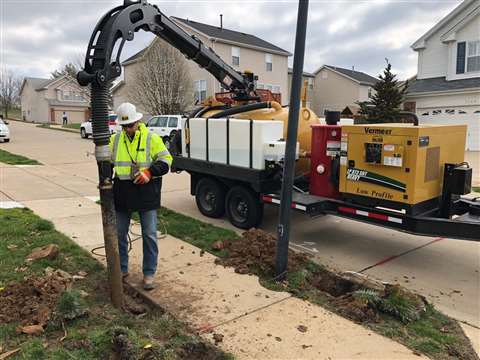 "They're taking a pause to get a clear picture of where their growth opportunities are and what they need to buy to capitalise on that growth," said Bonnema.
"With independent rental firms, though, it's probably a little bit the other way around." Encouraged by a good couple of years, they are deciding to grow their fleets.
Looking ahead, Austin said, "Overall, we're looking at this coming year as pretty flat with an optimistic outlook for independent rentals picking up a little bit more than they have in the past."
Between 20 and 30% of Vermeer's sales are to rental, and of that about 60% are to national players, with the remaining 40% going to independents.
One equipment type that has seen good growth in demand is vacuum excavators. This has been driven largely by installation work for 5G and high-speed internet networks.
"That market continues to expand at a record pace," Bonnema said, adding, "There are years of work ahead on that as well."
As alluded to by Bonnema, United Rentals is approaching 2020 with some caution. The company announced in its latest financial results that it is choosing not to increase its CapEx in the year ahead. However, the company will be maintaining the same high level of spending as last year, as the company expects to see continued growth at a slower pace.
In 2019, United invested $2.1 billion in its fleet; in 2020, it plans to spend $1.9 to $2.2 billion.
Matthew Flannery, CEO of United, said, "Our 2020 outlook reflects the profitable growth we expect to deliver in what is forecasted to be a slower growth phase of this continuing upcycle."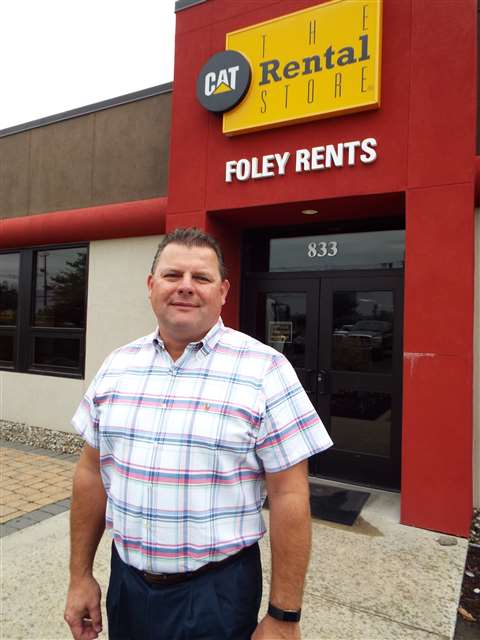 The results were driven by growth in its core construction markets, although it faced challenges in industrial business.
The final quarter of 2019 showed a slowing of its growth rate, with revenues up 6.5% compared to a 16.2% increase for the full year.
Specialty rental
However, one particularly strong area of growth for United has been its Specialty business, which now accounts for just over 23% of total revenues, generating more than $2 billion in 2019. Specialty revenues were up 26.8% for the year.
Specialty includes trench safety, fluid solutions, tool solutions, on-site services, and power and HVAC. It is said to be a higher margin business that reduces volatility through cross-selling.
Malcolm Early, Vice President of Marketing at Skyjack, expressed similar feelings about a strong though plateauing market.
"The US rental market is positive but 2020 will be an adjustment as we come off the back of 9 to 10 years of growth. It is more of a replacement market than a growth market," he said.
Part of this is the dampening effect of an election year. Specific to the access sector, he also mentioned that confusion around the new ANSI standards, which have been delayed again, is impacting demand.
"There is also the impact from Chinese trade wars, which affects the price of steel," Early added.
When asked about the potential impact of the coronavirus on supply chains, Early said, "Skyjack will have to expect some impact from the coronavirus. It will likely affect raw material prices and the supply of components. But it's too early to quantify, and we are in the same boat as other manufacturers."
Ed Gudaitis, Vice President of the Rental Services Division at US Cat dealer Foley, spoke to IRN about the cyclicality of the economy. He said the economic crash of 2008 prompted people to rent rather than buy equipment; demand for buying equipment then recovered between 2011 and 2018; and most recently there has been a shift back towards rental.
"So it's kind of come full-circle," said Gudaitis, "When the crash came, people out of the game didn't want to take on the debt or they couldn't because they weren't credit-worthy, so they would do a lot of renting and shift that risk to us. That kind of went back to buying and renting, and now it's gone back to heavy renting."
Gudaitis has been in his current role for three years. Prior to that, he was General Manager of the division for five years, and he has been with Foley for 22 years in total.
Since acquiring Cat dealer Giles & Ransome in March 2018, Foley now operates out of six depots across New Jersey, Staten Island, New York state, northern Delaware and eastern Pennsylvania. The company has a rental fleet of about 2,400 units with an original equipment cost of approximately $135 million, divided between Cat equipment, which makes up 65%, and allied equipment.
At the time of speaking, it was estimated that the rental division, including sales of used equipment, turned over about $110 million in 2019. Within that, rental alone achieved revenues of $45-47 million. As a whole, Foley turned over about $710-720 million.
"Increasingly, we're finding that people are choosing our Rental Purchase Option (RPO) because they don't want to buy right now because of the trade war, the uncertainty of the economy, and the upcoming election," said Gudaitis.
With the RPO, customers are able to rent equipment and then put a portion of that money towards a future purchase of it.
Investment plans
Looking ahead, Foley is planning to invest about $35-40 million in its rental fleet in 2020, with slightly more emphasis on growth than replacement. This is lower than 2019 CapEx, which was closer to $50 million; "This is because we think the peak in the economy is behind us," said Gudaitis.
"We just want to be a little bit cautious because the market might come down a little bit with the uncertainty of the trade war, and the politics and the elections," he added. "It'll definitely have an impact on it but how much we're not sure. So we've kind of reduced our guess for what 2020 will be. But there's plenty of equipment in the marketplace, so if it turns out that we need more, we'll just buy used equipment that's out there to fill the gaps."
Foley's average rental fleet age is around 14 months, but the company wants to age its fleet in case there is a dip in the market.
"I'm going to try to keep more of the fleet longer so if there is a softening or slowdown in two years from now, our fleet will be worth less and we'd be able to sell it into the market place without losing money. Right now, as it is, because the fleet is so young, if the economy was to stop and we had to dispose of assets that we didn't need, you potentially could lose money selling them off because they're so new."
The target is an average age of 36 months; "At 36 months, we feel good about the value of the equipment and it's still in good shape and it probably still has warranty," said Gudaitis.
One particular challenge in the market that Gudaitis highlighted is the skills shortage.
With unemployment at just 3%, he said, "It's very hard to find quality, qualified, experienced employees to help with our growth." Foley has more than 80 employees in its rental division.
"A lot of people we hire now, in the last four or five years, we've been training and hoping that they stay," continued Gudaitis. "We try to find genuinely good people with little or no experience and then invest in them to stay, because you can't find quality people out there. And people are leaving because the job market is so strong that people are paying other people a lot more money for the same type of job."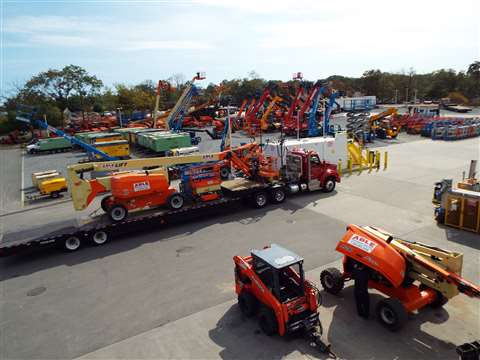 The shortage of skilled labour was also highlighted by Able Equipment, a 26-year-old family-owned rental business based on Long Island in New York.
Chris Pera, the company's Chief Operations Officer, said, "The employee side of the business is the most difficult. So it's the continued training and employee acquisition."
Pera has more than 40 years of experience in the rental industry, including time spent with Sunbelt and Modern Equipment. He also started up High Reach Group, which he sold to Sunbelt in 2009. He joined Able Equipment three years ago.
He added, "Without hiring others from competitors, we have put a huge effort into employee education this year, and with recruiting this year as well."
For Able's 214 employees, this training ranges from internal safety training and training on the new ANSI standards, to Genie and JLG training, and sales training.
"We have not, in the history of the company, invested as much in training as we have in 2019, and I think it's been overwhelming," said Pera.
In answer to the question of how Able is sourcing new talent, Pera said, "There isn't anything we're doing that others haven't already tried. We're just trying to be diligent in going after the schools, the technical schools, middle schools, high schools and colleges that are accredited in our industry. It's doing everything at the same time and trying to get lucky at it."
With a fleet of about 4,000 units, predominantly aerial equipment and telehandlers, Able generates annual revenues of almost $100 million.
Considerable growth
Able has grown considerably over the past six years; "At the end of 2019, we will have doubled the business in the space of about 3 years," said Pera.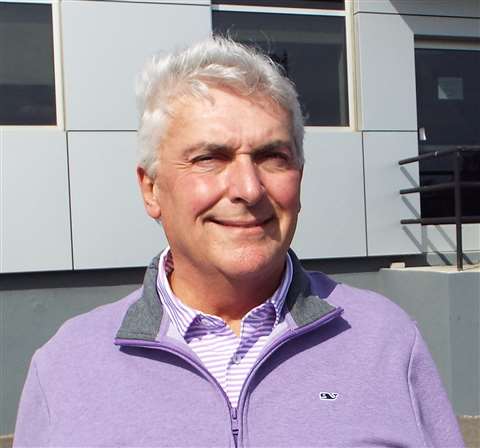 Able acquired two companies – Mobil Lifts and Key Equipment – and opened a new location in Allentown, Pennsylvania, in 2018, bringing the firm's number of depots up to a total of six.
Commenting on how the company is opportunistic in its growth strategy, keeping an eye out for expansion opportunities along the east coast of the US, Pera said, "Our plan is to double the business again over the next three years."
He added, "The industry still lends itself to plenty of growth from the independent side of the business. So it's not all just consolidation that's helping the industry grow.
"The big players, such as United Rentals and Sunbelt, have helped professionalise the industry. And we've all mutually grown at the same time."
Adding to this, Thomas Caldaroni, who has been in the industry for 11 years and joined Able as its Chief Financial Officer in early 2019, said, "More and more people want to rent."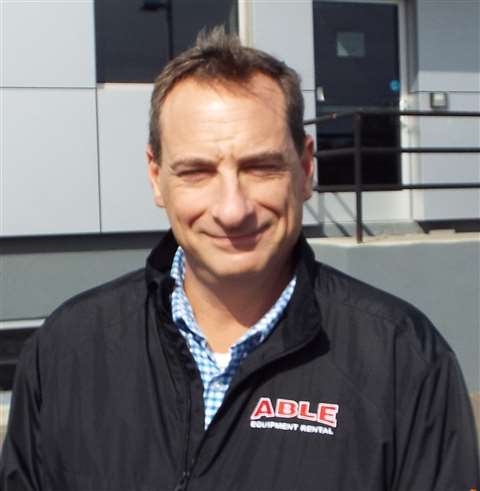 He echoed Gudaitis' sentiment when he said, "When companies went through a downturn, they got caught holding a bag with debt. So the rental penetration in the US has grown substantially, and it still has room to grow. We're still in a growth market.
"And even if we take a pause this year, before the election, or have a slow-down after an 11-year expansion, I think rental will still have a pretty significant growth rate compared to the rest of the industry – probably still in the 8-9% range.
"I think it's a better choice for contractors, especially the ones who survived the great recession. They're going to turn to rental and they understand the benefit of it now even more than ever."